Bicentenario del Regno delle Due Sicilie
Description
BICENTENARIO

DELLA PROCLAMAZIONE DEL REGNO DELLE DUE SICILIE
CONFERENZA - SPETTACOLO. CON PAOLO TOTARO
In occasione del Bicentenario della proclamazione del Regno delle due Sicilie, il C.A.S., Coordinamento delle Associazioni Siciliane del NSW - insieme al Consultore della Regione Campania - intende ricordare questa importante data storica con una serata culturale con intrattenimento e abbondante rinfresco alle 6:30 pm, con inizio alle 07:00pm. Pertanto tutta la Comunità e in particolare le Regioni incluse nel regno delle due Sicilie, (Abruzzo , Campania, Puglia, Basilicata (Lucania) Calabria e Sicilia) sono caldamente invitate a partecipare a questa interessante conferenza-spettacolo che vuol mettere in evidenza il patrimonio culturale, le tradizioni ed i primati che sono stati rappresentati e raggiunti all'interno del Regno.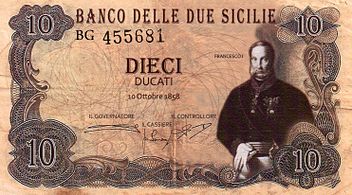 La serata si articolerà in 3 parti: Relazione, Commemorazione, Rinfresco
Il relatore della serata sarà Paolo Totaro, Founding Chairman of the Ethnic Affair Commission, che traccerà una panoramica del millennio delle due Sicilie: l'impatto storico su di noi, i legami culturali e linguistici del popolo del Sud Italia; le nostre culture popolari nella cultura europea e un obbligato accenno al problema del Mezzogiorno.
La relazione sarà accompagnata dalla lettura di brani classici e poesie popolari in Siciliano, Napoletano e Barese e da musica, proiezione di immagini e brevi documentari.
La presenza del dottor Totaro come relatore ufficiale aggiungerà un tocco personale all'evento storico che sarà sicuramente gradito ed apprezzato dagli ospiti.
Dopo un breve intervallo durante il quale sarà servito un tipico piatto napoletano, spazio per un intermezzo musicale dal vivo, a cui seguirà un valzer dove tutti gli ospiti saranno invitati a ballare.
Incomincia quindi una vera e propria celebrazione con musica e canti popolari regionali con la partecipazione di musicisti ( Ben Warburton, Emilio Lo Monaco, Glenn Amer) cantanti (Emilio Lo Monaco, Glen Amer e altri) e coro.
Il servizio di dolci e caffe concluderà la terza e l'ultima parte della serata commemorativa.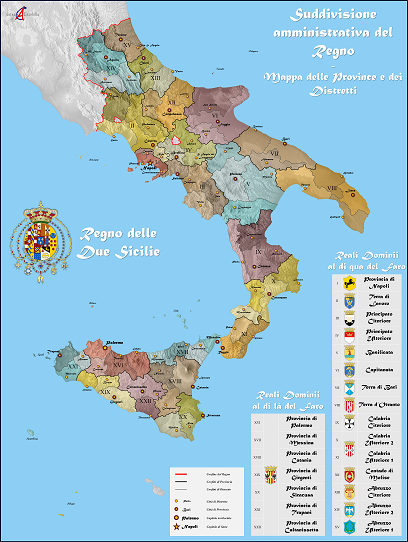 (la foto dell'evento è tratta da https://commons.wikimedia.org/w/index.php?curid=48175177:
Di Antonio Ciccolella - Opera propria, CC BY-SA 4.0, e si ringrazia l'Autore)
Si ringraziano sentitamente gli Sponsor della serata:

KINGDOM OF THE TWO SICILIES BICENTENARY
On the occasion of the bicentennial of the proclamation of the Kingdom of the Two Sicilies, the CAS (Coordinated Sicilian Associations), with the Region of Campania, will commemorate this important historical date with a special evening of culture and entertainment.

There would be refreshments from 6.30 pm with the official part of the evening commencing at 7.00 pm. The regions included in the Kingdom (Abruzzo, Campania, Apulia, Basilicata, Calabria and Sicily) are warmly invited to attend this interesting conference-performance that will highlight the heritage, traditions and achievements of the Kingdom of the two Sicilies.

The evening will be divided into 3 parts:
1) Conference
2) Presentation and Entertainment
3) Refreshments

The evening's speaker will be Founding Chairman of the Ethnic Affairs Commission, Mr Paolo Totaro who will present an overview of the Kingdom of the Two Sicilies: the historical impact on us; culture and linguistic ties of the people of Southern Italy; our culture in Europe, and a discussion about the problems of "Mezzogiorno d'Italia".

The Presentation will be accompanied by the reading of classical pieces and popular poems in Sicilian, Neapolitan and Barese, Music, Images and short documentaries.
The presence of Mr. Paolo Totaro as official speaker will add a personal touch to the historical events that will be enjoyed and appreciated by guests.

After a brief interval during which a traditional Neapolitan dish will be serviced, there will be a live musical interlude, followed by a Waltz - all guests will be invited to dance.

Then begins a musical celebration with music and folk songs with the participation of musicians - Ben Warburton, Emilio Lo Monaco, Glenn Amer and others.

The cake and coffee service will conclude the third and final part of the evening.
A BIG thanks to our Sponsors