Beyond Suffering - Weekend Retreat for the Heart, Mind, Body and Soul - Deep Self Love, Mindfulness Meditation & Qi Gong - Perth November 2014

Saturday, 8 November 2014 at 10:00 am

-

Sunday, 9 November 2014 at 5:30 pm (AWST)
Event Details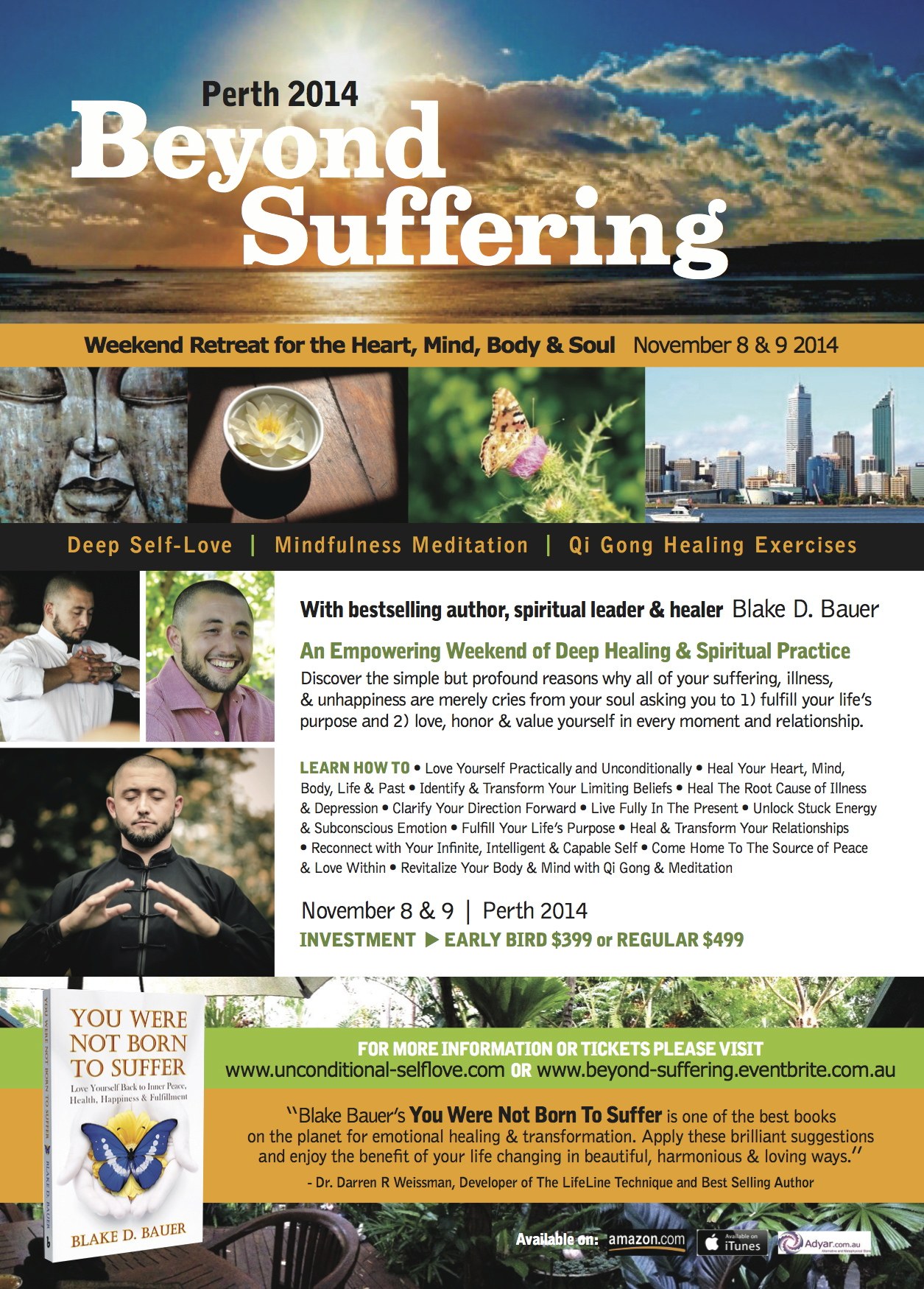 Please View On Desktop Computer For All Info
Beyond Suffering
Weekend Retreat for the Heart, Mind, Body and Soul
With bestselling author, spiritual leader and healer
Blake D. Bauer
Deep Self-Love | Mindfulness Meditation | Qi Gong Healing Exercises
An Empowering Weekend of Deep Healing And Spiritual Practice
Discover the simple but profound reasons why all of your suffering, illness, and unhappiness are merely cries from your soul asking you to 1) fulfill your life's purpose and 2) love, honor and value yourself in every moment and relationship.
Learn How To:
Love Yourself Practically and Unconditionally
Heal Your Heart, Mind, Body, Life and Past
Identify & Transform Your Limiting Beliefs
Heal The Root Cause of Illness & Depression
Clarify Your Direction Forward
Live Fully In The Present
Unlock Stuck Energy & Subconscious Emotion
Fulfill Your Life's Purpose
Heal & Transform Your Relationships
Reconnect with Your Infinite, Intelligent & Capable Self
Come Home To The Source of Peace & Love Within
Revitalize Your Body & Mind with Qi Gong & Meditation
November 8th & 9th 2014
PERTH - WA
Venue
Wollaston Conference Centre
Please note:
Although this venue is associated with a religious organization, this event is not associated with any one religion. The spiritual perspective guiding this event is based on the idea that we are all part of the one human family, who all deserve peace, health, happiness and fulfillment. This event is also one that encourages unity and peace between all people, where all religious and spiritual practice guide us back to compassion, understanding, and love for ourselves, others and all life.
5 Wollaston Rd, Mt Claremont WA 6010
http://www.wollaston.org.au/index.php
Accommodation
Accommodation is not included in the retreat price so that each person or group can choose accommodation that suits their personal budget and preference.
The following websites offer wonderful options for all budgets:
http://www.wotif.com/hotels/australia-perth-hotels.html
Meals
Lunch will be included and offered each day, but breakfast and dinner will not be. There will also be some fruit and nuts for everyone to snack on throughout the day.
Hot water, spring water and hot organic tea will be provided each day.
Weekend Schedule
Please keep in mind this is only a general estimate of how the weekend will unfold…
Saturday, November 8th
Morning Session
 10am – 1pm
Lunch 
 1pm – 2.30pm
Afternoon Session
2.30pm-5.30pm
 Sunday, November 9th
Morning Session
 10am – 1pm
Lunch
1pm – 2.30pm 
Afternoon Session
2.30pm-5.30pm
Parking
 The Wollaston Conference Centre has ample parking.
FOR MORE INFORMATION PLEASE VISIT
www.unconditional-selflove.com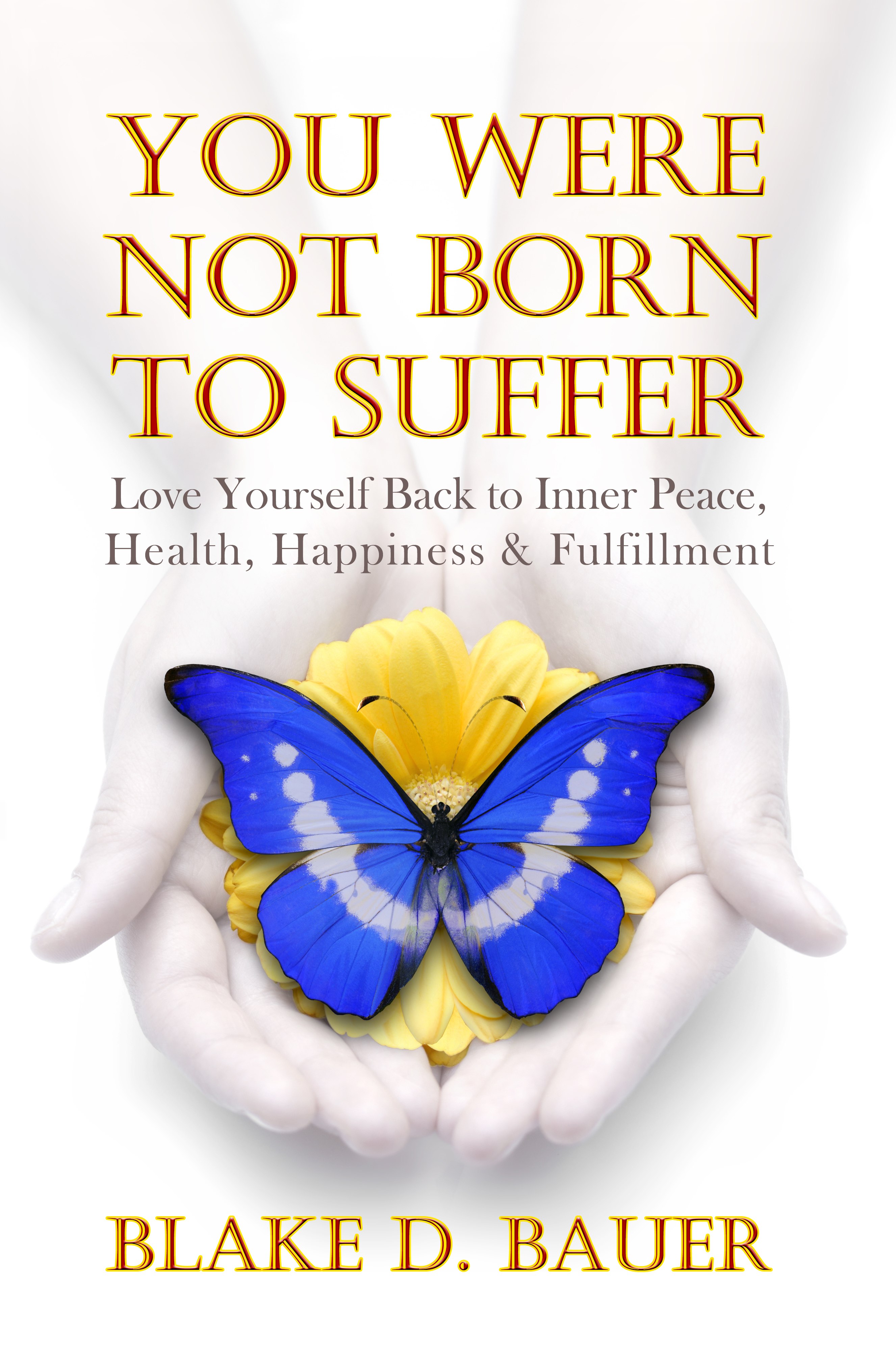 Have questions about Beyond Suffering - Weekend Retreat for the Heart, Mind, Body and Soul - Deep Self Love, Mindfulness Meditation & Qi Gong - Perth November 2014?
Contact Blake Bauer Teachings
When & Where

Wollaston Conference Centre
5 Wollaston Rd
Mt Claremont, WA 6010
Australia

Saturday, 8 November 2014 at 10:00 am

-

Sunday, 9 November 2014 at 5:30 pm (AWST)
Add to my calendar
Organiser
Blake D. Bauer is an international bestselling author, counsellor, and alternative medicine practitioner. He is considered my many to be a modern mindfulness, meditation and Qi Gong master. Blake's work has helped thousands of people to improve the quality of their life, health and relationships - many of whom could not find lasting solutions from conventional medicine, psychiatry or religion.
Based on his training with spiritual teachers, healers, and masters from all over the world, Blake practices and teaches various forms of meditation, qi gong, qi gong energy medicine, and dao yin (a health and longevity yoga). Blake's formal education also includes traditional Chinese medicine, five-element Chinese medicine, nutritional medicine, herbal healing, psychology, past life regression therapy-hypnosis, and various other forms of traditional healing and alternative medicine.
Bringing together the most effective spiritual practices and holistic approaches to health and wellbeing, Blake's work and teachings have successfully guided thousands of people internationally toward greater happiness and freedom.