Description
The Digital Age is driving a new way of approaching organisational change.
In the Digital Age some 20th century models of change are no longer fit for purpose. We need to upgrade our thinking 'software' for how we ride the wave of change.
Change specialists who stay ahead of the game harness 3 disciplines: behavioural economics, complexity theory and evidence based management.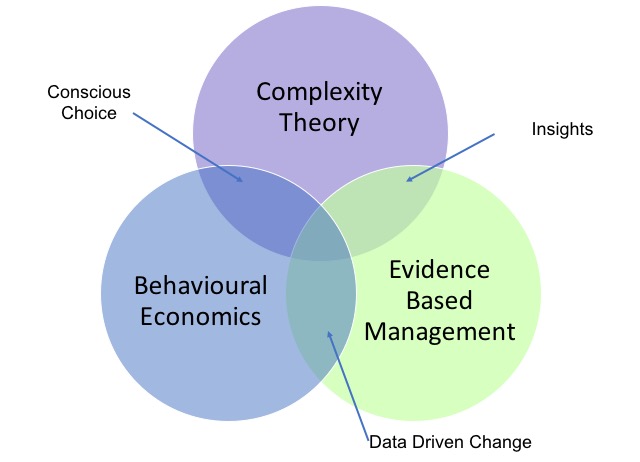 So what does this mean for you if you want to stay ahead of the pack?
Applying the science of change in a pragmatic way is what is needed to enable organisation change in a fast paced world.
Often we want quick fixes when it comes to change. Or, want the comfort of copying others thinking we can replicate results across different organisations and cultures. These approaches sometimes yield results.
By using the science of change you:
spend less time on unproved tactics and more time on evidence-based approaches;

feel more confident in change approaches because they're backed up by evidence.
This half-day programme introduces the core concepts:
you'll discover the theory of behavioural economics and how you can practically apply it in change

You'll explore the concept behind the science of change using a simple to learn approach

You'll analyse how different organisations are using evidence based management to help make better decisions
In a world where discontinuity is the new normal, introducing and managing change in your organisation becomes an imperative for what you do every day. In the last 20 years more has been discovered about how change happens. In particular, how our habits and social interactions affect and influence our behaviour.
Instead of relying on out of date theories and models learn how to become change science convert and help your organisation make better decisions on change strategy and tactics.
Two Modules Explored
How to approach change from an evidence based perspective - an overview of how the theories and models of change have evolved

Behavioural economics – a simple model to help identify what types of choices exist within your change programme and how to nudge people to different behaviours.
Here's what you can expect
"If you have the responsibility of leading and managing successful change in an organisation. You need to understand the science of change. This workshop is the first place you should start your journey" David Egerton-Warburton
Key Principles:
Methodology agnostic. Disruption is the new norm – from technology through to business models. In a global market complexity is a given.
Complexity requires emergent practices. Many organisations find themselves in the complexity space which requires emergent practices. This means testing understanding of the current system, applying judgement to what might work and then responding.
Organisations seek flexibility and speed as well as 'thought leadership'. The approach of applying good or best practice presupposes one methodology will work for change and innovation.
Testing approaches based on assumptions. First hypothesise which space the organisation might be in then test approaches based on the assumptions we make.
Investment - $497 + GST
If you encounter any issues with payment, call us on 0449 253830 or 0403 825459 so we can process your payment manually