A full day, family fun, music and information festival. Musicians, speakers (including COVID Medical Network doctors), food trucks & more!
About this Event
- THIS IS A LIMITED TICKET EVENT - ONLY 1000 TICKETS AVAILABLE! -
A fundraiser event supporting the Convoy Liberation Movement & musical activists whose industry has suffered under lockdowns.
NOTE: THERE WILL BE LAST MINUTE TICKETS AVAILABLE ON THE DAY, JUST HEAD TO ENTRANCE #2 ON OUR MAP & PAY CASH TO OUR MARSHALS.
UPDATED FLYER:
Unfortunately one of our headline acts, Jah Tung, has fallen victim to the Victorian state governments 'traffic light' border re-entry system. We have engaged reggae musician Brazaman to fill his spot.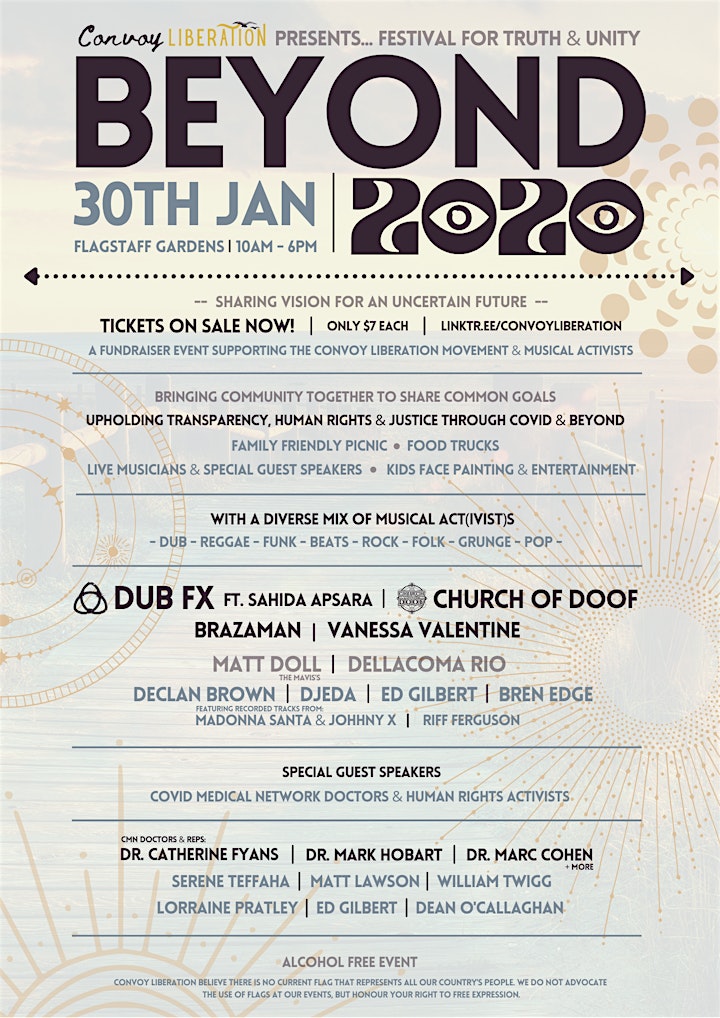 Come together for a full day, family friendly, festival picnic with special guest activists and speakers, Internationally renowned musicians, dancing, entertainment and food truck feasts!
Get educated about topics concerning the future of our country - through COVID and beyond - whilst enjoying a fabulously entertaining day on the green with your tribe!
Celebrate a diverse range of Melbourne communities uniting together to share a vision for the future 'Beyond 2020' - a future where truth and transparency is paramount, human rights and justice are upheld, and community connection and personal empowerment prevail.
We come together to share our common goals and vision for a brighter future; emerging from the uncertainty of today, sharing solutions and strategies, and networking to solidify a strong and united community committed to working together for the greater good of our country, and humanity as a whole.
Drug & alcohol free event.
HURRY - ONLY 1000 TICKETS AVAILABLE!
If you wish not to provide us with your payment or email details online here, please email us at convoyliberation@protonmail.com to reserve a ticket and pay via bank transfer or cash on the day.
For more event info, visit our linktree: linktr.ee/convoyliberation
* Note - please ensure you provide us with a real accessible email address here (even if you decide not to provide your usual one) as we need to be able to send your tickets somewhere they can be received. These ticketing records will not be used for any contact tracing purposes.
Please print your tickets for entry to our picnic zones on the day. If you prefer not to print, you can show us a digital version of your ticket instead.
* Convoy Liberation believe there is currently no Flag that represents all our country's people. We don't advocate the use of flags at our events, but we honour your right to free expression.
We acknowledge the traditional First Nation's owners of country upon which we stand, their ongoing connection to this land, and we pay our respects to their culture and their Elders past, present and future. We acknowledge that sovereignty was never ceded and align ourselves as supporters of Aboriginal land and cultural rights.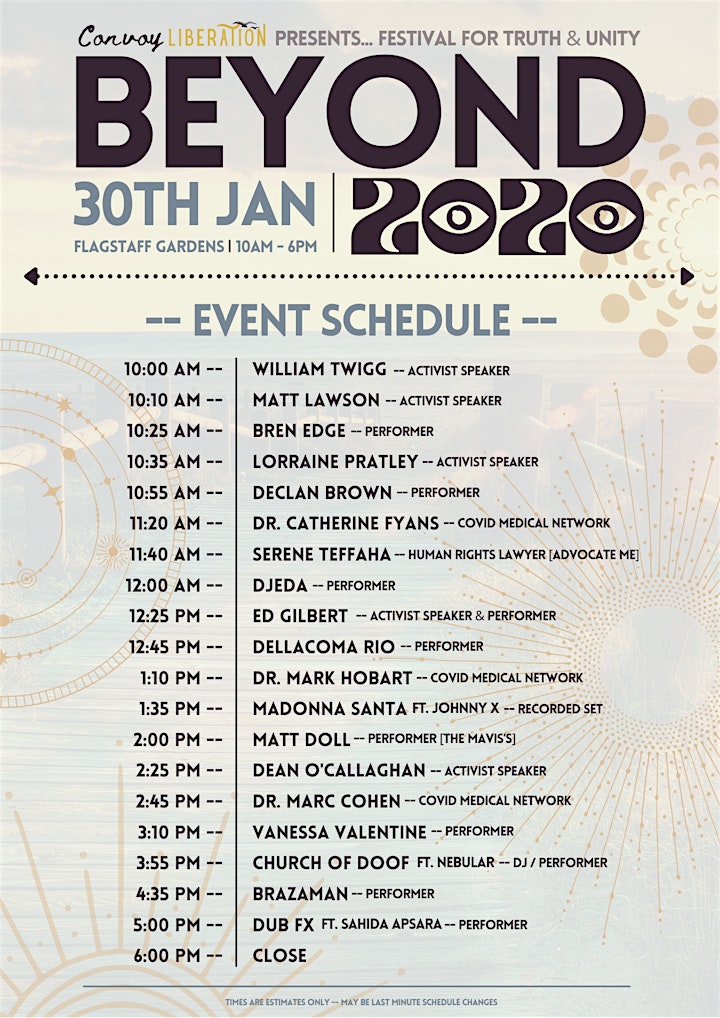 Please Visit Our Event Map:
(subject to change before event, please check back).
https://www.google.com/maps/d/u/0/edit?mid=1acgz9xMNoJFMnDeFSN_L72JPLCGoRO5Z&usp=sharing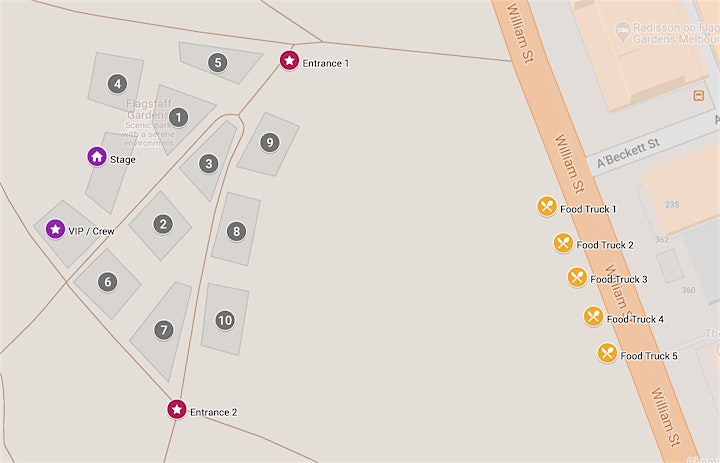 Your Privacy and 'COVIDsafe' Event Bureaucracy:
In the interest of full transparency, we wish to inform you that Convoy Liberation have been forced to apply for a DHHS Tier 3 event permit in order to get council approval for the sound and staging setup we need for this event.
We have been forced into a bureaucratic corner in this regards, and were faced with the alternative of having the event shut down or cancelling.
We made the difficult decision to go ahead within this restrictive system framework because we believe the benefits of being able to hold an event like this for our sense of community and empowerment is ultimately more important, and we refuse to allow the system to silence our collective voice.
We plan to put our own spin on a COVIDsafe enforcement that fits with our organisation's values.
To comply with these undemocratic rules that threaten our privacy, we are required to go to reasonable efforts to provide contact tracing details in the event our records are requested by DHHS. Paper contact tracing forms will be provided on site for event attendees to volunteer their details. We respect your right to privacy and expect you will provide us with the information you are comfortable with. Records will only be kept for these purposes for 28 days.
Daddy Dan Says...
'Daddy' Dan says we must remind all of our attendees of his approved COVID safe rules since it is apparent he and his team expects nobody can be trusted to remember the public health messages they are literally bombarded with on a daily basis - on every radio ad, over every shopping centre announcement, on every public sign, on all the mainstream news stories and even your kids Playschool shows.
So please accept this as your daily 'knock over the head' to remind you of all the things you must do to keep Daddy Dan happy.
When Daddy Dan is happy, everyone is happy! :) :P
Please refer to these DHHS 'COVIDsafe event' directions below, straight from the COVIDsafe Event Checklist.
* Please Note: Convoy Liberation thinks more highly of you than Daddy Dan and trusts you to be smart, responsible and discerning in regards to your choices, conduct and interactions with others.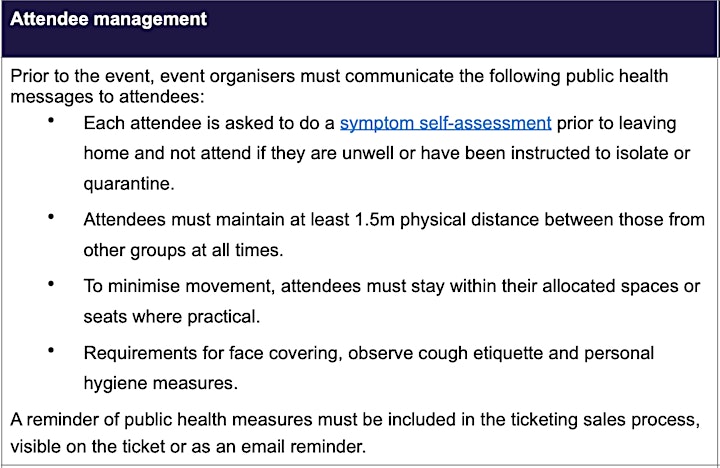 What Do Your Ticket Sales Pay For?
Ticket sales from Beyond 2020 will be used to cover the following outlays:
Online marketing.
Flyer print outs and event signage.
Compliance, logistics & tech equipment (some that have been used for previous events that organisers are still out of pocket for).
Insurance.
Any excess funds raised from this event will be gifted directly to the generous musical activist volunteers and sound tech and staging management. They have all suffered immensely from loss of work under the lockdowns, as has the whole entertainment industry, and Convoy Liberation wish to support them however possible.
There is also a donation add-on options on this Beyond 2020 ticketing site specifically to raise funds to put towards the artists and sound volunteers who make Convoy Liberation's high vibe activist events possible. Please consider donating if it is possible for you (even if you are not buying a ticket). It's a great way to show our collective appreciation for the hard work and bravery these warriors contribute to the movement through raising their voices and offering their assistance.
---
Convoy Liberation is a not-for-profit organisation that has operated entirely off of volunteers, donations, and organiser's personal funds. No profits are made for corporate or personal benefit.
All proceeds from donations and concert event ticketing (Beyond 2020 only) go towards reimbursing our organisers who pay for event costs out of their own pockets. Any excess funds raised are put back into the running of future events and are intended to be distributed to the musician, sound and staging volunteers who have all suffered greatly with employment losses during the Melbourne lockdowns.
Convoy Liberation is entirely grass roots, and has no corporate profit interests or sponsors.
For more information on where your donations and ticketing expenses go, click on the link below:
https://docs.google.com/document/d/1h1iJPAkr5qYg4tkY6xq5zeBCoLmlQOeAGH1g6Zb7uYc/edit?usp=sharing