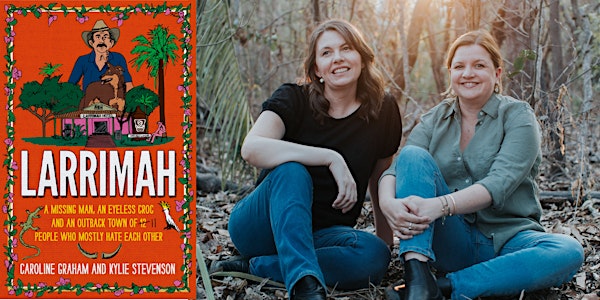 Ben's Book Club featuring "Larrimah" by Caroline Graham & Kylie Stevenson
Join Caroline Graham & Kylie Stevenson in conversation with author Ben Hobson.
About this event
Ben's Book Club is a digital book club powered by Libby and Overdrive and hosted by best-selling author Ben Hobson. It is available exclusively to Australian and New Zealand libraries.
Please ensure that you enter your email address details correctly as we will send you a Zoom link 48hours prior to the event.
About the Speakers
Kylie Stevenson has 17 years' experience as a journalist, her work appearing in newspapers, magazines and websites all over the country, including The Guardian Australia, The Australian, The Weekend Australian Magazine and numerous health, lifestyle and travel publications. Kylie was awarded the inaugural Andrew McMillan Writers Residency at Larrimah in 2016, and a resulting piece of creative non-fiction won a 2017 Northern Territory Literary Award. It was this residency that also sparked her interest in the town and ultimately led to her award-winning podcast Lost in Larrimah with Caroline Graham.
Caroline Graham has worked as a newspaper reporter and magazine writer, and now teaches journalism at Bond University on the Gold Coast. She has also facilitated the publication of major student-authored investigative packages in The Guardian Australia, News Corp, APN Australian Regional Media and Crikey. Caroline is the co-author of Writing Feature Stories: How to research and write articles, from listicles to longform (Allen & Unwin, 2017) and has almost completed her PhD.
Ben Hobson is based in Brisbane where he currently teaches English and Music at a High School. In 2014 his novella, If the Saddle Breaks My Spine, was shortlisted for the Viva La Novella prize, run by Seizureonline. To Become a Whale, his first novel, published in 2017 was longlisted for the ABIA Debut Fiction award, and the Courier Mail's People Choice Award. His second novel, Snake Island, was released in 2019.
Want to read the book before the program?
Inner West library card holders can borrow the book chosen for Ben's Book Club with no waiting or hold on the Libby Reading App or download from our online catalogue via the following links:
You can download the eAudiobook here
You can download the eBook here