Description
TICKETS SELLING FAST - DON'T MISS OUT!!
The Bendigo Invention + Innovation Symposium is a jam-packed day of content tailored to your business, whatever it's size or wherever you are on the innovation journey. BIIF2019 introduces three targeted channels of content: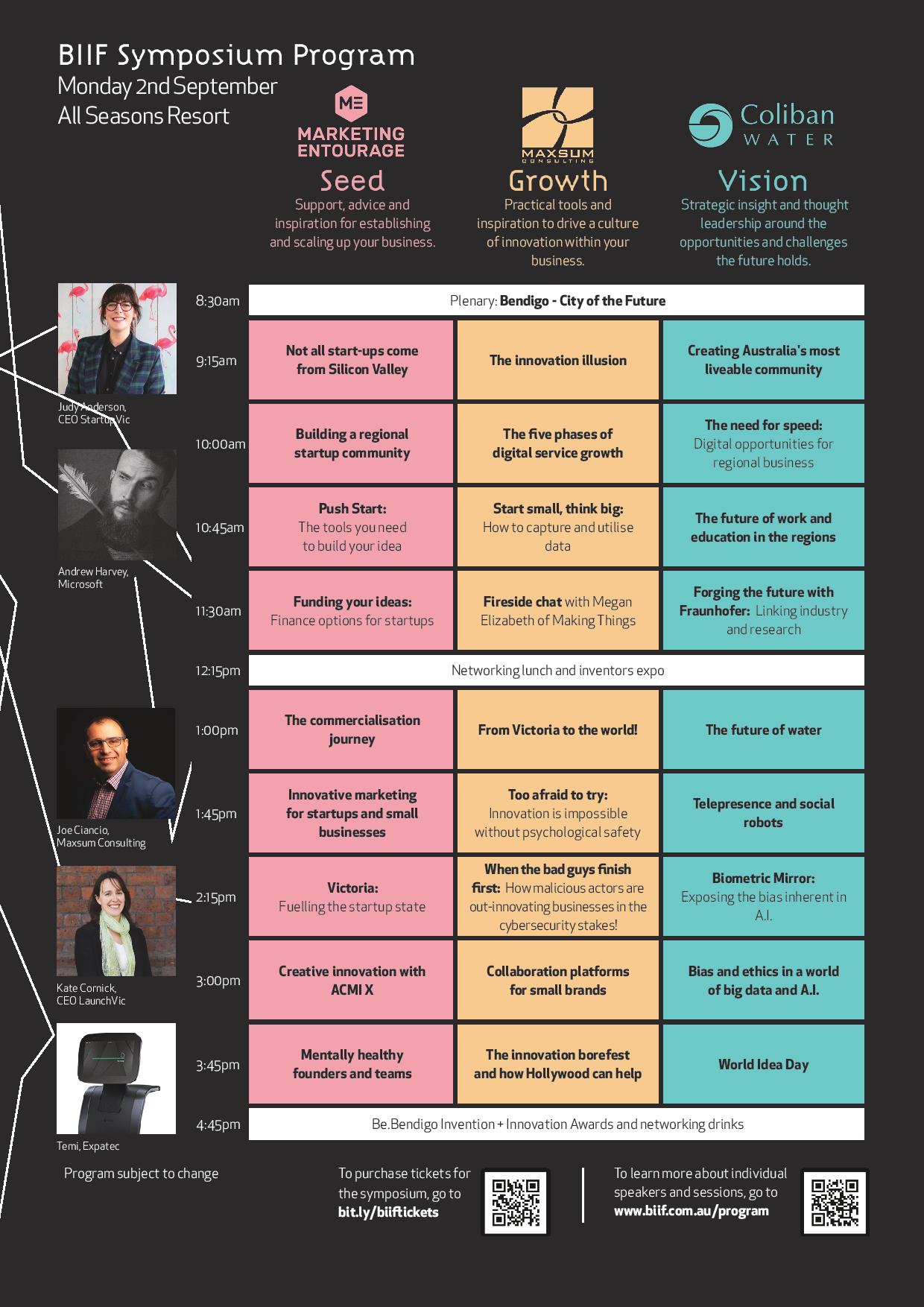 Ticket prices include lunch, networking drinks and access to the Be.Bendigo Invention + Innovation Awards.
For more detail on speaks and sessions visit www.biif.com.au/program.
Feedback on BIIF2018:
Hands down, best event to connect the local entrepreneur ecosystem that has ever happened in Bendigo.

It was great for Bendigo and a terrific opportunity to engage with businesses that are currently or looking to take a future-focused approach in their business.

The diverse speakers from industry, startup ecosystem, government, single business owners and government was fairly unique. I think this cross-pollination is a strength of a regional event because there aren't so many events, so the attendance is broader.

Because everything about it was phenomenal -- the planning, the execution, running on time (for the most part) outstanding standard of guests.

I thought the festival provided a high calibre of information and presenters that would be valuable for business.

thought the festival was a good mix of what was of interest to innovation and tech junkies and just general business people.

It featured interesting speakers and thought-provoking presentations

It was an interactive, positive and well-organised event

Great demonstration of the regional progress on developing innovation in the tech industry

We need more discussions of these kind to facilitate positive change for the future.

Excellent variety of presenters and topics

It was an excellently organised event with interesting speakers. Look forward to the next one.

Relevant, valuable content, good presenters, well organized

It had a professional feel and was well organised Great Festival

Highly relevant content and excellent presenters.

Great event and surrounding discussion, particularly to have available in a regional area

It was a great event that provided me with exposure to a number of innovation concepts.

Quality presentations and panel discussions. terrific breadth on offer. super value for a day spent at the symposium

Wide range of speakers, most informative