Event Information
Refund Policy
Contact the organiser to request a refund.
Eventbrite's fee is nonrefundable.
A 2 hour online immersion of exploring techniques to live life more in the present moment while enhancing connection, calm & clarity.
About this Event
Hello fellow Heart Centred Being!
This 2 hour online experience creates a safe and nurturing space for anyone feeling a 'heart nudge' to learn more about how to be present.
Life can move us and shape us in many ways.
Like a tree rooted into the earth, we can remember how to ground and anchor into our light and essence of who we are so that we can sway and bend with the changes and storms of life.
When we live life from a space of deeper presence, it is as though a new world opens within us.
We aren't so attached to the past or future, we aren't leaning forward with anticipation.
Our heart posture is centred and we open up more to the gifts of this present moment of now.
Our breathing becomes slower. We walk as though our feet are kissing the earth.
There is greater clarity about who we are. We live life from our heart and not from our head.
We simply create space to BE. From that space everything manifests with greater ease, rhythm and magic.
It is as though we've tapped into the music of the infinite universe and we are invited to dance our dance with greater sovereignty, freedom and playfulness.
YES!
This experience invites us:
💕 to remember how to be present in the current moment when life feels stormy
💕 to tune into the heart through the breath
💕 to activate a sense of calm, connection and clarity
💕 to ground into our light for greater discernment and healthy boundaries
The intention of this event is to:
✨ Create space for you to be with YOU
✨ To share an abundance of tools and techniques that you can use daily to tap into that space of calm, connection and clarity
✨ To offer you he opportunity to 'catch your breath' during the busyness of life
✨ To activate the grounded and anchored part within you when life feels stormy
✨ To support you in being heard, seen and acknowledged with anything you feel to voice in the optional sharing circles
Immersion Flow:
Below is an intended flow of experiences that we can share during our online immersion together:
💕 Welcome and opening debrief
💕 Sharing circle (optional)
💕 Guided meditation
💕 Grounding exercises
💕 'Awareness of the Present' meditation
💕 *** REST / INTEGRATION BREAK ***
💕 Calming kinesiology techniques of acupressure holding points to promote calm and being present
💕 Breathing Exercises
💕 Closing meditation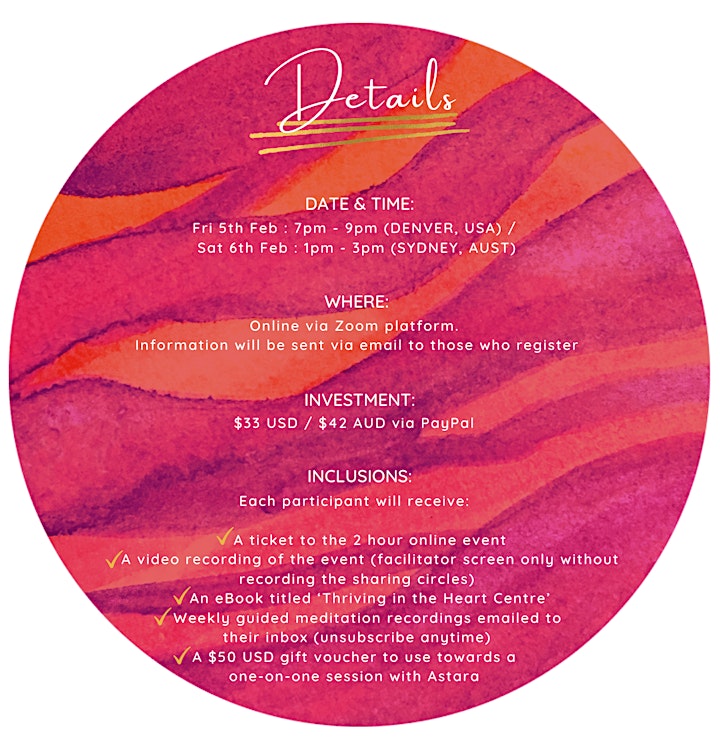 Your Facilitator
Via a private video group call on the Zoom platform, this event is facilitated by Astara Vella who is an experienced facilitator with a 15 year background of Wholistic Counselling, Meditation Facilitation, Neuro-Linguistic Kinesiology and Energy Medicine.
Through calming guided meditation/mindfulness techniques, Astara will walk alongside of you as you connect more deeply with your heart and be more present with where you are in this current moment moment of now, with love and compassion.
Please note that there is an option to turn off your video and audio during the online event if you prefer to greater privacy.
More information on Astara can be found at www.heartcentredbeings.com/about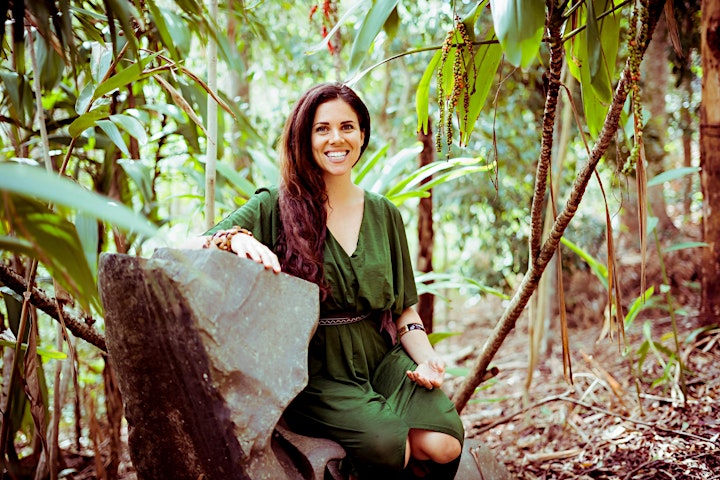 Bookings
To book your place at this upcoming online event, please go to www.heartcentredbeings.com/beingpresent or via this EventBrite event page.
Investment: $33 USD / $42 AUD via PayPal or EventBrite
10% of ticket sales will be donated to 'Lifeline Australia' "We are a national charity providing all Australians experiencing emotional distress with access to 24 hour crisis support and suicide prevention services."
Inclusions
Each participant will receive:
✨ A ticket to the 2 hour online event
✨ A video recording of the event (facilitator screen only without recording the sharing circles)
✨ An eBook titled 'Thriving in the Heart Centre'
✨ Weekly guided meditation recordings emailed to their inbox (unsubscribe anytime)
✨ A $50 USD gift voucher to use towards a one-on-one session with Astara
You're welcome to email any questions that you may have to astara@heartcentredbeings.com.
We look forward to connecting in with you soon!
With love and appreciation,
Heart Centred Beings Family
Date and Time
Location
Refund Policy
Contact the organiser to request a refund.
Eventbrite's fee is nonrefundable.