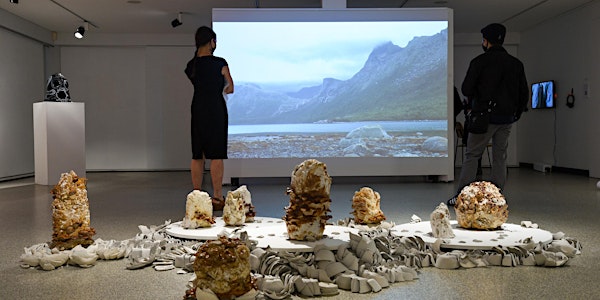 Being in the Present: Art-making with Awareness | Online Panel
Online Artist Panel with artists from Presence of Mind
About this event
This panel will discuss how being in the moment and awareness of the interconnectedness between humans, all beings and nature factor into the concept of artworks and the process of art-making. Each artist will draw on examples from their own practice, in particular works in Presence of Mind.
Panelists: Jason Lim, Shirley Soh, and Cindy Chen.
Sydney start time is 6:00pm and Singapore start time is 3pm
Moderated by Kath Fries
This online event will be held via Zoom. Meeting details will be emailed to attendees on the day.
About Jason Lim (Singapore):
Jason Lim was born in Singapore in 1966. His repertoire of works encompasses ceramics, photography, installation art and performance art. He has organised and created various platforms for alternative art practitioners to meet and collaborate. In 2021, he organised, directed and co-curated Singapore Ceramics Now 2021, creating a platform to showcase contemporary ceramics and survey current ceramics practices in Singapore.
About Shirley Soh (Singapore):
Shirley Soh is an artist, educator, an erstwhile journalist and a perpetual student. Trained first in ceramics, she has branched into other mediums such as living vegetation, fabric work, sculptures and video making, exploring recurrent themes of biodiversity and sustainability. Her interest in the environment and the current climate crisis has deepened her appreciation of how the individual co-exists interdependently in larger networks of communities, reaffirming the personal as the political, in effecting change. With her foundational beliefs in buddhism, she has grown plants, worked with migrant workers and women prisoners, created a retail shop, sewn and cooked with local communities, and meditated for her artwork. She pursued her BA honours degree and MA at the National University of Singapore and obtained her BA Fine Art degree from LASALLE College of the Arts. She currently tutors part-time at Lasalle's McNally School of Fine Arts in Singapore.
About Cindy Chen (Australia):
Cindy Yuen-Zhe Chen works in Sydney on unceded Darramuragal and Gadigal lands. Her artistic practice examines how embodied listening and sounding can extend experimental drawing as a multi-sensory, emplaced process. Through interactions with the sounds, surfaces, people and atmospheric contingencies of places, Chen develops drawing, listening and sounding as interconnected practices that engender connections and enact distinct senses of places. As a part of these processes, she critically examines how her context as a female artist of migrant Malaysian-Chinese heritage inflects her relationships within Australia and internationally.
Chen is currently a finalist for the 2021-22 NSW Visual Arts Emerging Fellowship and was recently a resident studio artist at Parramatta Artists' Studio in 2020-21. As a recipient of the University Postgraduate Award, Chen completed a Doctor of Philosophy in Art, Design and Media at the University of New South Wales Art and Design in 2020.
About Kath Fries (Australia):
Kath Fries is a Sydney-based artist and curator, living and working on unceded Gadigal and Wangal land. Her practice involves being attentive to embodied experiences, relationships, materiality, and ecological interdependencies. Fries' art practice is underpinned by her mindfulness and meditation practices, embedded in Buddhist philosophies of impermanence, interconnection, and compassion. She has a PhD from the University of Sydney and has been awarded grants from Australia Council for the Arts, Ian Potter Cultural Trust, Create NSW, NAVA and the Japan Foundation.
Image credit: gallery view Presence of Mind