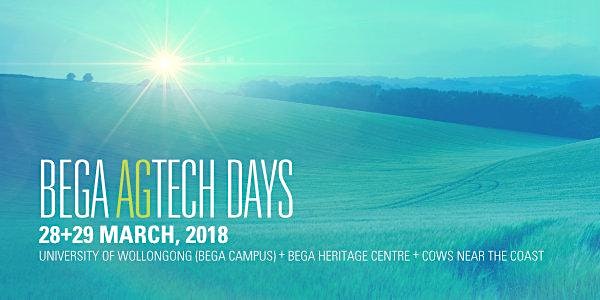 Bega AgTech Days : AgTech Business Expo - Exhibits and Talks - meet some of...
Location
Bega Cheese Heritage Centre
13/11 Lagoon St
Bega, NSW 2550
Australia
Description
On the Far South Coast/NSW, as part of the Bega AgTech Days programme :
AgTech Business Expo
A number of AgTech, Agribusiness, and Tech consulting companies will be on-hand to talk about products and services they offer in the space. Ranging from established ventures seeking to embrace aspects of AgTech to newly emerging players with leading-edge and innovative stories, the afternoon will prove to be a great networking and learning occasion.
AgTech Business Expo Talking spots
2:30PM Council Opening (Bega Valley Shire Council Economic Development Manager)

2:45 PM - Innovation Connection - Grants for CSIRO Research on behalf of SMEs (by Dr. Jacqueline Watt)

3:30 PM Jobs For NSW and the Sydney Startup Hub Regional Landing Pad

4PM - Australian Commercialisation grant funding/ support for SMEs plus workshop for potential applicants (by John Grew, Department Industry Innovation & Science and Peter Masterson, AusIndustry)

4:40 PM Spotlight on Dairy AgTech in Germany and Scandinavia - Karen Baldwin, Department Industry Innovation & Science, AusIndustry

5PM Planned AgDrone Demo with Dr John Troughton, RevolutionAg
Event to be held at the Bega Cheese Heritage Centre, Bega
*** PLEASE NOTE - EVENT DETAILS SUBJECT TO CHANGE AT SHORT NOTICE - Check the website intoitsapphirecoast.com for updates on the programme of events during Bega AgTech Days***
The event is being organised by the Sapphire Coast's local technology
and business group IntoIT (visit www.intoitsapphirecoast.com), in association with the Canberra Innovation Network (visit cbrin.com.au) and Lighthouse Innovation (visit www.lighthouseinnovation.com.au)

IntoIT is a non-profit organisation run by volunteers.
Any enquiries, please email:
admin@intoitsapphirecoast.com