BEFORE / AFTER @ AADA

Multiple Dates
Event Details
Written by Roland Schimmelpfennig
Directed by Andrew Davidson
Conceived, Designed, Performed and Produced by the Bachelor of Performance Graduating Company 2012
Before / After is an epic of contemporary German theatre. 51 moments in the lives of others, sealed in a time capsule for our own time. Suddenly, splinters of story flash into life as more than 30 characters converge like buds in a bouquet. Each is found pressed between pages of a long-forgotten book dated '2012'.
The Graduating Company balances acting craft onstage with theatre-making roles offstage. In cinematic style, they sharpen our eyes and free our imaginations to ask: What took place after Before and before After? Join them as they explore the human capacity for the sensual, the scientific, the silly, and the sublime,
What we call the beginning is often the end.
And to make an end is to make a beginning.
The end is where we start from.
T. S. Eliot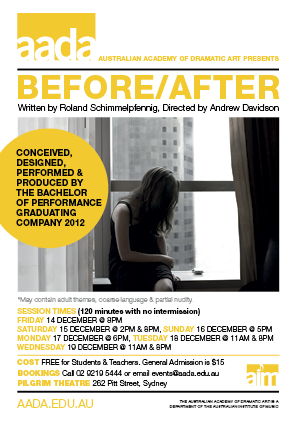 Please note - this production is rated MA 15+
Mature Adult 15+ (MA15+) classified material contains strong content and is legally restricted to persons 15 years and over. It may contain classifiable elements such as sex scenes and drug use that are strong in impact. Children under 15 who go to see MA15+ content must be accompanied by a parent or adult guardian for the duration.
Where

Australian Academy of Dramatic Art
Pilgrim Theatre
262 Pitt Street
Sydney, New South Wales 2000
Australia

Multiple Dates
Add to my calendar
Organiser
Australian Institute of Music- Melbourne
AIM delivers cutting edge education for a diverse career in the Australian music, entertainment & performing arts industries.
With a reputation as a leading independent education provider, AIM's music & performing arts courses in Sydney and Melbourne, deliver accredited music tuition & unique industry relevant programs.
AIM Sydney
Having begun as the Sydney Guitar School in 1968, founded by Dr Peter Calvo, AIM now offers the most diverse range of music diplomas, music degrees, and graduate music studies available anywhere in Australia. AIM also offers Acting & Theatre Making through its Dramatic Arts Department, AIM High Senior Secondary HSC studies, and individual music lessons through its Open AIM courses, and Short Courses.
AIM Melbourne
AIM Melbourne is centrally located in the CBD, one block from Southern Cross Station and close to trams and Flinders St Station.The campus features music production studios, ensemble rehearsal rooms, individual private lesson studios and a brand new world class performance venue.
Professional Teaching Staff
Each undergraduate & graduate music course at AIM maintains its own Head of Department, with its own list of professional music, entertainment & performing arts teachers. We also have a fulltime student services support team, marketing/admissions team, web team, Events Department & purposed music library.
Customised Music Education
AIM students can individually tailor their studies to integrate performance skills, business management, marketing, individual instrument or voice lessons, audio & sound engineering, music production and many more specialised units. Some students also undertake industry placements as part of their course.
Leading Education & Performance Facilities
With purpose built facilities, performance spaces, industry standard music production studios - and industry staff on-hand, students can develop the confidence and skills needed to pursue a successful life-long career in the music industry, performing arts & wider entertainment fields.