Description
BEEKEEPER PARADE at MELBOURNE CENTRAL
NEW SHOP LAUNCH
You are invited to BeeKeeper Parade's second permanent Shop Launch. This time, in the heart of Melbourne city, at one of the biggest shopping centres in Australia - Melbourne Central.
Apart from being part of this dream that is unfolding before our very eyes, we have some special things to unveil at this launch:
Be the first to,
1: Take the SHOP TOUR: Discover and read the 10 story stations, hidden across the store. From the very beginning to the very present. Where you stand.
2: See the unveiling of THE BOY + THE BEE Art Mural: Just outside our shop. Created by a soon to be announce incredible artist. It will make your heart explode.
3: Witness and feel the unveiling of Hopea Odarata: Common name is the Koky tree ;). This central piece will not only feature products that change the world. But will also interact with you. As you move through the store, the trees will illuminate in purple, orange and green. BeeKeeper Parade's colours.
4: Our Shop Sign: We will finally get one. Each individual letter will be illuminated by a halo of light.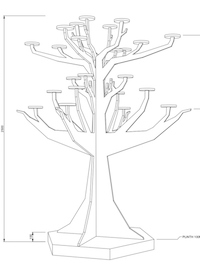 * A diagram of the 2.5mtrs Hopea Odarata tree :)
But wait there's more. We would like to give you a gift :). For coming and supporting this dream.
1: You will receive AN EXCLUSIVE phone + passport sleeve (to help you stay connected on your adventures). Specially embroidered on each gift will be:
"BEEKEEPER PARADE at MELBOURNE CENTRAL - July 13th 2018"
2: The first 50 people to arrive, will receive an envelope sealed in golden wax. Inside, on parchment, is a signed excerpt from a novel I have written. Be the first to read a story that will change the world. Written for the person who has ever believed that they could change the world, and tried.
This golden wax sealed envelope with signed story excerpt inside will also be available for purchase exclusively, on our crowd-funding campaign. For people that can't make it to the launch, but still would like to support us and would still love to read an excerpt of the novel. Help us cross our ultimate target of $50,000! You may make a pledge for one here: https://bit.ly/2FMERSY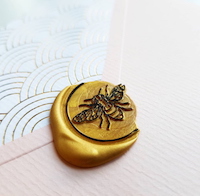 *** The novel began as my grief homework. It took me fours years to write the first draft. It is twice the length of the first Harry Potter book. It is also fiction. I look forward to editing it down. And one-day sharing a new part of our story, with you guys! Thank you so much! ***
Lastly and [secretly] July 13th also happens to fall on the same day Sophia would have celebrated her 35th Birthday. It has been six years now.
This event is free, but must RSVP, so we know how many may be coming.
Thank you so much for all your support. I have no idea where this will go. But I am happy where we are. I hope you come.
Kindest regards,
Koky Saly
P.s. Two days ago our story aired on SBS TV. You may view it online here: https://bit.ly/2thaXmv