This event has been postponed until further notice. Watch this space - we will be rescheduling for later in the year.
About this Event
Moonee Valley Park is excited to announce our first community activation to be held within the emerging neighbourhood – a sign that the gates to The Valley Racecourse are opening to locals and that our bold vision for the uniquely activated urban parkland is coming to life!
Beanbag Cinema is an outdoor cinema experience like no other, designed to give our guests (which hopefully includes you!) and the local community a taste of all the amazing things to come at Moonee Valley Park in the future.
The first Beanbag Cinema is happening this March, and we are screening the Oscar winning family favourite, Disney•Pixar's "Toy Story 4".
Buzz, Woody and Jessie will be there (literally!) – we hope to see you there as well!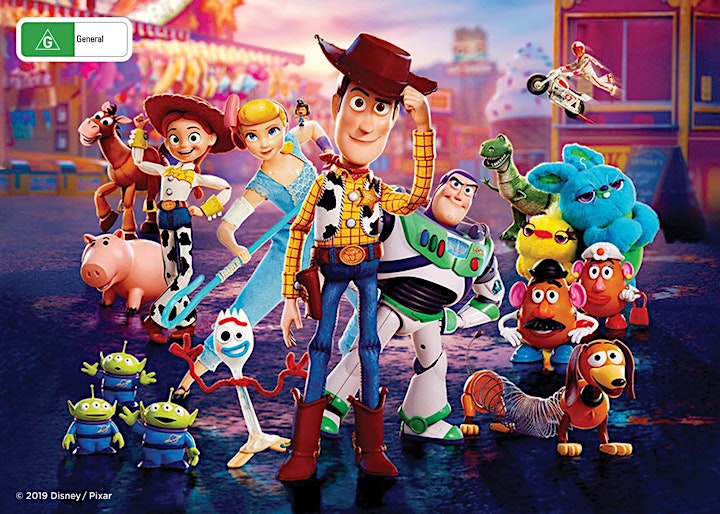 Sounds amazing! Tell me more!
Beanbag Cinema is a fun, family friendly event allowing movie-goers to experience the racecourse like never before, with trackside seats in front of the giant screen!
The gates will open at 5pm with entertainment kicking off from 5:30pm. Toy Story 4 will start at 7pm, so guests are encouraged to get in early to secure a great spot!
Free kids activities will be on offer from 5.30pm – 7pm, including the opportunity to have your photo taken with a character from the movie, and the chance to make your own Forky. Free live music by local performers will keep guests entertained from 5:30pm until the movie starts.
Movie-goers will have a variety of dinner options to select from including a pop-up from local food heroes Brother Hen, and a pizza food truck. A snack bar will also have all the cinema favourites including ice creams, popcorn, chips and chocolates.
The Valley Four Pines Lawn Bar will be open, serving alcoholic and non-alcoholic beverages guests can enjoy at their seats. It is important to note that this event is strictly no BYO alcohol.


Adults - $12
Kids Under 18 - $8
Kids Under 4 - Free

Beanbag - $4
BYO Blanket / Chair - Free

LOCATION Moonee Valley Park is an emerging, vibrant neighbourhood in development on the site of The Valley Racecourse. The film screening will be hosted within the racecourse, found at the corner of Dean and McPherson Street in Moonee Ponds.
TIMING Gates open at 5pm, including the bar and food trucks. Entertainment and live music to kick off at 5.30pm, with the screening of Toy Story 4 commencing at 7pm. Free kids activities from 5pm – 7pm, including photos with your favourite Toy Story characters!
WHAT TO BRING If you are hiring a beanbag, no need to BYO picnic blanket and / or chair. We will direct you to your beanbag upon arrival. Please note the beanbag section is separate to the other general admission BYO blanket and / or chair seating areas. Please factor this in when booking for groups or friends you'd like to sit with. If you are not booking a beanbag, please BYO Blanket or Chair. Please note there will be a dedicated section for people with high-backed chairs towards the back of the venue. You can BYO food and non-alcoholic drinks, but there will be plenty available for purchase. The is event is strictly no BYO Alcohol.

FOOD Delicious food from our partner food trucks will be available for purchase, plus our snack bar – filled with all the movie favourites including popcorn and ice creams. Keep an eye on our social pages to find out more closer to the date of the event.
ALCOHOL The is event is strictly no BYO Alcohol. The bar will be open to serve drinks from 5pm – 9pm.
KIDS ACTIVITIES There is plenty more to this event than just the movie! There will be a chance to have a photo with your favourite Toy Story character – including Buzz, Woody, and Jessie. Other kids activities could include jumping castles and craft activities. Keep an eye on our social pages for more details closer to the date.
ENTERTAINMENT We will have a great live music performances happening prior to the screening. Keep an eye on our social pages for more details closer to the date.
GETTING THERE Free parking is available for all ticket holders in the infield of the racecourse, accessible via Dean Street. The venue is also accessible via all forms of public transport, and is an easy walk for all those living in and around Moonee Ponds.
DISABLED ACCESS The venue is fully accessible for all. If you require further assistance on the day, our friendly staff will be there to help you and your loved ones.

COMMUNITY GROUPS Moonee Valley Park is deeply committed to the local community of Moonee Ponds, and this event is our chance to share more about our vision and connect more deeply with the community around us. We have made a bunch of free tickets available for eligible local community partners and groups to share with their community. Feel free to get in touch with us via our website if you'd like to know more.
WET / ADVERSE WEATHER POLICY In the event of bad weather, the event will be cancelled and postponed to a later date. All tickets will be refunded in full, with contact information retained by the organisers to inform you of the new date once confirmed. New tickets will need to be purchased when the event is rescheduled, and the format of the event (including movie selection) is subject to change.
REFUNDS / CANCELLATIONS We do not offer refunds for tickets purchased to this event unless the event is cancelled by organisers as per the above Wet / Adverse Weather Policy. Refunds and exchanges will not be made for inadvertently booking the wrong ticket, inability to attend or if patrons choose to leave the venue prior to the end of the screening. Should you be unable to attend the event and the event is going ahead, we encourage you to gift it to a friend or family member.
PARKING / ACCESS MAP Please refer to image below.