Catalyst Foundation is celebrating Get Online Week with a full day of activities! Learn new skills and enjoy this fun community event!
About this Event
Join us and attend the event (in-person or online) and get in the draw to win one of ten $25 gift cards!
Learn all about technology in a fun, interactive, inclusive environment! Whether you're joining us from home or participating in-person, you'll gain valuable knowledge and have fun! All skill levels welcome!
You can join us online or in-person!
To join us online, hit the 'register' button on this page and follow the prompts. At the end of your registration you will receive a Zoom link to join us on the day. Don't worry if this is the first time you are using Zoom, as we will also send you the instructions!
To join us in-person, please give us a call Mon-Fri 9 am to 5 pm to register over the phone. You will need to secure your place for this event as we can only accept 15 attendees at one time due to social distancing measures we have put in place as part of our COVID-19 plan.
Scroll down to see the schedule of the day!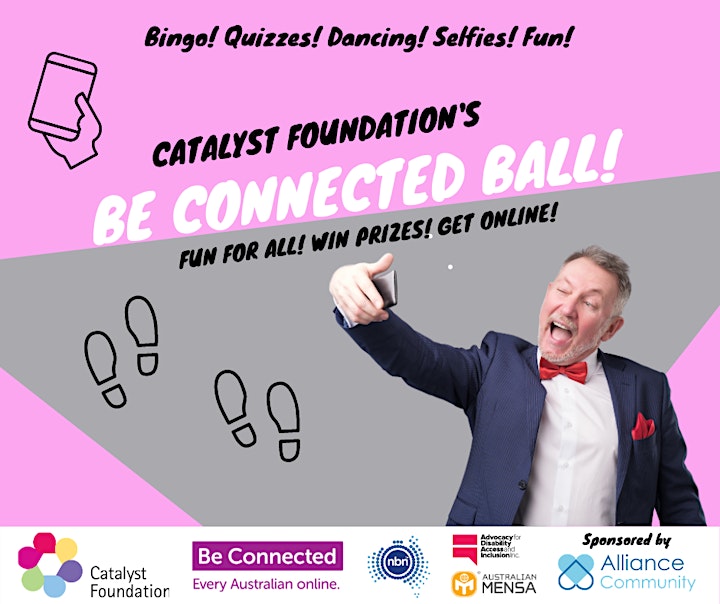 Schedule
You can register and join us at any time!
10:00 Intro (Acknowledgement of Country and Catalyst Overview)
10:20 Global Dance Party with George
George Gouzounis from Swing That Thing and Yes We Dance will take us to a dance party around the globe! We will travel to three countries and learn moves from different dance styles! You can participate from your chair or standing! In any case, by the end of this class, you will be ready to hit the dance floor!
11:20 Panel Presentations
Representatives from Catalyst Foundation, ADAI and nbn will take your questions. See what services Catalyst Foundation and ADAI have to offer and how you can get online and make the most out of your nbn experience!
12:00 Lunch Break & 1-on-1 sessions
Ask questions to our 1-on-1 tutors or phone us from home if you need any help about technology!
1:00 It's All Fun and Games with Laura and Caitlin
Laura Parsons, SA State Secretary for Australian Mensa, and Caitlin O'Toole from Catalyst Foundation host a games extravaganza! Test your online savvy with a 30-question quiz and try your hand at a tech-themed bingo! Prizes to be awarded!
2:30 A word from our sponsor, Alliance Community
Alliance Community understands that no two people are the same and that's why they focus on delivering tailored support packages. Regardless of location or type of support required, they can appropriately match one of their Support Stars to your needs. Their personalised support services are available to people of all ages and abilities including the elderly, respite for family members, or those returning home from hospital.
2:45 Community Presentation
More details to follow!
3:00 Selfie Crash Course with Caitlin
Everyone loves selfies! Have you ever wondered how to take one? We'll show you how, and we'll showcase our pictures to the group and have a funny caption contest! Improvise with your own props, or use some of ours!
Session hosted by Catalyst Foundation with the support of Good Things Foundation and Be Connected. Special thanks to nbn, Advocacy for Disability, Access and Inclusion and Australian Mensa
The event is sponsored by Alliance Community, one of Australia's leading providers of premium community support and an NDIS registered provider. As part of Health Solutions Group Australia, Alliance Community has offices across Australia and can offer support no matter where you live.