Description
We are making a big BANG and bringing our super dance powers out to the hills this April.
Our workshops are more than just perfecting your dance technique. Our workshops are about harnessing the ability to be fearless, to be UNSTOPABLE and most of all to bring your passion and power to the dance floor or anything you choose to do.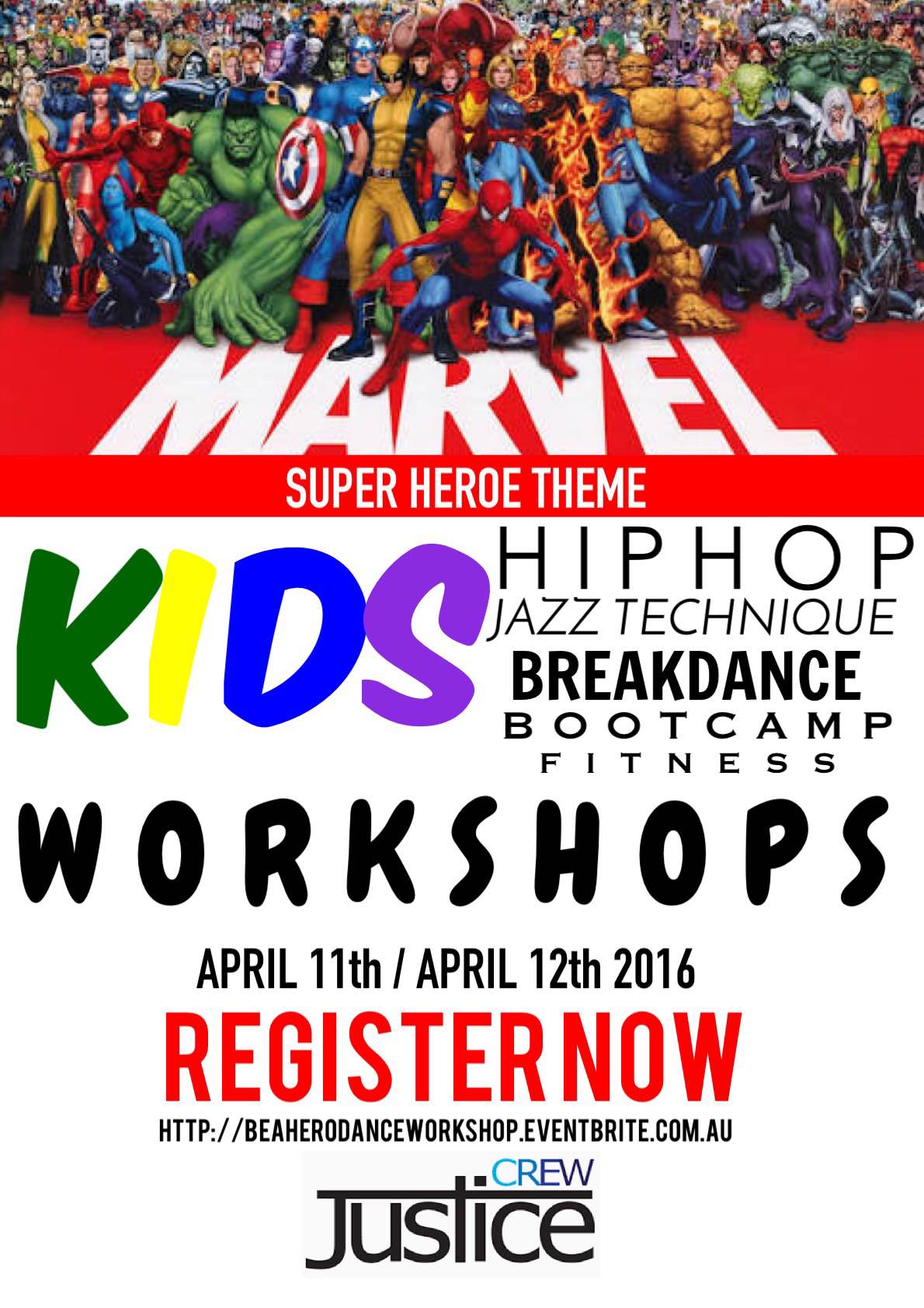 Our workshops will include masterclasses
B-boying/Break dance: Learn the history and true street style of b-boying aka breaking including toprocks, freezes and preps for power moves with some old school FUNK tunes.
Hip Hop: Learn control, grooves and stage presence using a combination of hip hop styles including popping, locking and breaking.
Power bootcamp: Using functional and fun exercises to create complete body awareness. Working on both strength and cardiovasular drills to increase coordination, flexibility and mobility.
JFH: Jazz, Funk & Hip hop also known as "Commercial Jazz" or what you see in "pop" film clips. Learn jazz technique and skills as well as a choreographed combination.
Back yourself: This class is focused all on building confidence and self esteem. Focusing on both team building and individual exercises to beat shyness, build your confidence and overcome fears.
Sports: This class is all about FUN. Allowing the kids to work in a team environment focusing on coordination, ball skills, strength and cardiovasular activity. e.g Soccer, Oz tag.
How does it work?
It is a 2 day workshop filled with the above classes from 10am-2pm. At the end of the second day (12th) from 1.30-2pm the parents are invited to a little showing of what the kids have learnt.
Monday April 11th 10-2pm & Tuesday April 12th 10-2pm
All are welcome from Beginner - intermediate levels. Froms ages 5yrs-12yrs
To Register & confirm your spot buy the tickets online via this link. Should you have any questions please email me on info@chantalcurmi.com
Dresscode: Dress in comfortable super hero apparel. Bring comfortable sneakers for sports/bootcamp.
Please NO tiny shorts or mid drift tops as we will be doing lots of physical activity and learning tricks.