'BE A BETTER DAD TODAY' SEMINAR 成就 '我是好爸爸' 研讨会
Description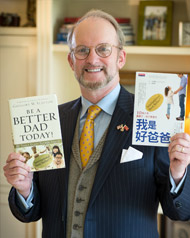 'BE A BETTER DAD TODAY' Seminar - Guest speaker : Prof. Gregory Slayton
Prof. Gregory Winston Slayton is an American professor, diplomat, author, businessman, and philanthropist. Born in Ohio, He is a former Adjunct Professor of Business Administration at the Tuck School of Business at Dartmouth College and continues to work as a venture capitalist. He is also a Distinguished Visiting Professor of Leadership at UIBE Business School in Beijing. Slayton was appointed by President George W. Bush as the United States Consul General and Chief of Mission to Bermuda, (2005 to 2009), upon the completion of 'Be A Better Dad Today', Prof Gregory initiated a 'A Better Dad' fatherhood journey globally.
This seminar is based on a global bestseller in 2012 being one of the best books on fatherhood you will ever read. It is the journey of Slayton's 30 years' study of fatherhood on five different continents, his research into the subject and his own experience raising four great kids with his wife of 25 years.
In 'Be a Better Dad Today!" Gregory explains how to navigate the most important job in the world. This book is a great resource for today's dads. - Jeb Bush (Governor of Florida, 1999-2007)
'Be A Better Dad Today! is perhaps the most practical and down-to-earth manual you will find how to be an effective father.' - Tim Keller,senior pastor, Redeemer Presbyterian Church, NY.
Time Table:
10am to 12 noon - Session 1
12noon to 12:45pm - Lunch
12:45pm to 2:30pm - Session 2
2:30pm to 2:45pm - Tea Break
2:45pm to 4pm - Session 3
Free registeration, Free Lunch and Free Will Donation!
Register today! Learn and apply the ten tools in 'Be A Better Dad Today' to experience the love of your wife and children even more!
成就《我是好爸爸》畅销作家史雷顿教授 (英文主讲附有中文翻译)
首次到访澳州 (英/中)
雷格瑞 ·史雷頓是位美國籍的作家、外交官、商界人士和慈善人士;偶爾於達特茅斯學院 、哈弗、史丹福授課,並於中國北京對外經濟貿易大學商學院教授領導能力的研究。早年在矽谷的工作成果為哈佛商學院整理成個案研究的基礎];曾受美國總統小布希、歐巴馬命為美國駐百慕達大使。自2012年起,完成著作-《我是好爸爸》後,開始全球宣揚當個『好爸爸運動』的理念。
此研讨会是以全球畅销书《我是好爸爸》为题材,也将会是您读过的最好的父亲书籍之一,出自于Slayton三十年在五大洲所经历与与学习父亲的历程。他的研究是亲身与妻子如何藉二十五年的婚姻一起培养了四个优秀的孩子。
《我是好爸爸》",格雷戈里Slayton解释了如何浏览世界上最重要的工作。 这本书对今天的爸爸来说是一个特好的资源。—— 杰布·布什(佛罗里达州州长,1999-2007)
《我是好爸爸》或许是帮助你成为一位有的效父亲最实用的工具。—— 蒂姆。凯勒主任牧师。长老会救主堂,纽约。
成就《我是好爸爸》会帮助你的妻子儿女会更爱你!
免费报名和午餐,自由奉献,名额有限,欢迎尽今天就报名!