Battle of the Bubbles

Sunday, 21 September 2014 from 1:00 pm to 4:00 pm (AEST)
Event Details
Top Australian Wines & Wine Tasting Events
announces

THE event everyone in Port Melbourne

will be talking about on Sunday 21 September at 1:00PM.

BATTLE of the BUBBLES

Exquisite champagnes, award-winning wines,
and amazing cuisine battle it out to win over your taste buds.
The undisputed winner: YOU
WHAT: Battle of the Bubbles Wine Lunch
WHEN: Sunday 21 September, starting at 1:00PM
WHERE: The Pier, 1 Bay Street, Port Melbourne
AVAILABILITY: Reserve your seat at this unforgettable event:

EXCLUSIVE DISCOUNT PRICE: ONLY $150 per person
Details 
When was the last time you enjoyed a first class lunch with an ocean view and all the champagne you longed for?
When was the last time you savoured course after course of modern cuisine cooked by top chefs while savouring the world's best wines?
When was the last time you had the time of your life with your family and friends while sharing champagne, sharing food, and sharing stories.
On 21 September, partake in the greatest battle you'll ever love!
BRING ON THE BUBBLES

Champagne and sparkling wine… there's just something magical about those tiny bubbles.
The unmistakable effervescence enhances the flavor and experience of every glass.
From the moment you arrive at this one-of-a-kind wine lunch at Port Melbourne's The Pier, you'll enjoy glass after glass of our highest quality champagne and wines.
Compare each sip.
Choose your favourite.
Then decide for yourself which bottle deserves to win in this Battle of the Bubbles.


ON ARRIVAL:

Australia:
AIRLIE BANK SPARKLING BRUT NV (Yarra Valley, VIC)

As you take your seat at this wine lunch event, you'll be presented with assorted SUSHI HANDROLLS with YAMASA SOY.
ENTREES:
Premium Australia
STEFANO LUBIANA BRUT NV (Tasmania)
CHANDON TASMANIAN CUVEE 2009
Savour your premium wines as you partake in a gift from the sea — Succulent CRAB with GRILLED CORN & CORIANDER SALSA.
Premium NZ, biodynamic  
HUIA 2006 BRUT

CLOUDY BAY PELORUS BRUT NV
Even more delicious wines battling it out for your taste buds as you enjoy one of The Pier's masterpieces — SALMON, AVOCADO & HERB TAR TARE with MARIE ROSE SAUCE.


Spanish Cava  
JUVE Y CAMPS RESERVA DE LA FAMILIA CAVA 2008

Next, we mix it up with a bottle of Spain's best. While you enjoy the Cava, we serve a sweeter dish — POLENTA &  FIG, RED ONION RELISH & GOATS CHEESE.


Premium Austrian vs France
BRUNDLMAYER BRUT SEKT 2010 
CHANDON VINTAGE LES TROIS ROSE 2010 (NEW RELEASE)
Now, we present two wines — one from France and one from Austria. You'll fall in love with both as you taste your BBQ PRAWN with a chipotle dipping sauce.


MAINS:
Italian      
BELLUSSI PROSECCO DI VALDOBBIADENE EXTRA DRY NV (Veneto, Italy)

Italy brings an extra dry wine that you won't soon forget — to accompany your Italian wine, The Pier offers their incredible dish: PORK & VEAL MEAT BALLS with RICH TOMATO SUGO.


CA DEL BOSCO FRANCIACORTA BRUT DOCG CUVEE PRESTIGE (Lombardia, Italy)

Another wine, another unforgettable dish. Enjoy tender DUCK BREAST with BLACK CURRANTS & CRESS


Premium French  
JACQUESSON 737 NV 
RUINART R BRUT NV
Now the chef brings premium French wines so delicious that they need no food to pair. Simply take your time to imbibe sip after sip.
Red Sparkling  
CHANDON SPARKLING PINOT SHIRAZ 

The grand finale to this extraordinary meal and wine event is a red sparkling shiraz you'll want to tell your friends about. Enjoy our BRANDIED CHIRIZO CROQUETTE with sweet pepper aioli.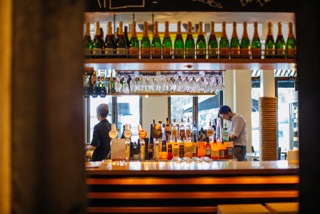 Your life is dotted by memorable events — events that take your breath away.
Graduation. Your wedding day. The birth of your first-born.
Could Battle of the Bubbles rank up there with your greatest memories?

We recommend you experience these champagnes and wines, savour this delicious food,
and take in the ambiance of The Pier and find out for yourself.
Reserve your seat today
for the Battle of the Bubbles!
When & Where

The Pier Port Melbourne
1 Bay Street
Port Melbourne, VIC 3207
Australia

Sunday, 21 September 2014 from 1:00 pm to 4:00 pm (AEST)
Add to my calendar
Organiser
Martin Peston has been actively involved in the wine industry for the last 10 years and is the director of Top Australian Wines Pty Ltd which trades under the name of Wine Tasting Events.
He specialises in selling & showcasing boutique wines from Australia and around the world.
His wine website is www.topaustralianwines.com.au
For further details of upcoming events please visit his events website at http://winetastingevents.com.au