BARCODE AUSTRALIA DAY EVE - Tuesday 25 January 2022
About this event
Get ready for a special Australia Day eve edition of BARCODE on Tuesday night 25th of January 2022 from 10 pm until late.
Join us on Australia Day eve on Tuesday night 25 January as we celebrate all things Aussie.
This will be one hell of an Aussie sausage sizzle party and play with free Aussie giveaways and free cloak check.
BARCODE AUSTRALIA DAY EVE will also include, full colour laser shows, full production, Aussie theming & surrounds, free giveaways, free Aussie snacks, fully licensed event, full-service bar, top circuit DJ's, over 4 huge levels, hot throbbing studs, private areas, play areas, themed areas and private rooms, free cloak check plus all male Aussie spot shows throughout the venue throughout the night.
We will be taking you on a 9-hour musical journey on Australia Day Eve on Tuesday night 25 January at BARCODE with the amazing sounds from the world's hottest circuit DJs plus the over-the-top stunning BARCODE Laser show.
BARCODE is giving Sydney what it wants on Tuesday night Australia Day eve with the following day being a public holiday for everybody to enjoy.
BARCODE Australia Day Eve is sponsored by Bang Clothing, Red Bull, Full Tilt Productions, The Fabulous Laser Company, Trade Club, Circuit & Addicted.
See you all at BARCODE on Australia Day Eve on Tuesday 25 January 2022 for this very special Aussie edition of BARCODE.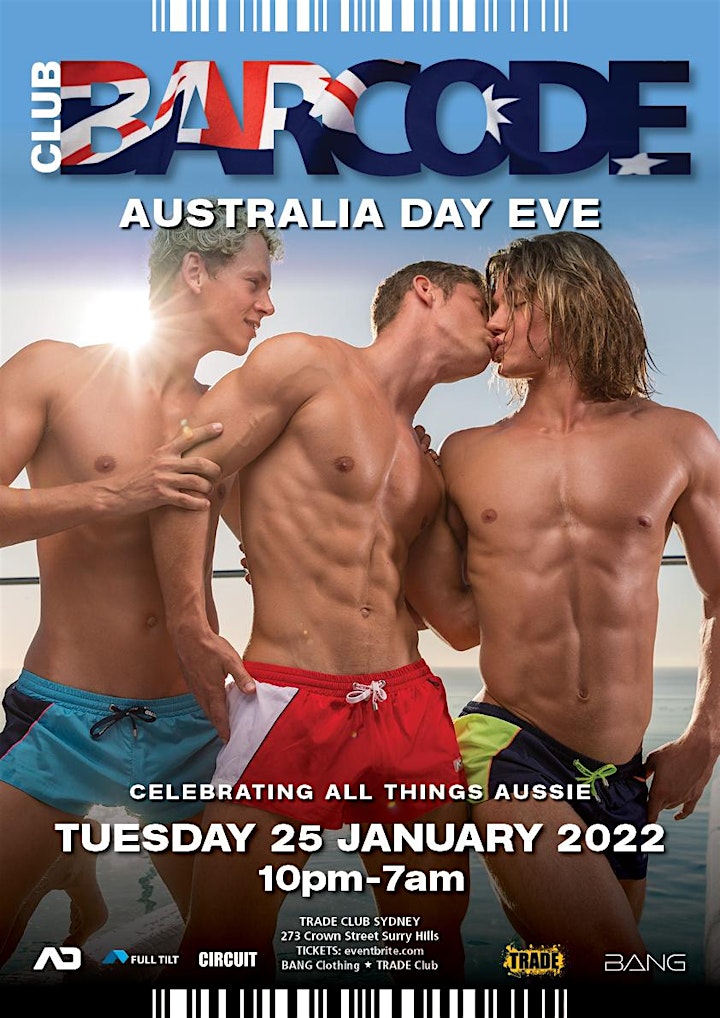 Organiser of BARCODE Australia Day Eve
Sydney's wildest and hottest underground Men Only events in Australia.