Run by sommelier Daniel Marcella, founder of Italian Wine Society, this Masterclass is a journey to the world of Barbera.
About this event
Barbera is one of Italy's most famous grape varieties, being the 5th grape most planted in the peninsula. While many producers start growing this grape worldwide, Italy is still its homeland, expressing such grace and complexity to the wine. Thanks to its versatility, Barbera has been planted in many region and subzones of Italy; therefore, you need to embark on a journey to understand this grape, starting with this class.
Understanding styles, appellations, producers and vintages are the most fun part of this trip. Barbera is also a great companion when we refer to food and wine pairings.
We will start with an overview from Piemont to Lombardia regions, learning about the most famous appellations of Alba, Asti and the Oltrepo Pavese. At the end of this class, you will be able to recognise the principal area of production, the characteristics of this grape and start understanding the potential ageing and styles of this grape—definitely a great beginning of a great journey!
"Cin Cin!"
Who is coming?
From Italian wine geeks who intellectualizes wine and collectors who treat wine like a portfolio asset to the newly aspiring Italian wine lovers who are curious about Barbera and appreciate its most essential charms.
What's included?
You will taste nine different Barbera with a tasting pouring of 75 ml while savouring classic regional food* pairing throughout the night.
You will have the opportunity to purchase wines at a super discounted price during the night!
*If there are any food intolerances or allergies, please let us know in advance.
When? Thursday, 20th of May
Where? Bayswater Fine Wines at 77 Bayswater Rd, Rushcutters Bay
What Time? 6:30 to 8:30 PM. Please arrive by 6:20 PM to check-in and get settled.
Who? Presented by Daniel Marcella, Founder and Principal Sommelier at Italian Wine Society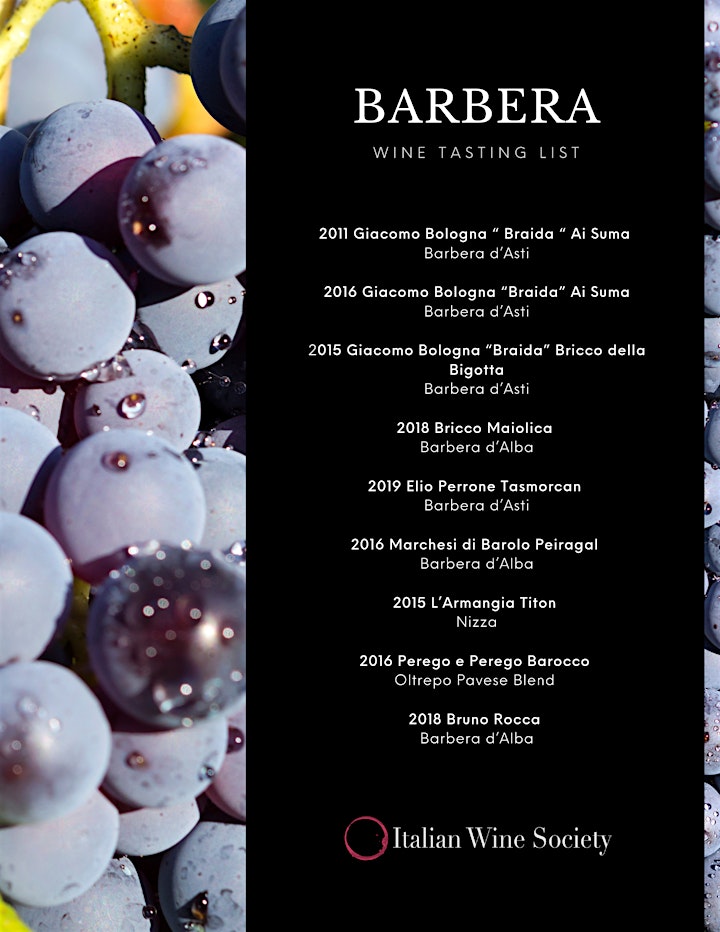 Organiser of Barbera Wine Masterclass
Where authentic Italian Wine Experts spread the gospel of Italian wine, its biodiversity, culture, and history in Australia. Mixing education, network & pleasure, all in one place. How Italian!
Join our events and learn about the Italian abundant lifestyle; full of worldly pleasures brought toyou by the Italian Wine Society.