Bangalow Business Women's Networking Breakfast February 2015

Thursday, 12 February 2015 from 7:30 am to 9:00 am (AEDT)
Event Details
Bangalow Business Women's 
Networking Breakfast 
Thursday, February 12th, 2015
from 7:30 AM - 9:00 AM
Come and join a great group of local business women and learn
The topic this month is -
Starting / maintaining a successful business
 - Make a success of your Passion
 Our speaker is Donna Sharam  –  the Colour Queen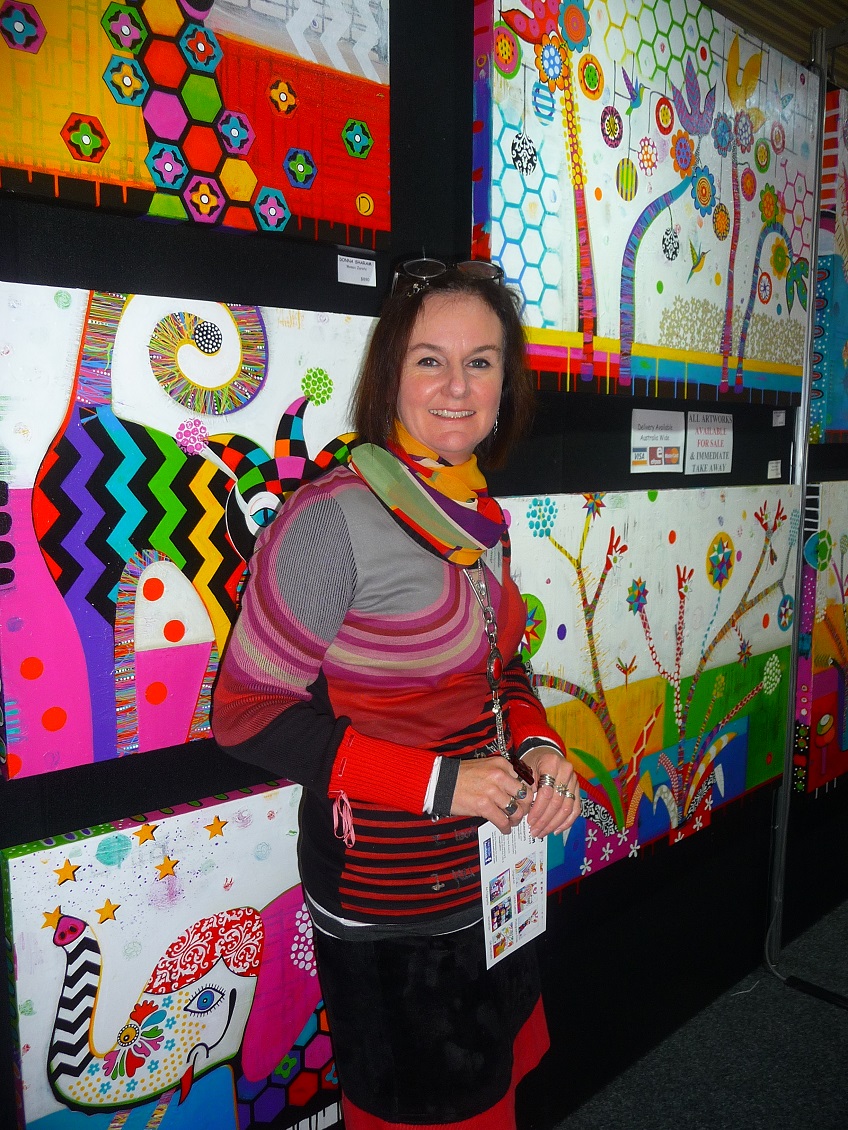 Here are a few words from the creative woman, be prepared to be inspired -
I consider myself very lucky.
A childhood growing up in the Australian bush, horse riding swimming in the creek, fun and laughter. 
18 years old and off to Sydney to study Fashion Design at Sydney College of the Arts. Life has started and my creative juices are flowing. 
Working in the fashion industry was fun and hard work, trips to China and Hong Kong, the girl from Coonabarabran just loved life. 
3 children and a teaching degree later came the best decision I ever made. 
A sea change to the rolling hills and huge skies of the Byron Bay Hinterland, the area just inspires creativity…… maybe I will try my hand at painting? 
Well, here we are 2015 – 10 years of painting and over 500 hundred original works sold! 
I consider myself very lucky.
Addicted to colour.
I have always been addicted to colour!  Even as a child I drove my Mum crazy wearing different colour shoes (yes at the same time) and you should have seen the look on Mum's face when during my time at University, I dyed my hair red and black checkerboard !!!!!
As for art, I think the brush merely tints the canvas, it is imagination that produces art. I have always been drawn to the quirky and different, normal is not a word I use.
My work owes nothing to tradition, I paint with joy and passion and my art is for everyone. Colour and texture collide on the canvas to create works that are truly unique and joyful in style and execution.
As the great artist and architect Hundertwasser quotes:
 "Art must regain its universal function for all and not just be a fashionable business for insiders".
 This I believe to be the truth – what inspires me, is, that as well as established art patrons, my work is hanging in the homes of many first time art buyers. I just LOVE that my art brings smiles, joy, imagination and colour into people's environment & life.
 Recently I received a message from one of my art family, telling me how every time she walks past my painting hanging on her wall it makes her smile.
 This is why I paint and painting is my life and I just LOVE my life!
- a lucky door prize (totally optional) - if you'd like to offer something up for a prize, and talk about your product/service to the members. This is the way to promote your special offers.

- name tag (if you have one).
- be prepared to speak for 30-60 seconds about who you are, your business and what you do.
Cost: $25 pre-booking payment is essential.  
Ticketing system takes credit and debit cards.
Direct debit bank transfer by request, send email to bangalowbusinesswomen@gmail.com 
Any dietary requirements & drink requests can be noted when you book your ticket. 
NEXT MEETING Thursday March 12th, PUT IT IN YOUR DIARY NOW!
When & Where

Utopia Cafe
13 Byron St
Bangalow, NSW 2479
Australia

Thursday, 12 February 2015 from 7:30 am to 9:00 am (AEDT)
Add to my calendar