Sales Have Ended
Registrations are closed
You don't need to print the ticket as it's not needed for entry as we will use your name as identification.
Sales Have Ended
Registrations are closed
You don't need to print the ticket as it's not needed for entry as we will use your name as identification.
Description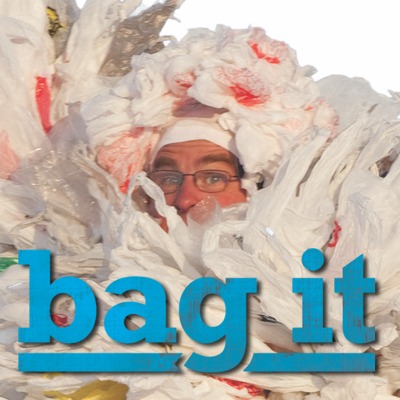 Americans use 60,000 plastic bags every five minutes—single-use disposable bags that we mindlessly throw away. But where is "away?" Where do the bags and other plastics end up, and at what cost to our environment, marine life and human health?
Bag It follows "everyman" Jeb Berrier as he navigates our plastic world. Jeb is not a radical environmentalist, but an average American who decides to take a closer look at our cultural love affair with plastics. Jeb's journey in this documentary lm starts with simple questions: Are plastic bags really necessary? What are plastic bags made from? What happens to plastic bags after they are discarded?
Jeb looks beyond plastic bags and discovers that virtually everything in modern society—from baby bottles, to sports equipment, to dental sealants, to personal care products—is made with plastic or contains potentially harmful chemical additives used in the plastic-making process. When Jeb's journey takes a personal twist, we see how our crazy-for-plastic world has finally caught up with us and what we can do about it.Today. Right now.
We in Perth Western Australia still use a lot of plastic bags. There are a number of groups that are pushing the use of fabric bags or reusing old plastic bags and now there is a call to completely ban plastic bags.
Come and see this thought provoking movie with us and join the conversation. The speaker for the night will be Christine Allen who will be speaking about living a waste free/plastic free life.
Christine got involved in sustainability after completing the Earth Carer and Living Smart Course in 2011/2012. Since then she has been an active Earth Carer volunteer, assisting in the organising of Less Is More Festival, speaking to the public about worm farms and assisting in the evaluation of Plastic Free July 2016. Christine also has a passion for plants and conservation and works for DPaW.
Her zero waste highlights include: getting all work colleagues to bring a mug on the daily coffee run and rifling through rubbish at the Royal Show for the public to watch (maybe a low point haha).
Official Web Address: http://www.bagitmovie.com
How to take action now: http://www.bagitmovie.com/get_involved.html
We will be showing Bag it at 6.30pm on Wednesday 12 July 2017 at Foyer Oxford, 196 Oxford Street, Leederville.
Event Details
Doors open at 6.30pm. Films start at 7pm.
Bring your own food and non-alcoholic drinks!
Gold coin donations appreciated (to bring you more films).
You don't need to print the ticket as it's not needed for entry as we will use your name as identification.
For more information about Transition Town Vincent, go to ttv.org.au
For more information about Foyer Oxford, go to foyeroxford.org.au
Privacy Statement
We respect your privacy and will not provide your details to any third party. By booking tickets to this screening through Eventbrite, you will be added to our mailing list and will receive email invitations to further movie nights. You may also receive information related to the movie you have attended, and invitations to other events hosted by Transition Town Mount Hawthorn. If you don't wish to receive further emails from us, please unsubscribe through Eventbrite or email UNSUBSCRIBE to ttmthawthornmovies@gmail.com.
Disclaimer
By participating in this event you knowingly and willingly do so at your own risk. Transition Town Mount Hawthorn does not accept any liability for any damage, loss, injury or anything else you, your property or your guests may sustain or incur by attending this event.