Back of the Napkin Lunch - SALA Exhibition and Bringing Art to you Business
Business and art's relationship is becoming stronger than ever. View a unique SALA Exhibition followed by lunch at the Bridgewater Inn.
About this event
This event begins at 12.00 pm with the 4 Women with a Palette SALA Exhibition at the Bridgewater Arts Centre, where you'll hear from Kerry T who is a South Australian acrylic artist, bringing colour to your world with cheerfulness.
The exhibition includes pieces by Sue Baker, encaustic artist who turns wax and fire into inspired flows of nature; Nina Ventura, mannequin artist, transforming vintage mannequins into fascinating works of art; and Collen Morrow, linocuts artist, currently working on stages of the chrysalis from the Monarch butterfly.
At 1.00 pm, join fellow artists and creatives, business owners and leaders, entrepreneurs and founders, at the scenic Bridgewater Inn for lunch in front of an open fire with hearty meals and wide range of local wines and beverages to try.
You'll pay your own way for food and drinks plus discussion over lunch will be focused on how to bring art , fun and happiness to your business.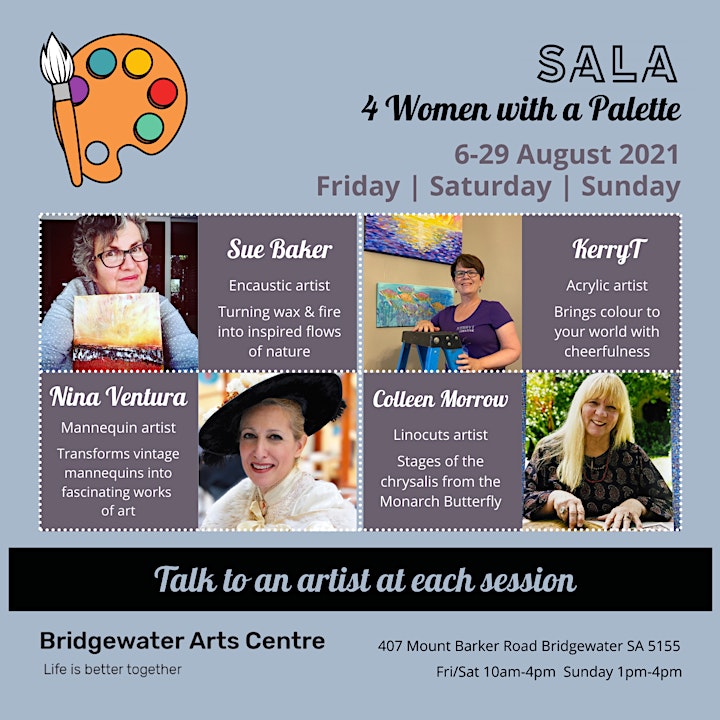 Organiser of Back of the Napkin Lunch - SALA Exhibition and Bringing Art to you Business