Come and learn how to massage your own baby, using the correct techniques, to gain such amazing benefits.
About this event
Parents are discovering the magic of Baby Massage and how by massaging your baby you can help your baby sleep better, cry less, have less wind, reflux, constipation, colic, improve their immunity, help with teething pain, bond plus so much more.
Touch is the first form of communication for babies and such an important first steps of their development.  By learning the correct taught massage techniques by accredited Infant Massage Instructor, you are learning a life skill which you can use from newborn into schooling years, creating a relaxing, welling being experience for both child and parent.
Baby Massage Perth are proudly hosting Baby Massage Class at My Little Love Heart.  This beautiul, relaxing space will be welcoming Parents, Grandparents and Caregivers to the Baby Massage Class held on Monday 1 November at 10.30am for 45 mins with 15min Q&A'a at the end and opportunity to meet new parents.
At this class you will learn the correct techniques to be able to practice at home with your child.
Class age range is from newborn to 12 months old.  Pregnant ladies are welcome, a Doll is provided to learn the techniques on.  
Baby Massage empowers parents, helps connect and provides the chance to meet other Parents in the community.
We look forward to welcoming you soon at the beautiful
Bookings essential as places are limited.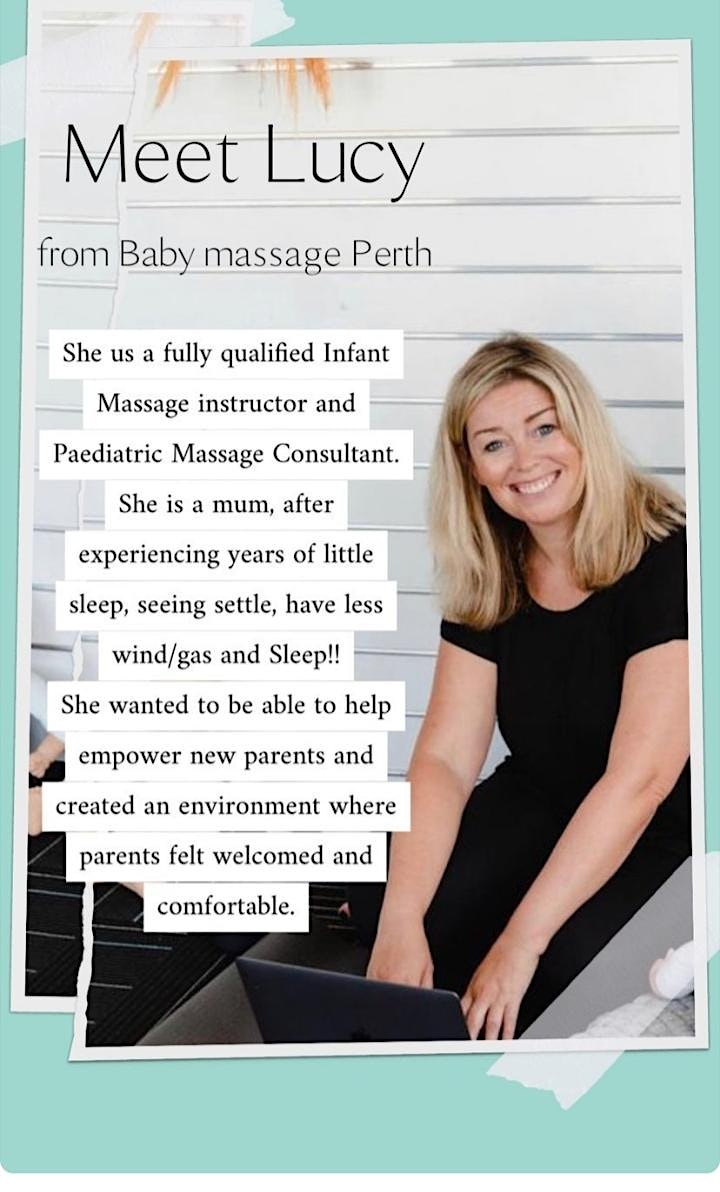 Organiser of Baby Massage Class at My Little Love Heart, East Perth
Baby Massage Perth is Perth's leading Baby Massage Company.
The ancient art of baby massage is slowing becoming in-vouge to the modern parent and becoming a part of daily life for families with life changing results.
Massage goes back to ancient times and Parents are now discovering how the correct taught massage techniques can help their child against the most common issues babies, infants come across in the first few years of parenting.
Benefits of massage result in babies sleeping longer, settling, cry less, better immunity, less wind, reflux, constipation, colic, better muscle tone, bonding plus so much more.
Check out Baby Massage Perth website, Instagram or Facebook for further information.
Come and 'Discover the magic of Infant Massage with Baby Massage Perth'.
Baby Massage Perth also offers a range of wellness classes to support Mums to be right the way through to schooling years of PreNatal Pregnancy Yoga, Natural Birthing Workshops, Meditation with Bubs, Mums and Bubs Yoga and Mums and Bubs on the Move Yoga.  These classes are taught by fully qualified Yoga Teacher with over 10 years Mums and Bubs Yoga experience.