Theatreroo's BRAND NEW 60 minute Pub Theatre production - BABY BOOMER
About this event
THEATREROO PRESENTS
BABY BOOMER
60 Minute Pub Theatre
The 1960s was an era of great cultural and social change in the world – not least in Australia, where a sleepy nation was roused to action by its youth. From the first man in space to the moon landing, from the assassination of JFK through the Vietnam War, from the birth of the Beatles pop group to its demise, the Sixties was one of the most momentous decades in history. And it was largely due to that generation of people born post-World War 2: the so-called "baby boomers". They were the second-wave feminists, the gay rights activists, the 'New Left'.
This vibrant new musical from Theatreroo looks at the lives of some of these young revolutionaries, as they are embroiled in the tumult of the times.
Baby Boomer features a cast of exciting new talents: Harmony Breen, McKeira Cumming, Travis Holmes and Joel O'Brien, joined by Theatreroo stalwart Matt Newnham, all performing a dozen new songs in a show created by Clarry Evans and Denny Lawrence, who were responsible for the recent highly-successful musical Utopia.
CREDITS
Written by Clarry Evans and Denny Lawrence
Directed by Denny Lawrence
Musical Director Sante d'Ettore
CAST
Harmony Breen as Helen
McKeira Cumming as Fran
Travis Holmes as Tom
Tomer Dimanstein as Mick
Matt Newnham as 'Doc'
and 3 piece band
BABY BOOMER SHOW DATES: 
Friday 11 June
Saturday 12 June
Friday 18 June
Saturday 19 June
Friday 25 June
Saturday 26 June
Doors Open: 6.30pm 
Performance Starts: 7.15pm
Performed at the Theatreroo residency, The Basement @ Twelfth Night Theatre, Bowen Hills.
Location: 4 Cintra Rd, Bowen Hills, QLD 4006 (Presence of stairs / non-accessible to disabled person (all our apologies))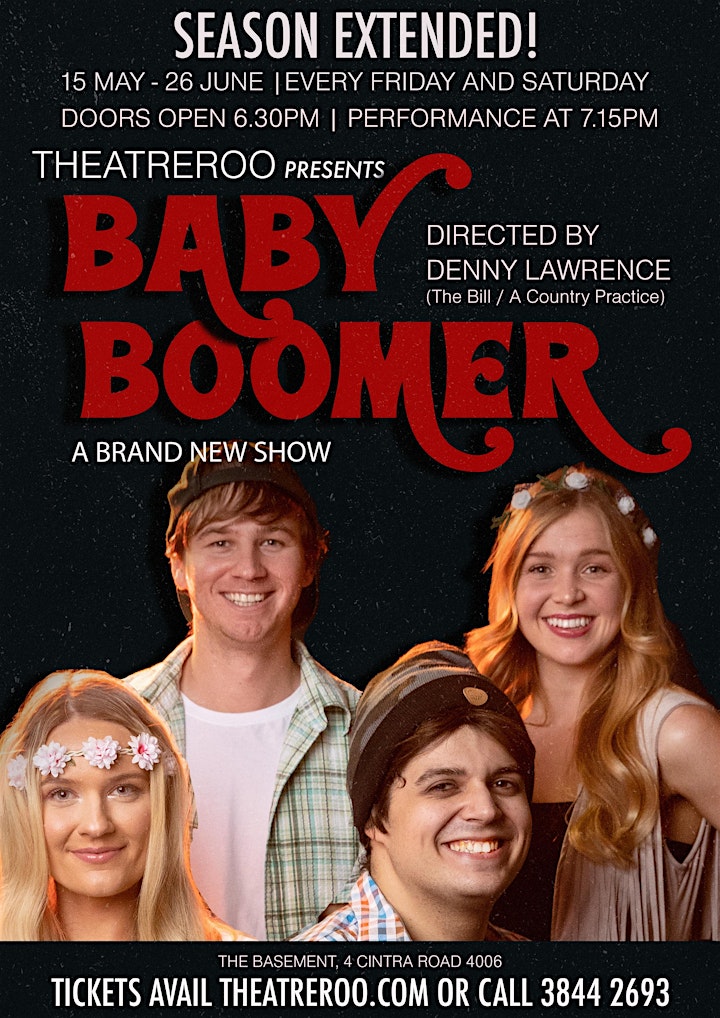 For more information visit us on Facebook: @theatreroo or on Instagram @theatreroo_
PRESENTED BY THEATREROO: https://theatreroo.com/
Any issues please call Theatreroo Booking Office on 3844 2693