B2B LinkedIn Master Class

Friday, 30 October 2015 from 8:30 am to 2:30 pm (AEDT)
Event Details
Are you on LinkedIn, or want to be, but have no idea what you should be doing consistently to make it worth your time?
With 3.6 Million Australians on LinkedIn, it is too good an opportunity for your business not to be using it effectively. However, it's not your typical social media channel, so it's important to know how to use LinkedIn properly. If your LinkedIn use is limited to simply asking for and accepting connections and you're wondering "What's the point?", then this B2B Master Class is for you!
In this B2B LinkedIn MasterClass you will learn how to:
Decide which products and services to promote

Search for your ideal target prospects

Build or update your profile to best-practice standard

Connect with your inner circle

Connect with prospects

Create, source and share content

Ask for a meeting

Track your performance
This is not just another marketing workshop. Here's why:
This Master Class not only teaches you how to use LinkedIn effectively, but also looks at content marketing, which will have a broader application to your business. You will learn how to come up with content ideas, how to create content, how to integrate it into your sales process and how to publish content to LinkedIn.
This isn't just another marketing workshop that gets you all hyped up but doesn't provide you with the tools and knowledge to break those old habits when you get back to work. This class isn't just theory about what you should and could be doing. It is a Master Class, so you'll need to bring a laptop (not just a tablet), as you will be doing real work in LinkedIn. Don't worry, we've got the free Wi-Fi sorted.
Here are the details:
Date:              Friday 30 October, 2015
Time:              8:30am - 2:30pm
Location:        CBR Innovation Network - Level 5, 1 Moore St Canberra
Cost:              $325 (ex. GST) incl. morning tea, lunch and afternoon tea!
Bring:             A laptop and charger. We will provide Wireless Internet access.
Presenters:    Colin Anstie : Raging Digital
                      Daniel Oyston : Content Grasshopper
Colin Anstie, Founder and CEO, Raging Digital
"I founded Raging Digital to help businesses, executives and marketing professionals, build, measure and monetise their digital universe. Dedicated to disruption and addicted to change. I'm pretty dangerous in Social Media, Search, Web, Email Marketing, Analytics, Content Marketing, eCommerce and CRM. Operating with a million browser windows open. Golfer who loves adventures that end with lower costs, increased sales and consistently flowing revenue. Die hard 80's pop music fan."
Daniel Oyston, Owner, Content Grasshopper
"I've helped loads of organisations, of all sizes, in heaps of industries, with their marketing. I also teach marketing at UC. Sadly, too many businesses are still trying to use marketing tactics that were designed to sell stuff to our grandparents. That doesn't work in today's digital world and I'm tired of seeing businesses get ripped off with bad advice. I watch way too much sport, love riding mountain bikes and having a laugh while smashing the work."
---
Frequently Asked Questions
Where do I park?
We recommend you park in the CityWest Carpark on Allsop Street. Cost is $15 for 6-7 hours, OR $12 all day if you park on the rooftop. If you park on the rooftop, just make sure you get your chip coin validated by the roof top attendee in the lift foyer before you leave.
How do I get there?
Punch "Citywest Carpark, Allsop Street, Canberra" into Google Maps or check out our map below if you prefer to drive GPS free. Once you have parked, follow our map below for directions on the 4 minute stroll to the workshop.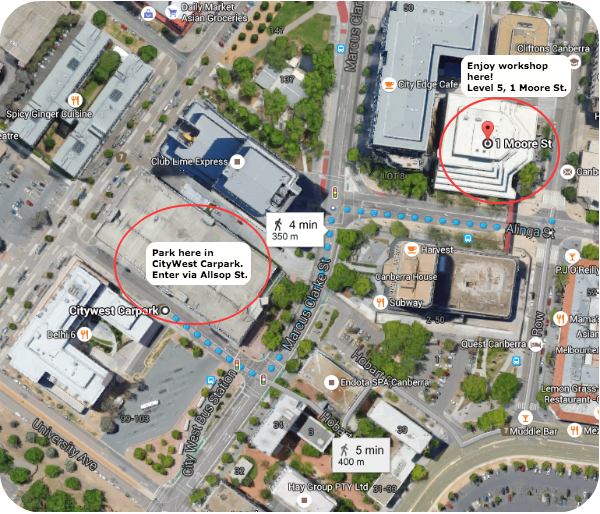 What should I bring to the class?
Bring a laptop (tablets won't suffice sorry), laptop charger, business cards to spruik your wares, and everything else will be provided for you! If you don't have a laptop, send us an email at col@ragingdigital.com and we will provide one!
Will there be any take home goodies?
Yes! We will provide you with a take home booklet containing information from the day and email you the entire presentation pack after the event.
How can I contact the organiser if I have questions? 
You can email the course facilitator Colin Anstie directly at col@ragingdigtial.com or call on 0429 864 884. He is quite a friendly fellow. 
Do I need to print and bring my ticket to the class? 
No, that sounds like a lot of fuss, we will take care of that for you!
What is the refund policy?
If you are unable to make it, no problem! You can have a full refund, attend a future event or even transfer it to someone else if you like. We are good like that. If the class is cancelled for any reason, you will receive a full refund or credit to a future event.
What should I wear?
I wouldn't take fashion advice from us. We recommend you wear something comfortable and most people wear smart casual clothing.
We can't wait! Hope to see you there!
When & Where

CBR Innovation Network
Level 5, 1 Moore St
Canberra, ACT 2601
Australia

Friday, 30 October 2015 from 8:30 am to 2:30 pm (AEDT)
Add to my calendar
Organiser
We love to challenge the norm, try new things, and drive revenue. Pioneered in Australia. Guaranteed Edgy Straight Talk.  We are specialists at Digital Training all over the country. We focus on growing your digital sales. www.ragingdigital.com