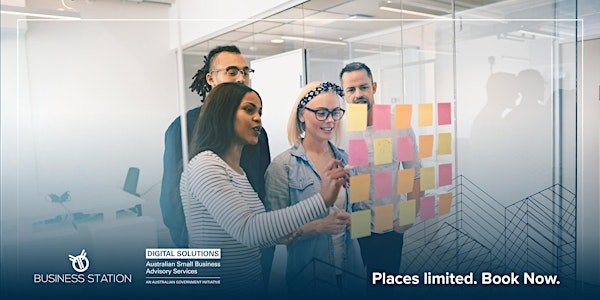 B2B lead generation using LinkedIn & Eventbrite by Tristan [1OW]
Sales Have Ended
Registrations are closed
Thank you for your registration to our ASBAS Digital Solutions Event.
Learn about how to prospect and get in front of high-value B2B clients using LinkedIn and Eventbrite
About this event
PLEASE NOTE: To register for this event you must be a business (0-19 employees)  and provide your ABN. 
This session will be recorded and sent to everyone who has registered. Register now!
Level : Intermediate
As the world becomes increasingly digital it is important not to loose track of the need to take leads and prospects on an appropriate emotional and informational journey which results in:
1. Contracts being signed
2. Partnerships being formed
3. Cashflowing into our accounts
In this webinar we look at some of the fundamentals of getting the process right... avoiding:
1. The pray & spray approach
2. Selling through the chat window
3. Targeting low value clients
This workshop is brought to you by Business Station and AusIndustry under the Digital Solutions Program.
ABOUT PRESENTER
https://tristansenycia.com/
Tristan is a highly resourceful and purpose-driven General Business Advisor & Product Strategist, having worked in Large Corporate, Not-For-Profit, Small Business & Startup Organisations.
‍This gives him the perfect background to help deliver:
The Commonwealth Government's Digital Solutions program as a General Business Advisor, Business Developer & Strategic Stakeholder Liaison.
Tristan also delivers coaching a part of the:
- Small Business Recovery Centre - Townsville's Concierge Program
- Advance Queensland's Advancing Champion Enterprises ACE Network
‍Tristan has significant domain expertise in the following industries:
- Business Strategy/Advisory
- Information Technology
- Commercial Construction
- Building Engineering
‍Tristan has recently returned to Australia after several years working internationally in Europe & United Kingdom within the tech start-up & scale-up sector. This experience has cultivated his strategic planning abilities, tenacity, and social & emotional intelligence.
‍Tristan helps Startups, Scale-ups and Small Businesses by performing 360 Diagnostic Reviews & Health Checks to identify factors that are inhibiting growth / performance. The output of these reviews is a detailed action plan/playbook for start-up founders/small business owners to implement to improve their operational, marketing & financial performance. Tristan has advised over 200 Small Business & Start-ups with a particular interest in Business-to- Business Models
#linkedin #eventbrite #networking #leadgeneration #sellingfromthestage
About Digital Solutions - Australian Small Business Advisory Services
The Digital Solutions program is built to help small business owners develop their digital marketing skills, from social media to building a better website, making online sales, creating Google and Facebook Ads, and more. All with the advisory and guidance of experienced industry experts who keep you on the right track and help you learn with step-by-step support and check-ins.
In almost four years we've helped over 15,000 small businesses in QLD, WA and NT to become more confident with digital marketing. With generous support and sponsorship from the Australian Government, you can access over $1,000 value in business advisory, training and online resources for only $44.
At this event, we'll discuss how our program works and how we can help you to build a more resilient business.
Important – Participating businesses must be aware that this information will be provided to the Commonwealth Department of Industry, Science, Energy and Resources for program evaluation and reporting purposes; and businesses may be approached by a representative from the Department to complete a survey on the services provided.