About this Event
Ayurveda is THE leading health system for promoting lasting transformation. Ayurveda teaches us how to optimize and maintain health as well as improve energy and awareness.
We are excited to present this popular interactive workshop to help you understand your constitutional dosha. The doshas are three biological energies found throughout the human body and mind governing physical and mental processes. You will explore the energies which shape your constitution and how to make simple and practical changes in diet, behavior and lifestyle for optimum wellness.
This workshop will also help you develop optimal balance and harmony by understanding and demystifying the workings of the Maha Gunas. You will come to understand how the Gunas and Dosha Theory relates to your everyday life and how this knowledge can empower you towards overall health and wellbeing including better decision making and life choices.
This workshop has been extended based on feedback from previous workshops to consolidate learning and application. Throughout the workshop you will apply learnings to map out your personalized wellness journey for your unique body type via a comprehensive resource guide. We will also enhance your knowledge base by facilitating small group opportunities to share and build a strong foundational understanding of your wellbeing pathway.
This workshop will empower you with knowledge, strategies and guidance to help you make changes that are realistic and manageable. We look forward to supporting you through your exciting transition-to-change journey with the opportunity for continuing support after the workshop.
Additionally:
Enjoy a luxurious guided meditation and relaxation, and take home a guide to help you implement a personal meditation practice.
Workshop outline:
* The fundamental principles of Ayurveda for holistic living
* Your unique body type and how to balance your dosha
* How your lifestyle affects your dosha
* The psychology of Ayurveda – the Gunas and their influence on your mind, emotions and daily life
* Identify how the disease process works and what you can do to support your health/immune system
* Ayurveda diet (as a medicine) for your dosha – understand what works for your body type and what imbalances it
* Simple tips for improved health and digestion
* Dinacharya– simple daily practices for optimum wellbeing
* Yoga asanas for your dosha
* How to balance your consciousness with mindfulness meditation
* Understand how actions of the mind affect the body and vice versa
* Develop a greater understanding of the external world and its relationship to your wellness
* Learn the difference between matter and spirit, and discover why this knowledge is CRUCIAL to healing.
Important information:
· Gift pack includes Ayurveda and meditation kit to get you started on for your new daily routine.
· Nutritious Ayurveda lunch and afternoon tea will be provided.
· All ages welcome
· Young adults and teens encouraged to attend with their parents at no extra cost.
· What to wear: Please wear comfortable clothing for asanas and relaxation
· A preparatory resource will be emailed to you prior to the workshop. Please bring this with you.
Parking: Street parking is available. Please allow time for parking prior to workshop.
This is a popular workshop so book in early!
The workshop environment will adhere to social distancing and Covid safe practices.
Sample Testimonials:
"Brilliant. More workshops like this. Loved the whole session. It aligns with my values, careers and education." Maura
"What you said validated with how I've been feeling. Having been so focused on my mental illness had fused it with my sense of self - reminded me I am not a product of my illness and there are things I can do." Sarah
"Informative and very interesting. Loved the mindfulness." Lillian
"Great introduction to Ayurveda. Could be longer to go even more in depth or allow people to talk and share their doshas and any surprises and cautions." Jeremy
"I had no idea about doshas. Found it very informative. Thank you." Timothy
"Great value and location." Annette
"Afternoon tea was incredible!" Natalie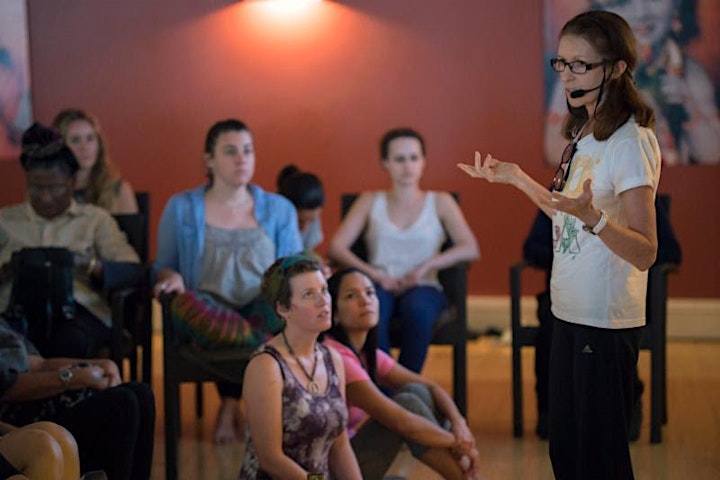 Meet your Presenter - Madana Mohana Dasi
Madana Mohana Dasi first began her journey into meditation and yoga over 30 years ago.
Madana is a teacher by profession, mother, yoga instructor, meditation teacher and ayurveda life coach. She has been practising yoga & ayurvedic teachings in her life and is passionate about helping people achieve better outcomes in their life by implementing simple and easy ways to make changes that work.
She has presented numerous workshops on wellbeing -inside and out, personal development and spiritual cultivation. Her workshops are informative, engaging and empowering. Participants leave feeling renewed, inspired, motivated and ready to make changes that improve their lives.
"If you would like to make changes to your life for the better, this workshop will promote deeper thinking towards better life goals. Challenge your thinking around what makes for a successful life and leave inspired with strategies to move towards purposeful living." - Madana Mohana dasi