Ayahuasca 'Awakenings' 10-day Plant Medicine retreat with THREE Shamans (Percy Garcia/ Ron Wheelock/ Borka Cafuk) in Peru, April 18-27th, 2015

Saturday, 18 April 2015 at 2:30 pm

-

Monday, 27 April 2015 at 11:30 pm (Peru Standard Time Peru Time)
Who's Going

Loading your connections...
3 of your friends are going.
Share it to get more people on board!
Share

Sara Haughty
San Francisco, California, USA

Luke Picard
London, United Kingdom

Rick Vespucio
Florence, Italy
Event Details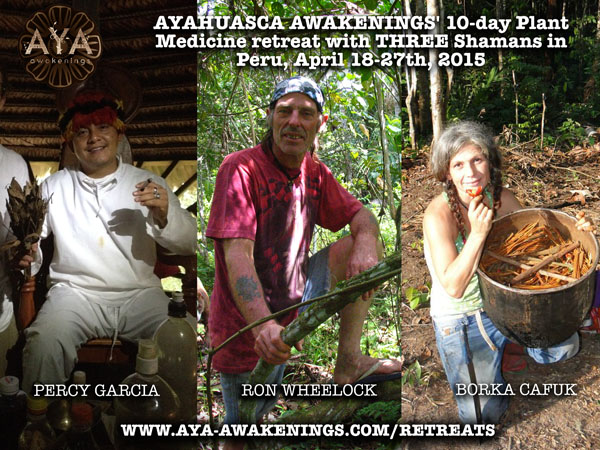 After having worked with dozens of shamans over many years, co-facilitators of this retreat, Rak Razam and Meriana Dinkova, have crafted a unique 10-day ayahuasca journey with three of the best and most powerful shamans we have found, that will open, cleanse and empower you on your own shamanic path.

This is a unique opportunity to come on a deep transformational healing retreat with three powerful shamans: Percy Garcia Lozano, Ron Wheelock and Borka Cafuk. This will be an intensive medicine plant-retreat designed to introduce you to ayahuasca and the healing it can provide on physical, psychological and spiritual levels. Then you will go deeper with each shaman working over the course of the retreat to open you up, remove blockages and negative energies, and activate your own power. It is thus ideal for both beginners and those experienced with ayahuasca who value a tightly held and sacred space to open fully to the mysteries that ayahuasca can reveal.

This three-step process is a journey that involves FIVE ayahuasca ceremonies over ten days to awaken to your inner nature. Your healing work will be supported by short dietas with different medicinal plants and/or other healing work as needed, including the powerful frog medicine kambo (sapo). All of this shamanic work will be based on high ethical standards, including personal integrity on every level. We have selected these shamans as some of the best available, balancing the masculine and feminine energies, with reputations we trust from our own personal experience.  Two ceremonies will be with Percy Garcia, one ceremony with Ron Wheelock, and the final two ceremonies with clairvoyant healer Borka Cafuk.
Another unique feature of this retreat, which is especially important for first timers, are the navigation tools Meriana will be teaching, designed especially to optimally navigate the Ayahuasca experience - to optimize its treasures, and also to avoid some common pitfalls. Those neo-shamanistic and psychological tools can enrich your journeys and be very beneficial for smooth sailing into inner space.

We will also be working with various types of ayahuasca from shaman to shaman, including Cielo (Sky) Ayahuasca and Arco Iris (Rainbow) Ayahuasca. Cielo is the most commonly used type of Ayahuasca, due to its wide availability and its flexibility; it is a good all-purpose medicine for both curanderos and ceremony participants, particularly inexperienced drinkers. Like all Ayahuasca, Cielo Ayahuasca varies in strength, depending on the age of the vine; the older the vine, the stronger the medicine. This medicine will be prepared with Chacruna, Ayahuma leaves, Toe and Mapacho. Chacruna is used to add more light to the visions. Leaves of Ayahuma tree are used for purification and protection. Toe leaves are used to strengthen the visions. Mapacho (jungle tobacco) is used for balancing, purification, protection, and removing energies that are not ours.
Arco Iris (Rainbow) Ayahuasca is a rare type of Ayahuasca and  is very powerful, deep and profound in its effects, and it well suited for in-depth healing and transformational work. It will be prepared with black Chacruna, a rare and stronger type of Chacruna, which works well in combination with the power and depth of the Arco Iris Ayahuasca.

Facilitator Rak Razam says: "I'm very excited to be co-facilitating this unique retreat with psychotherapist Meriana Dinkova and our three experienced shamans. This is a very special opportunity to come on a truly transformational journey as you will be guided through the path of awakening. As well as the ayahuasca ceremonies and integration, I will be blending my own knowledge and wisdom of the ayahuasca-shamanic-resurgence with the larger process of awakening I see happening on earth. Between ceremonies I'll be lecturing on consciousness and evolution, the Western understanding and history of altered states and the new paradigm that unifies it all. Meriana and l will be leading group discussions for deeper integration of the process we'll  all be going through, and developing individual plans with each participant to maximize their awakening process. Special attention will be given to integration and anchoring your experiences towards meaningful change so you can return empowered and with clear direction in your life."

Facilitator Meriana Dinkova says: "Come on this retreat for accelerated healing and deep psychological, emotional and spiritual reprogramming in the jungle of Peru this April. This retreat will be a merging of some of the most powerful healing, and mind- expanding traditions of the indigenous culture of Peru and the Western world-Medicine work and psychotherapy. It will be a valuable combination of neo-shamanistic tools, psychotherapy techniques, plant medicines and traditional healing techniques. We will use neo-shamanic technology aimed at removing emotional malware , getting rid of psychological viruses, and rebooting and upgrading your emotional and psychological operating system." Meriana has developed a system of tools for navigating, working with, and integrating experiences of non-ordinary states of consciousness, based on 18+ years of experience with different shamanic traditions, non- dualistic teachings and practices, as well as different kinds of psychotherapy, and other transformation modalities. Meriana will teaching these skills in workshops on 'Navigating Altered States' as part of the retreat.

This one-off unique retreat with THREE shamans is set for April 18-27th 2015 just outside Iquitos, Peru, with spaces limited to no more than 20 people. (for additional $50 you can stay at the last retreat center until Tuesday 28th April),  For more info, contact Rak at: aya.awakenings@gmail.com, or Meriana at merianadinkova@gmail.com


If you'd like to avoid the Eventbrite fees, you can paypal to the following email address, or for full payments options including direct bank transfer (no fees) contact: aya.awakenings@gmail.com  . For tips for cheaper airfares, contact Meriana or Rak (for instance, you can buy a ticket to Lima only and then a separate one to Iquitos on one of the cheaper airlines–Star Peru and Peruvian Airlines).


What's included

•    5 ayahuasca ceremonies over the 10 day retreat with 3 shamans at 3 separate lodges. Travel between lodges included.
• Flower baths with healing plants with Percy Garcia
• Study medicinal plants and take guided jungle walks
• Learn to brew and make your own ayahuasca
• Consciousness workshops and shamanic discussions led by Rak Razam and Meriana Dinkova
• Integration sessions where you will learn how to apply your insights to enrich your life
• Dieta meals and accommodation
• Pick up and drop off from Iquitos/ or Iquitos airport

What's not included
    •    Airfares (International and National)
    •    Travel Insurance
    •    Any meals and drinks outside the retreat
    •    Kambo/Sapo frog medicine sessions with Borka $60 optional extra; Nunu tobacco snuff sessions $20 optional extra
THE RETREAT CENTERS
We will be visiting three ayahuasca retreat centers around Iquitos to sit with the shamans in the lodges. The first is Percy Garcia's DAS Ayahuasca Healing Center is located outside Iquitos at km. 48.5, in the Amazon jungle. The center has a sacred ceremonial maloca located over the water, which is said to synergize with the spirit of ayahuasca. Up to a  dozen beautiful, mosquito-proofed smaller cabins, or tambos, are scattered throughout the property, and can accommodate two people per cabin. Two large tambos can hold families (4 – 5 persons).  The second is Ron Wheelock's El Purguero and the third another lodge close by for our final five days.

FACILITATORS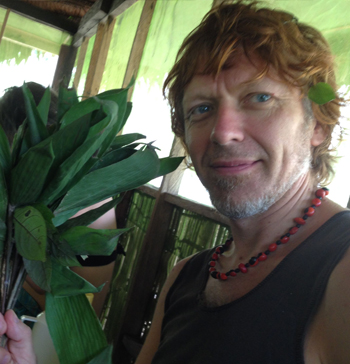 RAK RAZAM:       Author and filmmaker Rak Razam is a frequent lecturer on the shamanic revival sweeping the West, and the writer-producer for the Aya: Awakenings film. http://www.aya-awakenings.com/ He has been hosting dynamic speaking engagements, panel facilitation and lectures across Australia and North America for the past five years, weaving together the New Age, counterculture and progressive thought, and he has been called "one of the leading spokespersons for the new paradigm." A prolific media maker and networker, he hosts the popular podcast show, "In a Perfect World" (http://in-a-perfect-world.podomatic.com/) and can be contacted via his website http://www.rakrazam.com).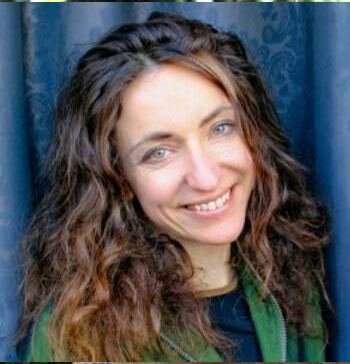 MERIANA DINKOVA:  is a licensed Marriage and Family Therapist (MFT Lic#45696) and Life and Relationship Coach in private practice in the Bay Area and over Skype. She also organizes retreats in Peru, which combine Medicine work and psychotherapy/ neo- shamanistic techniques. For the last 20 years she has studied and practiced a variety of tantric, meditative, shamanistic and therapeutic methods involving the connection between spirit and body, and the ways our attention influences our experience, particularly in the realms of mindfulness and consciousness exploration. She developed a system of tools for navigating, working with, and integrating experiences of non-ordinary states of consciousness, based on 18+ years of experience with different shamanic traditions, non- dualistic teachings and practices, as well as different kinds of psychotherapy, and other transformation modalities. She has been doing talks and workshops on 'Navigating Altered States', and presented on the 9th and 10th International Amazonian Shamanism Conference in Peru. She is the author of the upcoming book 'Navigating Altered States'. For more info go to http://www.merianadinkova.com/

SHAMANS: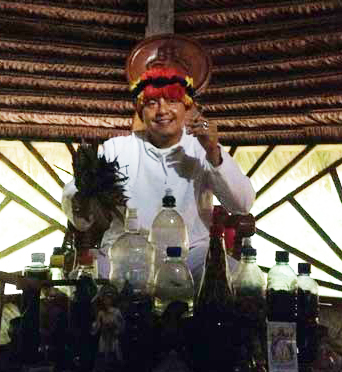 PERCY GARCIA:   Legendary curandero Percy Garcia Lozano comes from a tradition of curanderos and was initiated into the science of ayahuasca at age ten. With more than 20 years of healing work behind him,  Percy is one of the new breed of indigenous shamans straddling two worlds – his indigenous heritage and the globalized 21st century. Percy lives in Iquitos and dedicates his center to treating the spiritual, psychological, physical and energetic imbalances in people seeking healing. "Now I'm also fulfilling a very important role: passing my experiences and knowledge of traditional natural medicine to my students. I also dedicate my work to heal people who come with different types of illnesses: alcoholism, drug addiction, psychological traumas, cancer among others, etc. with much humbleness, devotion and dedication. Because of my efforts and strict diets, I am able to act as a guide for people to find health in the spiritual world. My role in healing is to be an intermediary of a Divine healing: God, Mother Ayahuasca/Nature and my Spiritual Doctors are the healers that are expressed through my humble work.

"The focus and intention of my work is HEALING and the integration of the participant with the spiritual world. My medicine Ayahuasca is prepared with different plants to treat several illnesses under the direct supervision and request of my Spiritual Doctors. My work is not focused only to produce visions, but to help the participant to find health, peace and harmony in her/his life." Percy Garcia was featured in the critically acclaimed documentary Aya: Awakenings (http://www.aya-awakenings.com/watch)    Read an interview with Percy Garcia here: http://www.undergrowth.org/percy_garcia_interview_by_rak_razam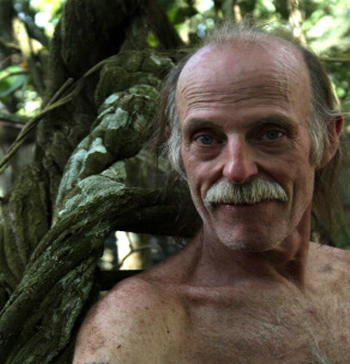 RON WHEELOCK:     Ron Wheelock is widely known in Peru as The Gringo Shaman of the Amazon, and has been featured on CNN's This is Life with Lisa Ling, 60 Minutes Australia, and in the critically acclaimed documentary Aya: Awakenings (http://www.aya-awakenings.com/watch).  In 1996 he went to Peru looking for a spiritual teacher. Ron first drank ayahuasca in Tamshiyacu with famed shaman Don Agustin Rivas Vasquez. While with Don Agustin, he made arrangements to return to begin the intensive training to become a shamanic healer himself using the South American plant medicine, ayahuasca. Ron stayed with Don Agustin for 5 months doing many plant diets. Ron then began working with Don Jose Coral Mori, the teacher of Pablo Amaringo and Eduardo Luna, the authors of Ayahuasca Visions. After studying with both ayahuasqueros (a shaman who works exclusively with ayahuasca), he began working on his own, and now runs the El Purguero centre outside Iquitos. Ron speaks both Spanish and English and provides a valuable resource to westerners wanting to know more about the shamanic realm. His ceremonies are extremely powerful and incorporate sacred icaros (healing songs of the plants and spirits) and musical instruments (including a gong) to get in deep and break down barriers to the flow of life.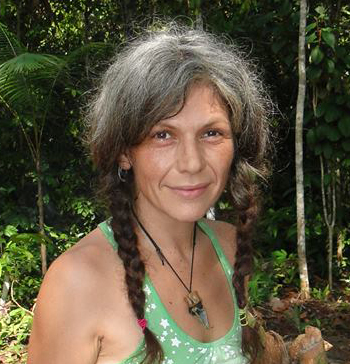 BORKA CAFUK:       Borka Cafuk is the founder and Director of the Yana Puma ayahuasca center and is the resident healer of the Center. She performs ayahuasca, sapo and nu nu ceremonies and supervises plant diets. Borka has studied European plant medicine for 11 years and is a certified producer and refiner of aromatic plants. She has studied Amazonian plant medicine for the past 7 years with several traditional healers. She is certified as a licensed Shiatsu Practitioner, trained martial artist in Shotokan, has studied Lohan Chi Kung and is a Transcendental Meditation practitioner for more than 20 years. Borka specializes in treating energetic disorders, removing intrusive energies and entities, and treating all forms of negative spiritual practices, such as brujeria, black magic and voodoo. Apart from that, she also treats trauma, depression, and other psychological problems, as well as physical problems and illnesses. Signs of Intrusive Energies or Entities include:  Acute or chronic localized pain or discomfort; Addictions; Panic attacks; Depression; Migraines; Memory loss without explanation; Hearing voices – especially if the voices are telling you to do things you would not normally do,; Inexplicable losses of energy; Dream paralysis; Feeling the you are surrounded, or that you have energy surrounding you or inside of you, that is not yours, which is affecting your life in a negative way; Compulsive behaviors; Double or multiple pulse, etc. Please keep in mind that all of the symptoms above can be symptoms of intrusive energies and entities, but also can point to many other physical, psychological and spiritual problems that are not connected with intrusive energies and entities. This is why proper diagnosis is important.


ABOUT THE FILM, AYA: AWAKENINGS

http://www.aya-awakenings.com/about/
The groundbreaking shamanic documentary Aya: Awakenings is now available for viewing and download: https://www.aya-awakenings.com/watch and you can read the book that inspired the film at http://www.ayathebook.com and join the discussion on our Facebook page: www.facebook.com/AyaAwakenings  Learn from entheogenic leaders about the shamanic awakening on our YouTube page: https://www.youtube.com/channel/UCyYMdeRVsSnJdLKMg2RzaSA

AYA: Awakenings is a documentary journey into the world and visions of Amazonian shamanism, adapted from the cult book 'Aya: a Shamanic Odyssey' by Rak Razam. As Razam sets out to document the booming business of Amazonian shamanism in the 21st century, he quickly finds himself caught up in a culture clash between the old world and the new. Braving a gringo trail of the soul, he uncovers a movement of 'spiritual tourists' coming from the West for a direct experience of the multi-dimensional reality shamanism connects one to. Central to this is ayahuasca – the "vine of souls" – a legal South American entheogenic plant medicine that has been used by Amazonian people for millennia to heal physical ailments and to cleanse and purify the spirit, connecting it to the web of life. By blending narration directly from the book with video footage, interviews with practicing curanderos, samples of traditional icaros or magic songs, photographs and cutting edge special effects, AYA: Awakenings reproduces the inner landscape of the visionary state in unprecedented detail, invoking an awakening in the viewer. Featuring the artwork of Pablo Amaringo, Andy Debernardi and more; written by Rak Razam and directed by Tim Parish, video editing by Verb Studios, soundscapes by Lulu Madill and music by Shpongle, Tipper, Darpan, Lulacruza, Maneesh de Moor and curanderos Norma Panduro, Guillermo Arevalo, Percy Garcia Lozano, Ron Wheelock and Kevin Furnas, this documentary charts the Global Shamanic Resurgence born in the jungles of Peru and reaching out to embrace the world.




Have questions about Ayahuasca 'Awakenings' 10-day Plant Medicine retreat with THREE Shamans (Percy Garcia/ Ron Wheelock/ Borka Cafuk) in Peru, April 18-27th, 2015?
Contact Rak Razam and Meriana Dinkova
When & Where

Iquitos
3 different Healing Centers in nature near Iquitos
Iquitos, Loreto
Peru

Saturday, 18 April 2015 at 2:30 pm

-

Monday, 27 April 2015 at 11:30 pm (Peru Standard Time Peru Time)
Add to my calendar
Organiser
Rak Razam and Meriana Dinkova
RAK RAZAM is a leading ayahausca author, commentator and facilitator, see:  http://www.aya-awakenings.com

  MERIANA DINKOVA: is a licensed Marriage and Family Therapist (MFT Lic#45696) in private practice in the Bay Area and over Skype. She organizes retreats in Peru, which combine Medicine work and psychotherapy/ neo- shamanistic techniques.  For more info go to http://www.merianadinkova.com/

Ayahuasca 'Awakenings' 10-day Plant Medicine retreat with THREE Shamans (Percy Garcia/ Ron Wheelock/ Borka Cafuk) in Peru, April 18-27th, 2015