Welcoming in the beautiful season of Autumn. Align yourself with the season and learn Ayurvedic tips and tricks for Autumn Wellness.
About this event
Join me for a beautiful morning of connecting with the season of autumn.
We are often zooming through life, that we forgot to slow down and connect with what is happening right now around us. With Autumn now upon us, this is a great time to pause and align yourself with the wild beauty that is autumn, and all that it brings. We are part of the natural ecosystem of the Earth, and when we are in connection with the natural energy flow of the planet, this is when we truly thrive.
Ayurvedic wisdom tells us that what happens outside also happens within. This includes seasonal changes. During our morning together, we will learn the best and easiest ways to connect and align ourselves (our cells) with the season of autumn.
During our morning together, you will learn:
How to align with the seasonal change through your diet and lifestyle.
What changes within you occur during autumn and how to nourish and celebrate these changes.
Simple ways to nourish your Mind, Body and Soul during the season of autumn, that will have you thriving throughout these transformational and cooler months.
Ways to honour the season of autumn in your every day life. And so much more!
Immerse yourself in a morning of connecting with other beautiful like minded souls like yourself, while honouring and aligning with the season of Autumn. Enjoy a tea ceremony with a special ayurvedic autumn tea, yummy treats, meditation, many laughs and a special gift to take home with you, along with all the Ayurvedic Wisdom for a beautiful, healthy and happy Autumn Season.
Looking forward to aligning and celebrating this incredible season with you.
Till then, Stay Wild!
Emma Fitts
Ayurvedic Health and Lifestyle Coach
Until then - stay up to date by following Wholesome Living Ayurveda on social media
Facebook - Wholesome Living Ayurveda
Instagram - @wholesome.living.ayurveda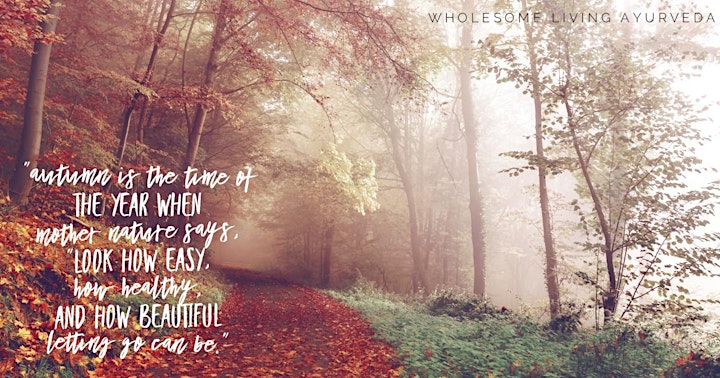 Organiser of Awaken Your Wild, Autumn Wellness Workshop