Description



Where could you be living next year?
Come along to a free information session about a great Australian Government initiative - the Australian Volunteers for International Development (AVID) program.
Everyone is welcome. Click the green "Register" button to RSVP. Registration is essential.
If you encounter any problems registering for this event online please contact Ally Lynch from Scope Global on 08 8364 8570 and we can assist you with the process.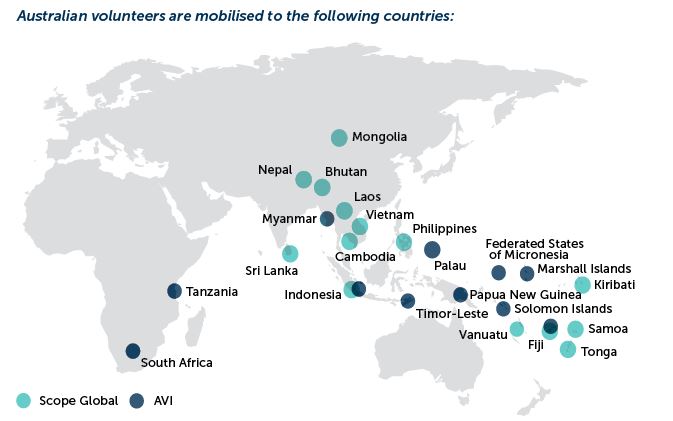 The AVID program is implemented by delivary partners Scope Global and AVI.
---


Date:
Thursday 13th October
Sessions & Venues:
Lunchtime: 1:00pm - 1:45pm
Scope Global Offices (41 Dequetteville Terrace, Kent Town)
OR
Evening: 6:30pm - 8:00pm
Adelaide Univeristy City Campus - Adelaide Uni Club


If you have any access requirements please contact marketing@scopeglobal.com and an organiser will contact you to discuss your requirements further.
If you're interested in applying for a fully-funded volunteer role overseas, come along to either a lunchtime or evening information session to learn how you (and your family!) can get involved.
The AVID program provides volunteer assignments with host organisations as part of Australia's aid program.
The program includes:
Living and accommodation allowances

Training before, during and after your volunteer assignment

Vaccinations

Support for spouse and dependents where suitable

Medical and emergency support whilst in-country

Comprehensive insurance (travel, medical, security)

In-country support whilst on assignment

Flights

Visa costs
Each year, hundreds of Australians take up the challenge to live and work in developing countries as part of the Australia Volunteers for International Development program.
These Australian volunteers work in a range of sectors including education, environment, IT, finance, sport, marketing/communications, health, law and skilled trades. Information sessions are an excellent opportunity to learn more about the AVID program.
A Q&A panel of returned volunteers and Scope Global staff will be sharing their experiences and stories, as well as giving advice about applying and what to expect if successful.
Here's what previous attendees have said about the sessions:
"Fantastic. Comprehensive without being overwhelming. Great presenters. Enjoyed listening to the personal stories."
"Enjoyed the returned volunteers' talks and the opportunity to speak to them personally."
"Loved the panellist session - very honest answers. Hearing the top two challenges, words of wisdom, lessons learnt from the volunteers was great."
If you are unable to make an information session in person you can click here to register for an online webinar presentation. While we recommend attending an information session in person, the webinar presents a unique opportunity for people who live in rural communities to find out about this exciting opportunity.
To learn more about the AVID program click here.