Location
Autoco Mitchell
133 Flemington Road, Mitchell
Canberra, ACT 2911
Australia
A workshop designed to ensure you feel empowered when it comes to understanding your vehicle. Ask questions and leave with the confidence.
About this event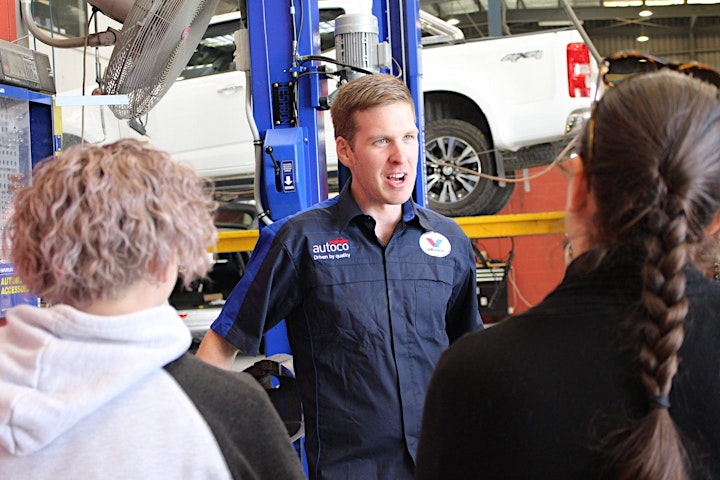 Autoco is hosting a workshop to ensure you feel empowered when it comes to understanding your vehicle. Focused on three key components: checking your tyres, getting under the hood, and being prepared for a dark, wet night. 
This workshop provides a friendly learning environment for our customers, encouraging you to ask question and gain knowledge from our qualified mechanics and experienced technicians. This is your chance to meet like-minded members of the Canberra community. 
WHAT YOU'LL LEARN
All about the tyres.
Tyres are the component that keep your car rolling and can drastically affects the safety and performance of your vehicle. In this workshop, the experienced Autoco technicians will teach you how to check your tyre pressures and treads, along with this you will have the opportunity to change a tyre. This is a great platform to ask any questions you may have surrounding your tyres.
What's under the hood.
Are you confused with what is going on under the hood of your car? During this session, the team will walk you through the most common features and show you what to keep an eye on. While most vehicles can vary, this is your opportunity to practice checking the oil / water levels and understand what role your coolant plays.
Preparing for the worst-case scenario.
Head, brake and tail lights are essential components for driving, especially at night time. This is where the Autoco team will show you the basics of buying and replacing these globes, saving you the heartache of an unwanted fine. During this session, you will also learn when and how to change your wiper blades for a rainy night.
Our aim is that you'll leave the workshop feeling more confident about driving and also about dealing with your own mechanic.
COVID Safety Plan.
To keep everybody safe, masks or face-coverings are required for the duration of the event unless your have an exemption – please bring your own if you have one. Sanitiser will be provided.
If you have any cold or flu symptoms OR have had contact with someone confirmed or suspected of having coronavirus we ask that you do not attend. While it's hard to miss out, we ask that you think of others (guests and our staff) and be truthful about this. If you have any cold or flu symptoms last minute, or a have had potential exposure please let us know and we can book you in for one of our many pre scheduled workshops in the following month/s.