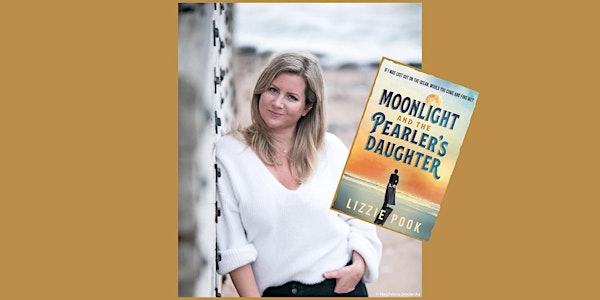 Author talk: Lizzie Pook presents 'Moonlight and the Pearler's Daughter'
Author Lizzie Pook joins us from London to introduce us to her debut novel, 'Moonlight and the Pearler's Daughter'
About this event
'Moonlight and the Pearler's Daughter' is scheduled for publication on 1 February 2022, so it will be hot off the press when Lizzie joins us on Zoom to discuss how she came to write her debut historical fiction novel.
Bookings are essential for this free event. Book now using the register button, ask in any branch or phone 4304 7500.
About the author
Lizzie Pook is an award-winning journalist and travel writer. Her assignments have taken her to some of the most remote parts of the planet, from the uninhabited east coast of Greenland in search of roaming polar bears, to the foothills of the Himalayas to track endangered snow leopards. She was inspired to write Moonlight and the Pearler's Daughter, her debut novel, after spending time in north-western Australia researching the dangerous and fascinating pearl-diving industry. She lives in London.
About the book
'Moonlight and the Pearler's Daughter' is an exquisite historical novel set in a mesmerising yet unforgiving land, where both profit and peril lie deep beneath the ocean's surface…
Western Australia, 1886As the pearling ships return to Bannin Bay after a long diving season, twenty-year-old Eliza Brightwell nervously awaits the arrival of her father's boat.
But when his lugger finally limps in, it brings with it a tale of tragedy: Charles Brightwell, master pearler, has gone missing at sea.
Immediately, whispers from the townsfolk point to mutiny or murder, but headstrong Eliza knows her father; she is sure he is still alive. As the Bay swelters under the heat of the approaching wet season, it falls to Eliza to seek out the truth behind her eccentric father's disappearance.
But as she delves beneath the glamorous veneer of south sea pearling, she discovers that the sun-baked streets she thought she knew so well are teeming with corruption, prejudice and blackmail.
How far is she willing to go to solve the mystery and save the ones she loves? And what family secrets will come to haunt her along the way? Because the truth may cost more than pearls - and she must decide if she's willing to pay the price . . .
A gloriously rich and wonderfully assured debut, Lizzie Pook's Moonlight and the Pearler's Daughter tells the story of a daughter, a family, a place and a hidden history; rendered with astonishing clarity, it is a novel that marks Lizzie Pook as a name to watch.
'A stunning debut' Charmaine Wilkerson, author of Black Cake
'A luscious, mysterious, adventure novel set in the halcyon days of Australia's lucrative pearl industry . . . Pook spins an expert tale of corruption, fate and family.' Adriana Trigiani, author of The Good Left Undone
'Gritty, lyrical, breathtaking. I couldn't put it down' Fiona Valpy, author of The Dressmaker's Gift
'A lush mystery with a vivid and unique setting, wonderous prose, layered characters and a satisfying end. Pook has crafted a historical adventure I won't forget!' T.A. Willberg, author of Marion Lane and the Midnight Murder
'A compelling, atmospheric mystery. Brilliantly manages to recognise the injustices of colonialism and the pearling industry, alongside a rollicking adventure. A sure-fire hit.' Kate Sawyer, author of The Stranding