Description
Kim's second memoir, 'Girl Over the Edge', provides a powerful and stirring insight into what it's like to live – and succeed in life – with a mental illness. Kim's battles to understand, and then work to overcome, bipolar disorder are an inspiration to us all. In a world where mental illness is still so frequently misunderstood, here is a dramatic, evocative and insightful work that everyone should read.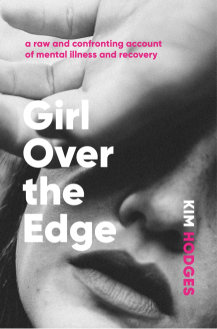 Join us for an emotional journey with Kim as she presents her book and details how her mood disorder stripped her bare and articulates what has kept her going. The reader will be struck by her honesty and authenticity.The memoir highlights how the disorder totally takes over her life through the way it affects Kim's feelings, moods, thoughts and the way she views her world at the times she is most vulnerable.
Refreshments and finger food will be served. Kim will be available to sign copies of "Girl over the edge" after her talk.

For more information on Kim Hodges go to: http://kimhodges.id.au/