Description
A SYDNEY CRIME WRITERS BAD EVENT
In Conversation with Michael Robotham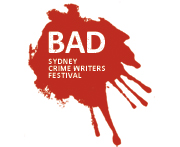 Hawkesbury Central Library is thrilled to be hosting a Sydney Crime Writers BAD event in partnership with Catherine du Peloux Menagé, (Artistic Director of the Sydney Crime Writers BAD Festival 2019) who will be presenting 'In Conversation with Michael Robotham'.

Michael Robotham's latest release Good Girl Bad Girl is an unnerving psychological thriller from one of the greatest crime writers of today. He is the winner of the UK's Crime Writers' Association Gold Dagger Award 2015, and author Stephen King describes him as an 'absolute master'
6.30pm - wine and cheese.
Doors open 7.05pm for seating.
The talk will commence promptly at 7.15pm.
Copies of Michael's book will be available for purchase and signing.


Due to the large attendance expected for this event, it is advised that participants bring their tickets along for the event. Please refer to cancellation policy below if you are unable to attend.
*Image of Michael Robotham credit Tony Mott
For group bookings of more than 7 people, please contact the Library on (02) 4560 4460.
PARKING is available under Deerubbin Centre throughout the event. Alternate parking in Christie Street, Catherine Street and George Streets.
---
Terms and Conditions:
SMILE! Your attendance at events supported by Hawkesbury City Council may be digitally recorded through photographs. Images may be used for promotional purposes on council's websites, publications, social media or by newspapers.
By attending this session you agree to these terms. If you do not wish your image (or the image of your child) to be published, please notify staff before the event.
By registering and attending this event, you are agreeing to comply with the Hawkesbury Library Service Patron Code Of Conduct.

If you are unable to attend please cancel your tickets as soon as possible. This will enable others to participate in the programme.

Paid tickets are not transferable.



Cancellation/refund polices:
To receive a full refund (minus an admin fee of 10% of session cost), please cancel your ticket or notify the library before 48 hours of the scheduled event. If less notice is given, a refund will not be issued.

Refunds will not be given if participants change their mind, or simply forget to attend the event. For exceptional circumstances, refunds may be issued at the discretion of the Library Coordinator.

A refund can take up to 7 working days to process after the event date (due to bank transfer times). Cash payment refunds can take up to 6 weeks to process.