Description
Authenticity Speaks is a platform to support difference makers who are choosing to find their authentic voice and potently express their inspirational message to the world. Join a community of committed individuals that are excited about stepping up and refining their message to light up the hearts of humanity, creating global impact.
Our Vision for Authentic Communication
Deep within your heart, do you know that you are here to make a difference in the world? Perhaps the thought of being a revolutionary leader scares you OR you feel the potential in your heart but then experience the self-doubt? It is said that unless you have a vision that scares you, you're playing life too small and safe.
Stepping into your purpose and choosing to activate and embody your highest potential is an epic choice that will provide you with the most extraordinary life experience. Like the hero's journey, having a singular focus on what it is you'd absolutely love, all your inner demons will present themselves to you at some point on the journey. Facing all of ourselves is part of the creative expansion process and is completely normal and expected.
Having a training ground to build a strong and stable foundation is essential. Great revolutionary leaders such as visionaries, truth seekers, wisdom keepers and difference makers aren't built over night. You are like a piece of coal that is placed under extraordinary pressure over a period of time to transform & reveal the magnificent diamond that you truly are. How willing are you to face all of you and evolve into your highest potential?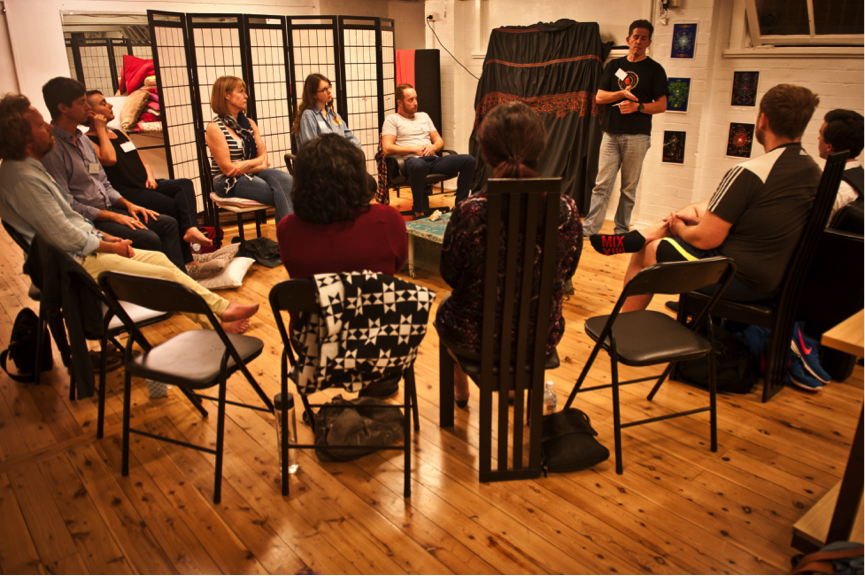 Authenticity Speaks is a heart centred platform that supports individuals like you to find your authentic voice, open yourself up to higher inspirations and purposes that are waiting to be birthed through you into the world
Join a committed group of difference makers who are excited about creating new realities for themselves and humanity as we all go through a tremendous paradigm shift. You have a unique piece of the puzzle that the collective will benefit from if you choose to stand in your highest purpose. You have all the innate gifts and resources that will assist you in flowering in the most exquisite way possible.
For this to happen, it does require trust, commitment, focus and a decision within your heart that you choose to step into your potential and be all that you can be in this life.
Intangible Benefits:
1 Transform / Let go of resistance and blocks that is preventing effortless self expression from the heart
2 Find your authentic voice & connect to the power source within to express your message with potency and aliveness
3 Know how to attach consciousness and energy to your words that create a transmission to positively influences your audience in a multi dimensional way.
4 Open up your channel to your higher nature/self to download & receive inspirations from the divine source.
5 Tap into your eccentric and unique subtle flavours that make you "you"
6 Aligning to your core so that you connect to the deeper truth of your value, worth, loving & expanded nature.
7 Experiencing yourself as a spiritual being having a human experience.
8 Expand your consciousness and raise your vibration to experience yourself in realities that you previously thought to be impossible SO to step into your divine leadership.
Tangible Benefits:
1 Become an inspirational intuitive speaker where you can leverage your time through the power of the voice.
2 Deeper sense of freedom & expansion when speaking
3 Feeling confident and comfortable in your skin while expressing yourself to others
4 Empowerment: having potent tools that support you to be present, centred and in your body while speaking
5 Connect with yourself and others in a deep & profound way
6 Embody a powerful presence when speaking to others
7 Letting go of the ego constructs that keep you small, limited and in lack.
8 Be able to speak from the heart as you let go / trust / surrender
9 Expand your consciousness and raise your vibration to experience yourself in realities that you previously thought to be impossible
10 Know what you stand for & feel excited of what you have to share with the world
Who this is for:
People who are committed to their spiritual evolution & ascension
People who are aligned to the awakening of humanity and the consciousness shift of the planet
Beings who know that self expression, particularly through speaking, is a medium that is important for their personal journey & soul expansion.
Beings who have wisdom but feel trapped, invisible, suppressed, repressed in being able to express this out to the world
Inner critic/mind blocks of feeling like a fraud, not good enough, self doubt around what I actually know, doubt around capability, fear of judgement and rejection.
Moving from being in the head TO heart-centred
Change agents, truth seekers, trailblazers, difference makers looking to move into a life that is purpose focused and choosing to make a difference in the world.
Feeling excited about exploring your self expressive abilities
My name is Nicolas Perrin and I have transitioned out of Corporate banking as a corporate refugee on a quest to know who I truly am AND to live a life that is completely aligned to my highest purpose. It's been an epic journey and I can't thank life enough for all the challenges, people and events that have presented themselves to support me to be where I am now. I choose to serve and support others who would love to experience life from the perspective of wonderment, awe, curiosity and excitement.
I have experienced a radical transformation in knowing who I am at a deeper and deeper level. I realize that the path of the heart is the path of least resistance. I would love for you to join me and other committed difference makers to step into your genius, magnificence and surprise yourself on how much you have to offer yourself and the world.
As part of the human condition, feeling fear around being rejected or judged by others are all hoops that must be handled. Feeling afraid of stepping into the unknown or looking for security and safety in the external world are all sign-posts you are going through a wonderful transition.
Playing life small, holding yourself back or hiding from life are common strategies that keep you safe but at a huge cost. The cost is the regret of not living a life to your fullest. If you say yes to life, life will say yes to you.
Join this intimate and heart-centred community to go on an evolutionary journey where you will find the riches that already exist within your heart. The time to access and express these riches is now. The world needs your essence as we go through this extraordinary transformation at the collective level.
Here is what others have had to say about Authenticity Speaks:
Roxy Jeffrey, on the path of self realization
Thankyou Nicolas Perrin for facilitating another awesome Authenticity Speaks group tonight. A place where you can inspire and learn through intuition and wisdom at every level with like minded people. I feel pumped and really supported and excited about where my journey is about to take me next.
Margaret Munoz, coach/healer from tangible result, had to say:
I love how Nicolas has creates such a safe and supportive environment for people of all ages to explore their self-expression and revealing more of themselves to the world. I love that such an atmosphere of connection emerges through everyone sharing so deeply that no-one wants to leave when the event has officially finished! I love that it's such a profound rich communal experience and that Nicolas is a gentle yet powerful leader who leads by example, living out his own mission and purpose.
This is how the evening will flow:
a) Welcome & Connecting to the higher purpose
b) Group Meditation
c) Check ins & inviting everyone into the space
d) Presence & Grounding Exercises
e) Opening the Speaking Platform & Offering Feedback
f) Gratitude & Appreciations
This group has been running since November 2014 and continues to evolve and shift. I welcome your energy and consciousness into the space.
Here is what Jacinda Meiklejohn had to say about her experience:
"Hi Nicolas, Thank you for what you do - I spoke yesterday and felt grounded and connected into my body and heart and spoke without a plan from that space in full trust. Coming to your workshop last week was such a big part of me being able to hold that space for myself, so I wanted to thank you again for what you are doing and holding this space. I'm excited to continue growing into trust and belief of myself using my long suppressed voice. X"
Testimonial from Anton Gillezeau:
"I was drawn to Nick's Authenticity Speaks evening from a desire to connect more deeply to my essence and be in a safe and supportive space from which to learn and practice expressing that in public. I was already confident about public speaking, but had a desire to unveil for myself and then express a message to others which in some way moves or adds value to their lives.
This is a great forum in which to do that no matter where you are at in relation to public speaking and whatever your needs or intention, Nick has created a fabulous space in which to develop and refine your skills or just boost your own confidence. Highly recommended to anyone who really does want to discover and express their own authenticity."
Dr Anton Gillezeau
Chiropractor and Consciousness explorer
Testimonial from Simon Wing-Lun:
"I just had the most amazing healing and transformative time at Nicolas Perrin's speaking group at Leela. While I usually feel very confident speaking and running workshops, it was very heart opening and powerful to speak from my deepest place of truth and vulnerability in front of a group of new people, and to be witness to others to doing the same. I'm really looking forward to going again, and would highly, highly, highly recommend the group to anyone who feels it would be exciting to speak from their heart in front of a deep and loving group. I actually never thought I'd be at a speaking group, but oh wow it was good!!!"
Simon Wing-Lun
Creator & Facilitator of Unconditional Love Healing
Testimonial from Natasha Tveshor:
Having a group of open, warm and loving people to stand up and speak to has helped get me out of my shell and transform my relationship with myself, my words and my voice. It has taught me the importance of speaking from the heart and authentically communicating with other humans. It's not what you say but how you say it. This group has been just the open hearted support that I need from the world in order to step into my greatness and power.
Testimonial from Ronella Silbery:
I felt comfortable and at home straight away!
I was greeted by a wonderful bunch of amazing human beings when I arrived at Authenticity Speaks. I felt comfortable and at home straight away. There a several things that I got out of this evening and one that really stood out for me was I felt 100% supported and encouraged to empower myself. To be able to express myself without fear from a heart centered way, which allowed me to honor and value myself at the highest level. This was of huge benefit to me.
I think that just about anyone would benefit from one of Nicks classes especially individuals that are looking to empower themselves to be confident to speak clearly and from the heart. I would recommend Nicks teachings in a heartbeat to all my friends and family and would encourage them all to embrace a truly unique concept to finding their true pathway and to discovering who their real higher self is.