Description
The Australasian Hydrographic Society & The Society for Underwater Technology co-host this Autonomous Underwater Technology technical conference & exhibition.
The AHS/SUT Autonomous Underwater Technology (AUT) Conference is celebrating its tenth occurrence. The conference has brought to the industry, actionable, usable information on the advances in AUT technology and applications along with gaining an insight to where the technology is developing. Technological advancements have translated to increases in AUT utilisation, reliability and the function across the oil and gas, renewable energy, environmental, research and defence industries, to name a few.
After 9 prior events, this conference continues to be one of the most important networking, gold standard opportunities in this field, allowing contact between pipeline engineers, subsea asset managers, geophysicists, environmental scientists, hydrographic surveyors, defence organisations, oil & gas field development specialists, government bodies, equipment manufacturers, academic & research bodies, oceanographers, survey companies and port & security operators.
Ice Breaker (Tues 17th Oct):
5.30 pm - 8.30 pm The Reveley Bar, Elizabeth Quay, Eastern Promenade, 901 Riverside Drive
AUT Programme:
08.30 am Registration
09.00 am Welcome
09.05 am Conference begins
05.00 pm Conference ends
SEA Forum:
5.15 pm - 7.30 pm CORE, 191 St Georges Tce, Perth
(Registration is included in the event cost)
Cost per head:
Early bird (until 18 August):
$250 - SUT/AHS Member
$300 - Non-member
$130 - Student
N/C - Presenter
$180 - Co-Presenter
Regular ticket (after 18 August):
$270 - SUT/AHS Member
$320 - Non-member
$150 - Student

Ice Breaker:
$50 - Member/Presenter/Co-Presenter/Student
$70 - Non-Member
To view the current flyer visit click here (Please note the programme is subject to change).
Contact: SUT (08) 9481 0999 or perthevents@sut.org
Many thanks to our event sponsors: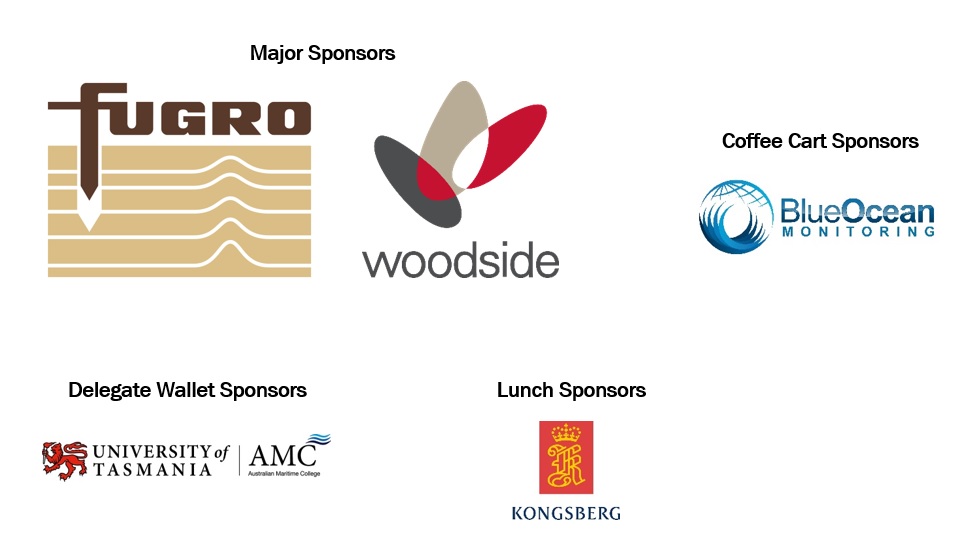 Terms & Conditions:
AUT registrations are online and will be sold on a first come, first served basis.
To confirm your place at the above AUT Conference & Exhibition, you must register and pay online prior to the event. Please note, online registration closes at 2pm on the 17th October (unless sold out prior).
Payment during the registration process (via credit card or invoice) is required in order to secure your place/s. If using credit card it will be deducted at the time of registration and an email confirmation and email receipt/tax invoice from Eventbrite will be forwarded to the stipulated email address. If invoice requested, it will be sent to your email address at time of registration and payment will be required within 14 days from receipt of invoice. If payment is not received within this time your registration may be cancelled.
See above for event costs.
Registrations are editable online via your eventbrite registration link until 2pm on the 17th October.
Registrations are fully refundable up until 1 week prior to the event.
To confirm if your organisation is a Corporate Member please check the event flyer or visit www.sut.org/sut-pages/
Should you have any questions please contact SUT on the above listed contact details.