Australia's Economic and Social Future After the Resources Boom

Thursday, 5 June 2014 from 6:00 pm to 7:30 pm (AEST)
Event Details
Public Lecture by Professor Ross Garnaut
Ross Garnaut is an economist whose career has been built around the analysis of and practice of policy connected to development, economic policy and international relations in Australia, Asia and the Pacific. He has held senior roles in universities, business, government and other Australian and international institutions.
He is Professorial Research Fellow in Economics at The University of Melbourne. In December 2009, Ross was awarded the degree of Doctor of Letters, honoris causa, from the Australian National University.
Ross was Chairman of the Papua New Guinea Sustainable Development Program Limited from 2002 to 2012 and its nominee Director to Ok Tedi Mining Limited 2002 to 2013 (Chairman 2011-2013). He was Chairman of Lihir Gold Limited from 1995 to 2010.
Ross was Head of the Economics Department and Division of the Research School of Pacific and Asian Studies at The Australian National University for over a decade from 1989. He played leading roles from the mid-seventies until 2009 in building The Australian National University's capacity in research and graduate education on Southeast Asia, China (including as Chairman of the China Economy and Business Program from its foundation in 1989 to 2009), and South Asia. He is the author or editor (alone or jointly with others) of 47 books in addition to numerous influential articles in scholarly journals and books on international economics, public finance, and economic development. He has been Chairman of the Editorial Boards of the journals Asian-Pacific Economic Literature and Bulletin of Indonesian Economic Studies since 1989. Ross is a founding Director of both the Lowy Institute of International Policy and of Asialink.
He has held a number of senior Government positions, including as head of the Financial and Economic Policy Division of the Papua New Guinea Department of Finance in the years straddling Independence in 1975; principal economic adviser to Australian Prime Minister Bob Hawke; Australian Ambassador to China (1985-88). He has led many high-level Government Reviews and Commissions, including the preparation of the Report to the Australian Prime Minister and Foreign Minister 'Australia and the Northeast Asian Ascendency' (1989); the Review of the Wool Industry (1993); the Review of Commonwealth-State Funding (2002); and the Garnaut Climate Change Review (2008). Ross was appointed as an independent expert advisor to the Multi-Party Climate Change Committee in September 2010 and was commissioned in November 2010 by the Minister for Climate Change and Energy Efficiency to update significant elements of his 2008 Climate Change Review. He has led Australian diplomatic missions interacting at Head of Government level to Asian countries on trade policy (1984), to Korea (1989) and the ANC in South Africa.
Ross has been consulted on trade policy and relations with Asia and the Pacific from time to time by the Prime Minister and senior Ministers of successive Australian governments since the Fraser Government (1975-1983).
He has held positions as Chairman of the boards of large Australian and international public companies continuously since 1988, including the Bank of Western Australia, the Primary Industry Bank of Australia and Aluminium Smelters of Victoria. He was Chairman of the Australian Centre for International Agricultural Research from 1994 to 2000 and also held the position of Chairman of the Board of Trustees of the International Food Policy Research Institute (Washington DC) from 2006 to June 2010.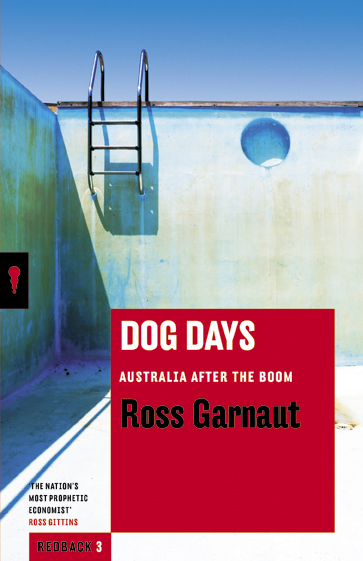 A blueprint for the nation after the boom.
Australians have just lived through a period of exceptional prosperity, but, says influential economist Ross Garnaut, the Dog Days are on their way. Are we ready for the challenges ahead? In Dog Days, Garnaut explains how we got here, what we can expect next and the tough choices we need to make to survive the new economic conditions. Are we clever enough – and our leaders courageous enough – to change what needs to be changed and preserve a fair and prosperous Australia? This is a book about the future by a leading adviser to government and business, someone with a proven record of seeing where the nation is going. Both forecast and analysis, it heralds a new era for Australia after the boom.
Praise for Dog Days:
"This book is a must-read for anyone concerned with the economic and social future of Australia. Garnaut brings to the task one of our most penetrating economic minds in an astringent analysis of the challenges facing us. He presents a wide-ranging and detailed set of policies to meet those challenges successfully. The book is lucid, compelling and unburdened by political bias."—Bob Hawke
'a brilliant guide to the future of the Australian economy'—Max Corden
'the nation's most prophetic economist'—Ross Gittins
When & Where
Stanley Burbury Theatre, University Centre
Churchill Avenue, Sandy Bay campus
Hobart, TAS 7000
Australia

Thursday, 5 June 2014 from 6:00 pm to 7:30 pm (AEST)
Add to my calendar
Organiser
The University's Public Lecture and Forum program provides an opportunity to engage with our broader community to provide a platform for ideas, debate and discussion.
The University of Tasmania is the fourth oldest university in Australia, established in 1890.  Ranked in the top three per cent of universities globally and in the 10 Australian research universities, the University has a long-standing reputation for excellence in learning, teaching and research. As the only university based in Tasmania, the closeness of our relationship with Tasmania defines us as an institution, our strength and character generated by the interplay between serving our community and being the best university we can be.
The University works in a unique setting and actively partners with the communities in which we live, in support of a healthy, civil and sustainable society.  At the same time, we are outwardly focused and part of a global community engaging with the rest of Australia and the world.
The University of Tasmania collects your information in order to assist us to deliver public events. We may also share your information with our event co-hosts and partners. We will not share your information with other organisations which are not involved in an event for which you have registered.