Australian World Health Organisation (AusWHO) Conference 2020
Description
Update 18th March 2020: Conference is suspended until further notice due to COVID-19 pandemic concerns
AusWHO is back again in 2020 promising to deliver THE biggest and most exciting conference yet.
The Australian World Health Organisation conference (AusWHO) is a three-day simulation of the World Health Organisation (WHO) where students and other budding health enthusiasts come together to discuss and debate a pressing global health issue- this year's topic will be Climate Change and Air Pollution.

AusWHO provides a platform for you experience solving problems via international cooperation and compromise. It is an opportunity for students of all backgrounds to learn about the practice of global health from an international perspective, in a hands-on, social and enjoyable way.
The simulation will require you to learn about a topic from the perspective of a country, company, NGO, or expert, and then advocate for that position in discussion with your peers. Debate and negotiation will occur first in smaller regional blocks (Africa, Americas, Asia-Pacific, Europe, Middle East) before being discussed with all participants in plenary sessions. The outcome of the weekend will be several WHO resolutions on the topic, written collaboratively by country delegates and approved by NGO delegates, with experts and press delegates analysing the outcome of debates.
Apart from the debate itself, the conference will also feature a social night, lunch and tea provided over the weekend and guest speakers! With so much to offer, there's bound to be something for everyone - so don't miss out!
Applications for Chairs & Assistant Chairs:
Application link: https://forms.gle/r2ty8jwpQjPjGGb16
Chair position description: https://drive.google.com/file/d/1-wDzGHYO10b9DJtD6RlEYrBnLg1WE6aT/view?usp=sharing
Assistant Chair position description: https://drive.google.com/file/d/1fxCIcTh3uMMPIMTSvjVoo4QDGjzwjcuR/view?usp=sharing
Conference Schedule: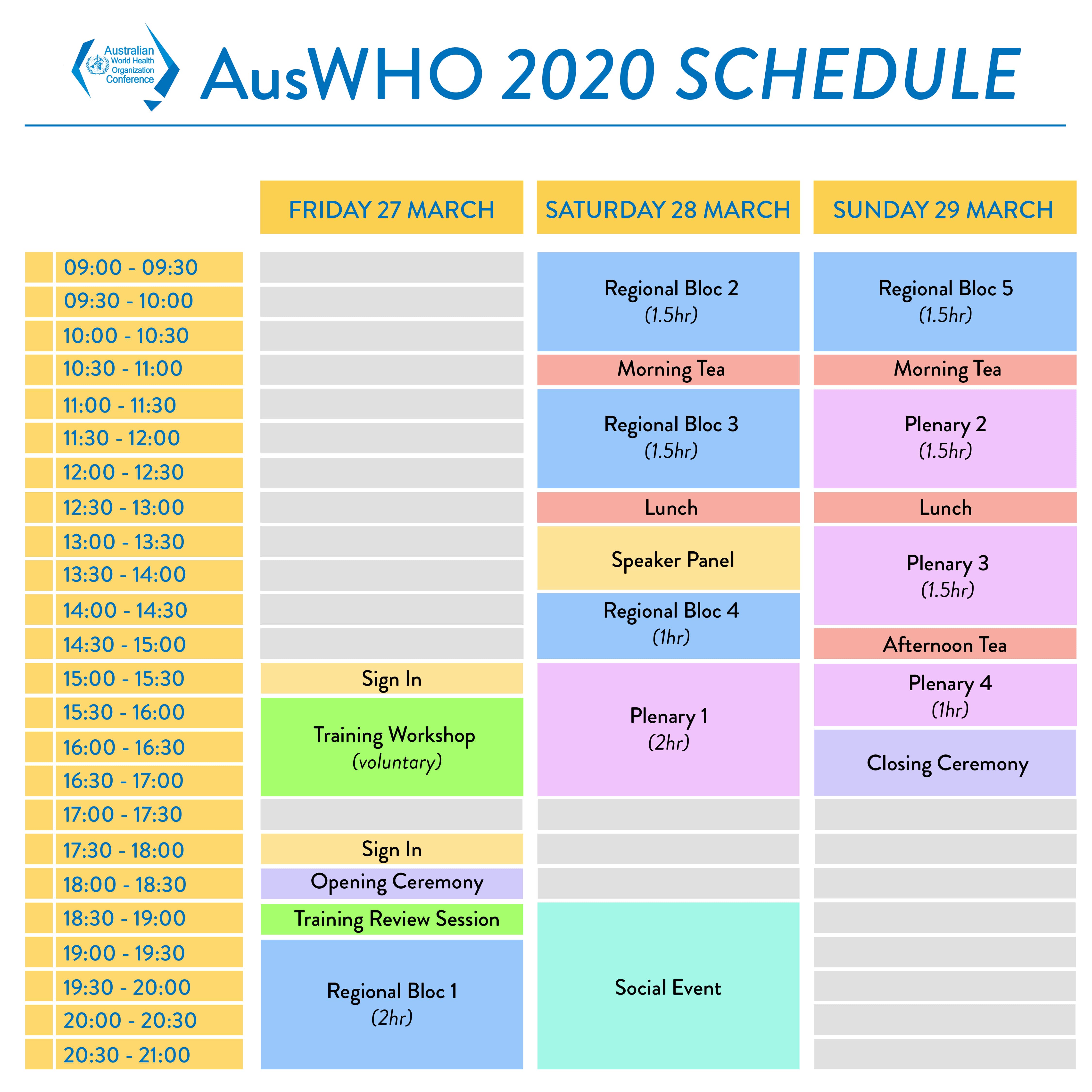 Conference Guides
https://muhi.org.au/local-programs/auswho/preparation/
Additionally the conference guides will also be emailed to participants, with their country allocations as well.
FAQs
Q: How do I contact AusWHO?
A: Message our Facebook page: https://www.facebook.com/AusWHO/ or Email us at: AusWHO@muhi.org.au We aim to respond to all enquiries asap - usually this takes around 1 day.

Q: Do I need any previous MUN/debating experience?

A: None required! We will provide adequate training so you will feel comfortable across the 3 days
Q: I am unfamiliar with public health affairs but I would love to learn more. Am I still eligible?
A: Yes! Our chairs and committee members work hard to enhance your fluency in public health. No previous experience required!

Q. Do I have to be a medical student to come to AusWHO?
A. No! Students of all disciplines with an interest in global health are welcome and encouraged to attend.
Q. Can students from outside the University of Melbourne participate?
A. Yes! We are hoping to attract students from all over Australia and New Zealand, including international students.
Q: Are there any certificates and awards?
A: Yes! Each delegate & chair will be awarded a certificate of participation. Certificates of excellence will also be awarded to exceptional delegates of each bloc.
Q: What am I getting for $50

A: MUN training from experienced chairs & committee members, an amazing panel with public health professionals, 3 days of catering and a fun social night with students across Australia, and a certificate that you can add to your CV and application for the Leadership in Community Award
Q. Do I have to do some work/reading before I come to AusWHO?
A. You will be emailed an information pack which will contain some background reading and some questions and issues that you will need to read (and do a small amount of research on!) before you attend. You will also be required to write a small, one-page position paper from the point of view of your allocated role (Country, Pharmaceutical or NGO). This is so that all of delegates can get the maximum educational benefit of the event, and will put all of delegates on a similar level regarding the issue to be discussed.
Q. I really want to represent a specific country (e.g. Australia) during the simulation. Is this possible?
A. It is certainly possible to list a preference and if at all possible we will do our best to accommodate you. You might also consider applying for a country which you know little about with a view to learning about it.