Event Information
Refund policy
Contact the organiser to request a refund.
Eventbrite's fee is nonrefundable.
A beekeepers conference that fits into your lifestyle, instead of replacing it #lovemycouch
About this event
"The Sweetness of the Land"
June 5 online conference with beekeeping experts.
A beekeepers conference that fits into your lifestyle, instead of replacing it. Learn how to be a better beekeeper, plus the latest tech news.
Get tips and best practices from the pros.
Jeremy Donovan, invocation & presenter - from the Kuku-Yalanji tribe of FN Queensland: 'The Sweetness of the Land'
Sit back and enjoy Jeremy's presentation on the significance of protecting our native bees; of our sacred lands; the relationship with traditional owner people have always had with native bees & the sweetness of native honey. Did you know for Yalanji People, there is a direct relationship between the bees and the creation of the didgeridoo?
Trevor Weatherhead, presenter - Australian Honey Bee Industry Council: AHBIC update
Being the peak beekeeping body in Australia, as a beekeeper, you need to be in the know with the latest news & developments that can have an impact on the health & wellbeing of your Hives.
Dr Anna Carrucan, presenter - Wheen Bee Foundation: Powerful Pollinators Project
Australia is home to over 2000 species of native bees, as well as the introduced European honey bee. The Powerful Pollinators Project is your gateway to discovering how to create havens for a diverse range of pollinators, for a sustainable future for our food security and our unique native flora and natural environment.
Lindsay Burke, presenter - Australian Honey Products: Leatherwood & the impact of Bushfires in Tasmania, Australia
If you love a good story, then you will love this interview between Lisa (our Conference MC) & Lindsay. Lindsay is a fifth generation beekeeper and honey magician when it comes to honey and mead! He will fill you with tales of Leatherwood & Manuka being ravished by bushfires & the recovery process; 'peaking' his bees ready for the Leatherwood honey flow; the 3 month window of beekeeping in Tasmania due to climate, seasons & more!
Ann & Jeff Ross, presenters - Hive Haven: Native Stingless Bees
Did you know that Hive Haven are the suppliers of the Native Stingless Bees in a 'V9' Native Bee Box at Parliament House?
Follow the story of Ann and Jeff, a couple who embarked on a project to manufacture a native bee box that would reduce the mortality of native bees from a hive overheating. In turn this remarkable bee box enables the holistic harvesting of food grade native honey and propolis.
Open your mind to the future of the fledgling native bee industry, as it moves from a 'cottage' to a commercial industry.
Simon Mildren, presenter - HiveKeepers: Innovation in Beekeeping
Technology has not just arrived into our lives, it has arrived into our Hives! Gain valuable knowledge and insights into the advances in technology and applications that can make a difference to your backyard Hives. Here's to healthier and happier bees plus more honey!
Simeon & Paul Valkenburg, presenters - Valkenburg Apiaries: Mobile Honey extraction Tour
Yes, Simeon & Paul are back to present at this year's conference again due to popular demand! This time, you will experience honey extraction on scale - commercial scale! Follow them through the process of honey extraction in their mobile extracting plant. Enjoy a glimpse into the life of a commercial beekeeper.
Jessica Locarnini, presenter - Honey Merchant: Virtual Live Honey Tasting Experience
Jess had us salivating listening to her talk about the descriptive flavours of honey at last year's conference. So we decided to do something new, different & interesting this year and offer you the opportunity to participate in a virtual live honey tasting experience from your own home! Sniff, taste & swill your way through this presentation! Order your Honey Tasting Kit in the Ticketing Merchandise Store and join us for 30 minutes of fun!
(Scroll down to read presenters bio's)
Welcome to our second annual online conference for Beekeepers!
We have an impressive lineup of experts to help you get more out of your beekeeping.
The hub of the conference is our Facebook Group page. Join today to keep up with the latest information on the conference. If you prefer, you can attend the conference without joining our Facebook Group. Here's the link
Here's how it works:
1. Purchase a ticket and provide your email address
2. Receive immediate access to your Nuplas 5% discount code to start shopping at the Nuplas on-line shop
3. Automatically be in the running to choose your Lucky Ticket Door prize at the conference
4. We will send you an email three days prior to the event with a link & password to access the conference
It's that easy!
Bonuses for conference attendees:
Nuplas 5% discount code
Lucky Ticket Door Prizes for Australian residents
Discounts at our Merchandise Store
Special pricing on Honey Tasting Kits courtesy of presenter Jessica Locarnini
Australian Beekeeping Community Support:
The Australian Women in Beekeeping Club, organizers of the event, will donate a portion of proceeds to these worthy organisations:
Australian Honey Bee Industry Council | Wheen Bee Foundation | Australian Queen Bee Breeders Association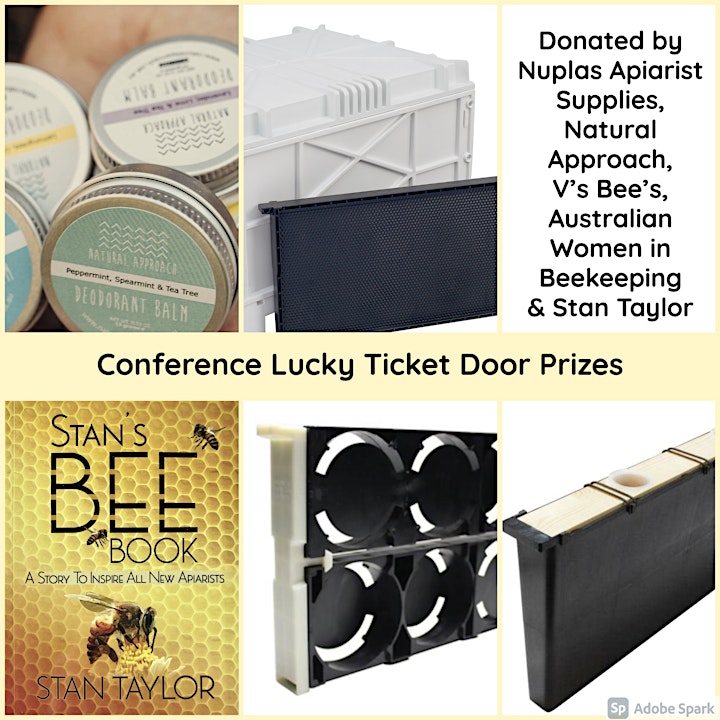 Lucky Ticket Door Prizes to win!
Nuplas -10 frame Hive with 10 plastic frame & foundation in one
V's Bees - Ceracell Honeycomb Starter Kit
Natural Approach - 3 Natural Deodorant starter packs with natural beeswax
Stan Taylor - 'Stan's Bee Book - A story to inspire all new apiarists' signed by the 92 year old author himself!
Australian Women in Beekeeping - 2 Manlake Feeders
Sponsors
Can't wait to see you at the conference!
Regards,
Kate & Kelli of the Australian Women in Beekeeping Club Inc
Testimonials from the 2020 Conference:
"It had such high value and cost so little! I didn't have to worry about travel and accommodation costs."
Chris
"All the speakers have something special to bring to the Conference. They were all very informative and easy to listen to."
JM
"Being able to access this from my home - what a revelation! As a hobby beekeeper, I would never have traveled and spent the money getting to a face to face conference."
KF
SHARE
MORE INFORMATION
Event information: here
Organizer: Australian Women in Beekeeping Club Inc.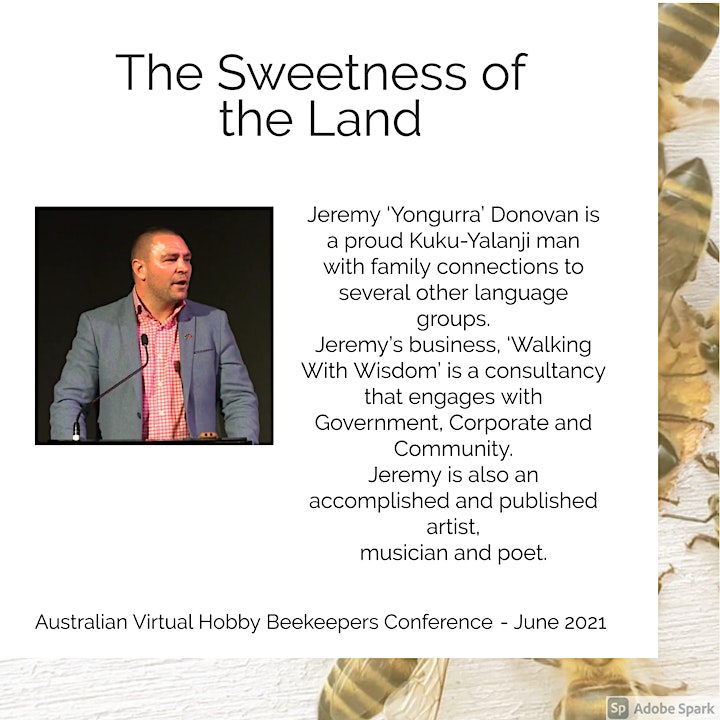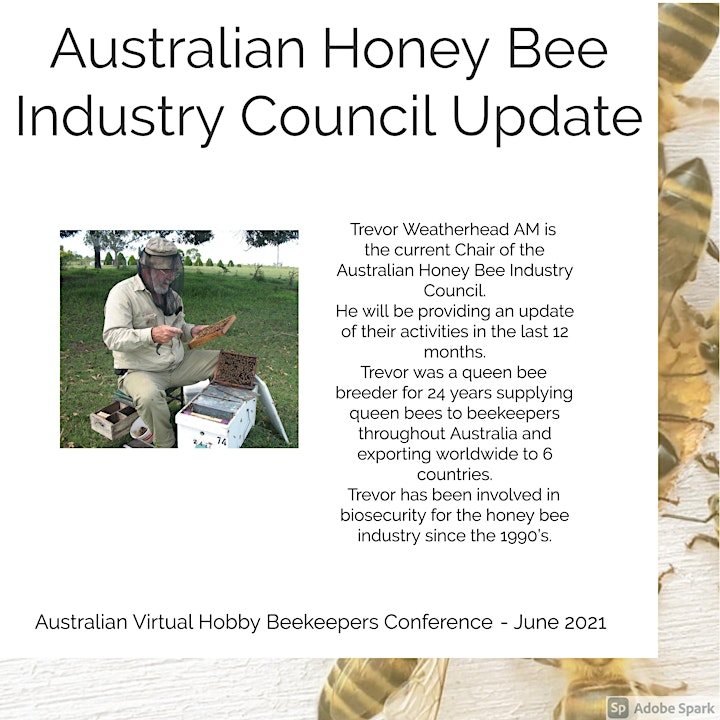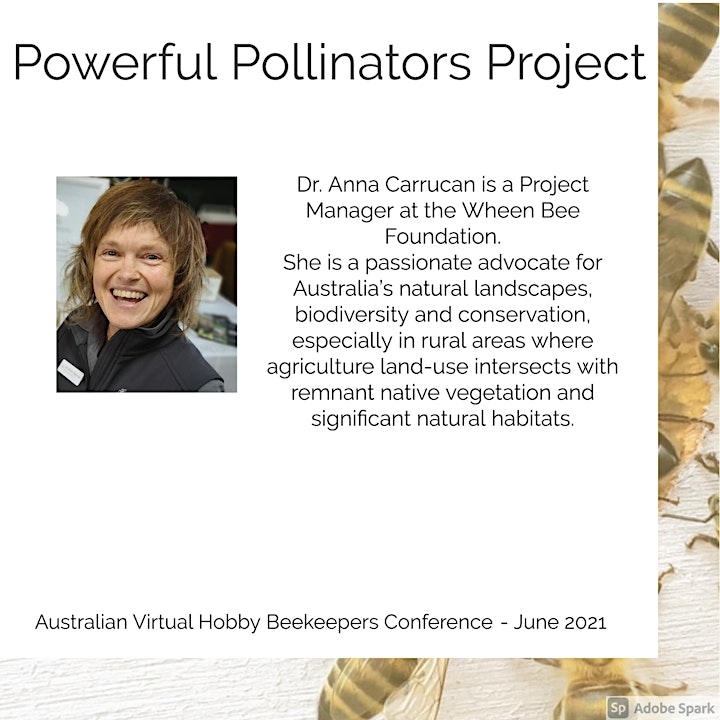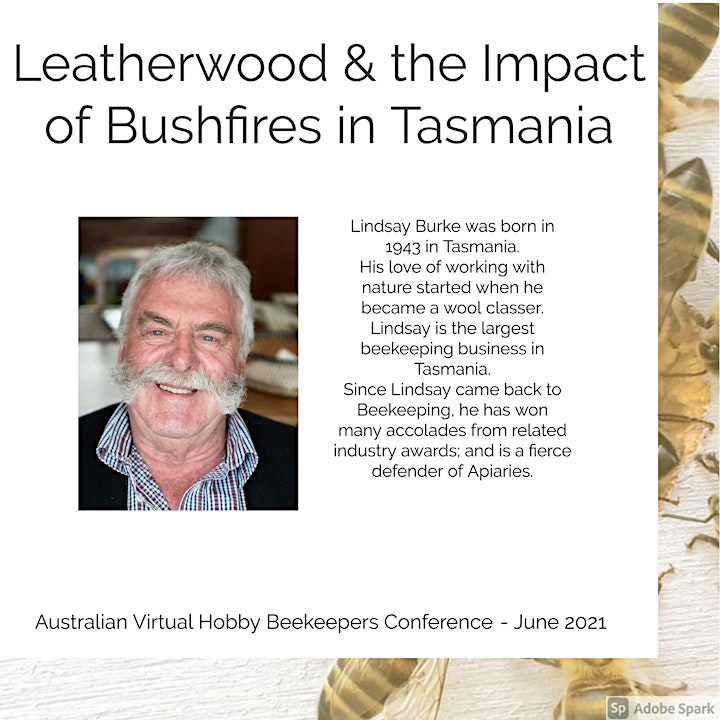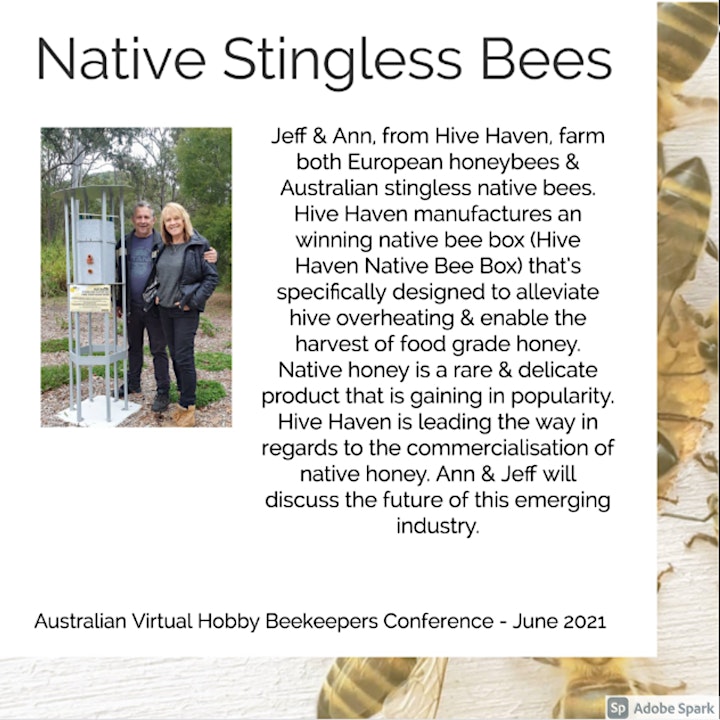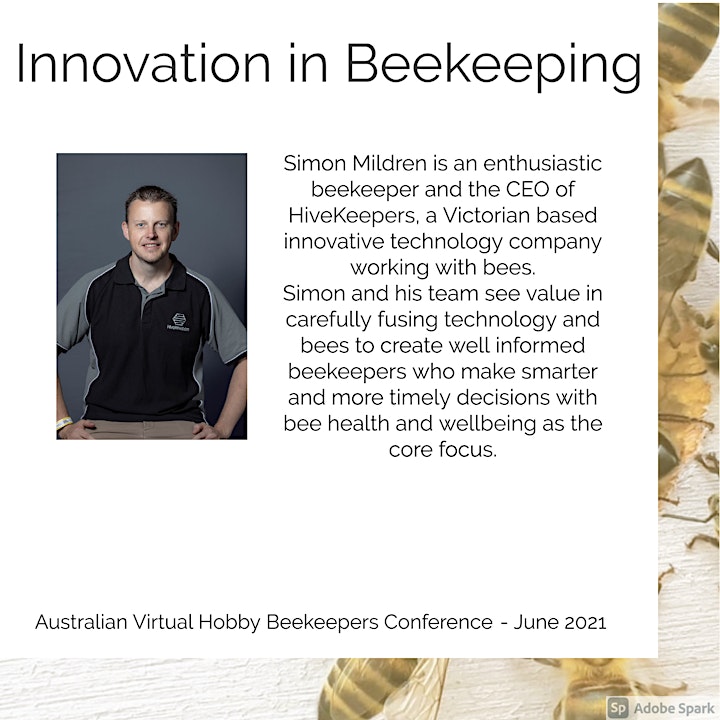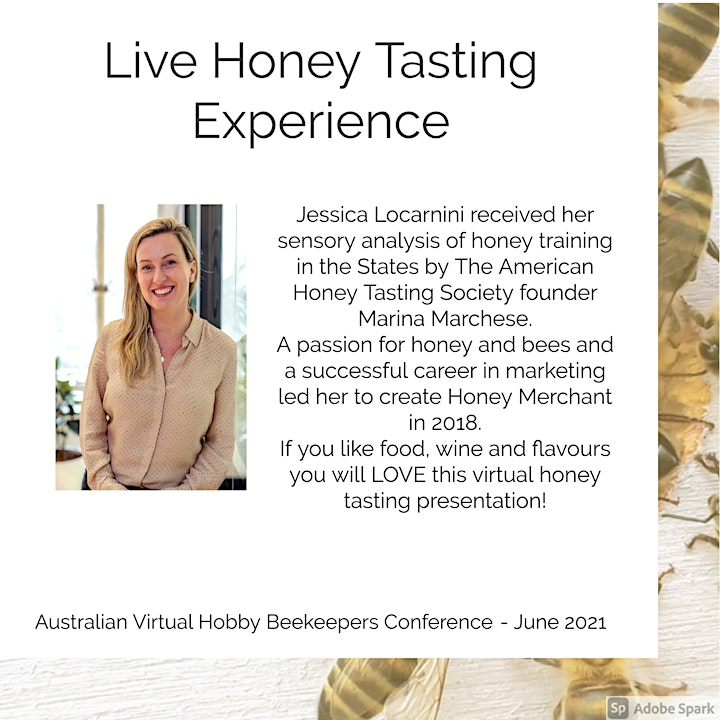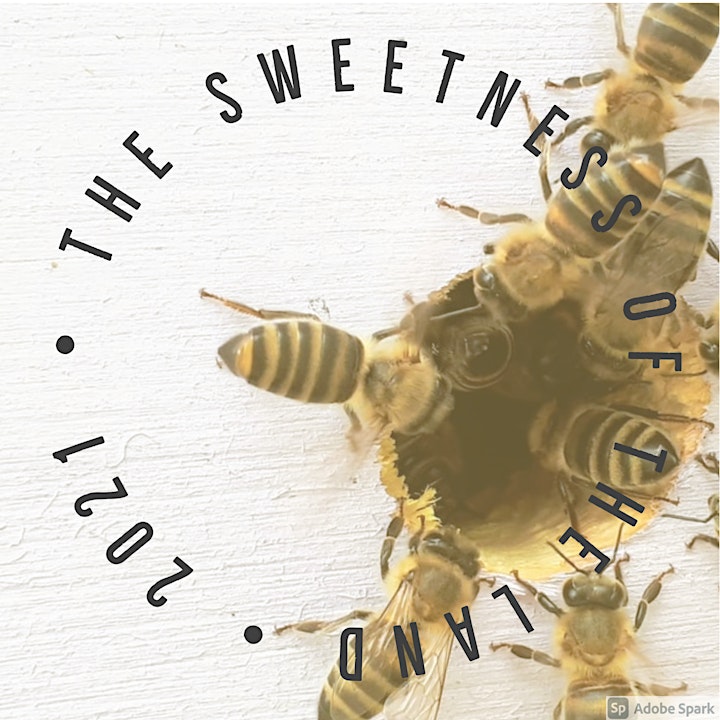 Date and time
Location
Refund policy
Contact the organiser to request a refund.
Eventbrite's fee is nonrefundable.