Description
GEORGE IVANOFF, author of the hugely popular YOU CHOOSE series will be sharing with us all of the tips and tricks he knows from writing his new book THE AUSTRALIA SURVIVAL GUIDE. When the country you live in is trying to kill you, it's best to brush up on survival techniques any chance you get! Also, find out how he went about researching all this amazing info.
This workshop is ideal for 7-12 year-olds and will run for approximately one hour including time for book signing at the end. Each ticket includes a copy of THE AUSTRALIA SURVIAL GUIDE which will be avaible to collect at the workshop.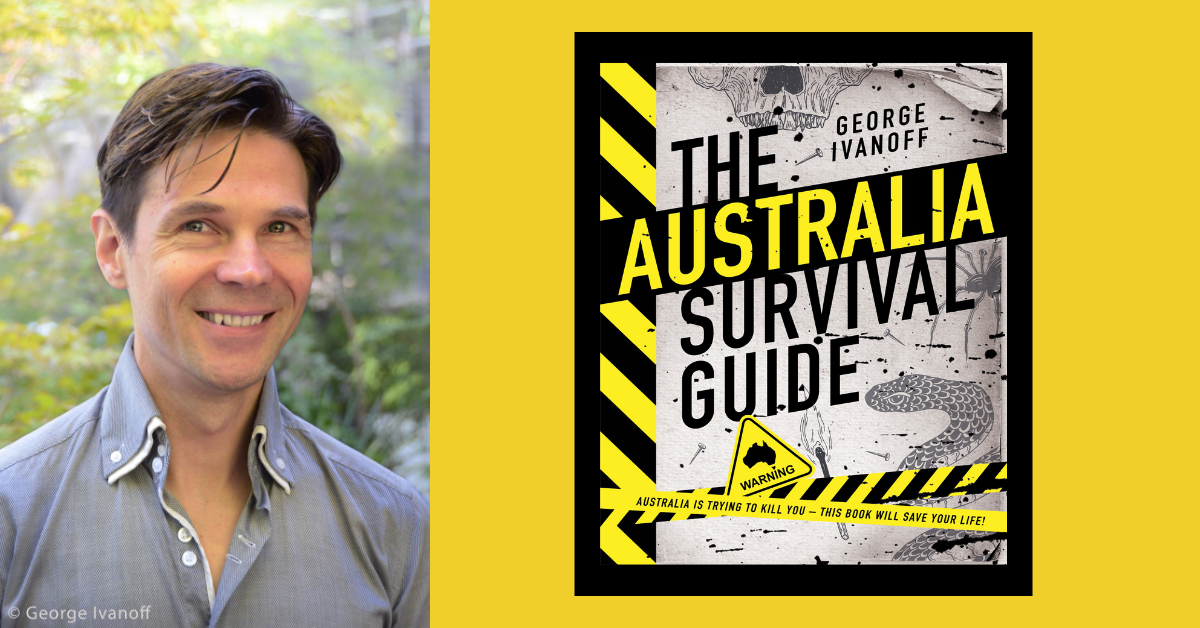 ABOUT THE BOOK
Australia is trying to KILL you – this book will save your life!
Oh no! You've been bitten by an inland taipan?
Don't worry, The Australia Survival Guide has the first-aid advice you need!
What's that? You're lost in the bush and need to know how to collect your own water?
The Australia Survival Guide has got you covered.
Our amazing country has its fair share of dangers: sharks, snakes, cyclones and crocodiles can be a serious threat to your life! But don't worry. This book will help you by providing the knowledge you need to survive in all kinds of Aussie conditions – in the bush, in the desert or even at the beach!
So get out there and look around! Even if you think Australia is trying to kill you, The Australia Survival Guide can save your life!
ABOUT GEORGE IVANOFF
George Ivanoff is a Melbourne author who's written over 100 books for children and teenagers, including fiction and non-fiction. He has written school readers, library reference books, chapter books, novelettes, novels and even a short story collection. He has books on both the Victorian Premier's and the NSW Premier's Reading Challenge booklists.

George's latest series of books is OTHER WORDS. With this series George has ventured into the realms of science fiction and fantasy, two of his favourite genres, in order to tell stories about ordinary kids facing extraordinary circumstances. There are 4 books so far.

George's has written 13 books in his interactive You Choose series. You Choose: The Treasure of Dead Man's Cove won the 2015 YABBA in the "Fiction for Younger Readers" category; and You Choose: Alien Invasion From Beyond the Stars got an Honour Award in the KOALAs in 2016 and 2017.

His teen science fiction novel, Gamers' Quest (2009), won a Chronos Award for speculative fiction. The sequel, Gamers' Challenge (2011), was shortlisted for the same award. And the final book in the Gamers trilogy, Gamers' Rebellion (2013), also won a Chronos Award.

George has also written a series of adventure books about the Flying Doctors — RFDS Adventures. The four books in this series were published in 2016.

George also writes short stories and articles for grown-ups as well as kids. Of all these, he is most proud to have had the opportunity to write a Doctor Who story for the Short Trips: Defining Patterns anthology (Big Finish, UK, 2008).

Occasionally, George has been known to moonlight as an actor. He has had small roles in numerous productions including the television series Neighbours and the feature films Frozen Butterflies and William Kelly's War. He guest starred in an episode of the Australia audio series Night Terrace which has recently been broadcast on BBC4 in the UK.

George eats too much chocolate, drinks too much coffee and watches too much Doctor Who.

He has one wife, two children, and an uncontrollable imagination!