Australian Sporting Images and Transformation
'How am I meant to represent a country that doesn't even represent me?': Australian Sporting Images and Transformation
About this event
This paper takes Liz Cambage's recent calling out of the Jockey Australian Olympic team advertising campaign, as a starting point for a discussion of the visual representations of Australian sport and the issues of racism and sexism that intertwined in this. What, I want to ask, might be gained from studying the history of such images, and how might critical engagements with art and notions of decoloniality inform this process? At issue are questions of the power of Australian sport, the structural racism and misogyny that still shape it, and visual illiteracy in Australia.
Matthew Klugman is a CIDRN member and Research Fellow at the Institute for Health & Sport, Victoria University. His research explores the intersecting histories of emotions, sports, race, gender, sexuality, medicine, science, migration, and bodies. His most recent book (co-authored with Gary Osmond) is Black and Proud: The Story of an Iconic AFL Photo (NewSouth, 2013).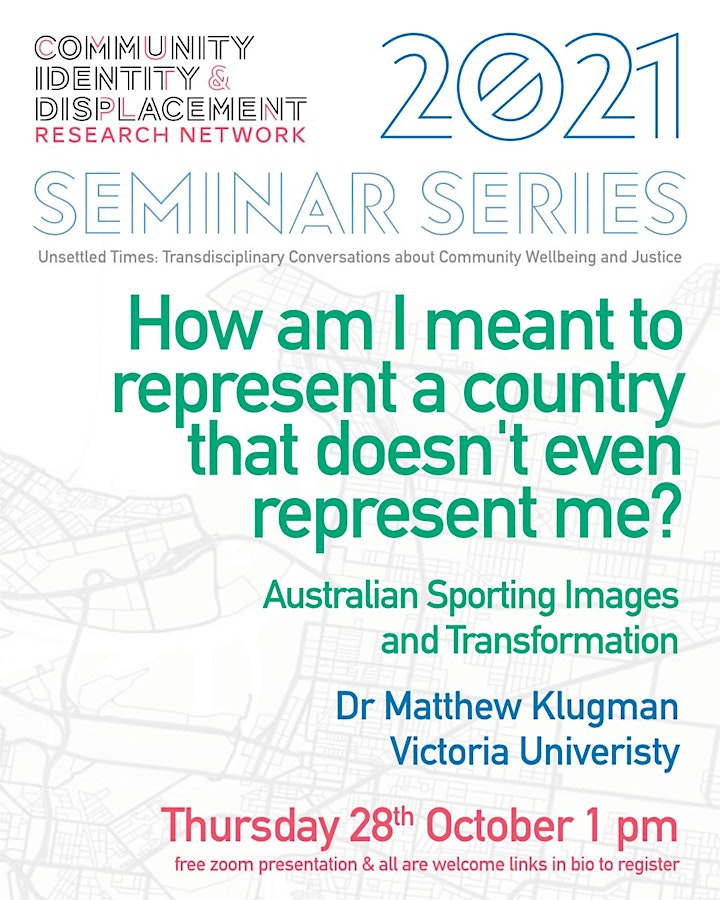 Organiser of Australian Sporting Images and Transformation
The Community, Identity and Displacement Research Network (CIDRN) is a public intellectual space where research activities are encouraged and promoted. This broad network aims to draw together and foster scholarly investigation of new diasporas and changing meanings of displacement and identity. It is an intellectual space where new questions about indigeneity, racism, refugees, sense of place, social inclusion, social justice, transnationalism and xenophobia can be raised, debated and discussed.
Research activities associated with the CIDRN will cover a range of disciplinary and multidisciplinary perspectives. The network will also explore and enable new theoretical and methodological interventions around issues of identity, displacement and community in a global and local context.
Given that this network is concerned with the social and political dynamics of a sense of place, we are particularly interested in work focusing on Melbourne's West. This locality, with its rich history of migration and diversity provides an important site for the investigation of displacement, identity, community and change and the interaction between the local and global.