Australian Rheumatology Association (SA/NT) Annual Scientific Meeting 2021
We have an engaging meeting planned including multiple international speakers, research presentations and catching up with colleagues.
About this event
The ARA SA Branch is delighted to present the 2021 Annual Scientific Meeting followed by the Annual General Meeting and dinner.
This meeting would not be possible without the generous support of our sponsors: AbbVie, Amgen, Eli Lilly, Novartis, Organon, Pfizer, Sandoz, Seqirus, Janssen, and MIGA.
Event overview
Doors will be open from 8am on Friday, 22nd October 2021 for registration and the scientific program will begin from 9am.
There will be presentations from two major international speakers during the day (Professor Chris Denton (UK) presenting on systemic sclerosis and Dr David Beck (USA) presenting on VEXAS: the story of a new disease), as well as presentation from local speakers discussing their research in the streams of basic science and clinical research.
Registration includes morning tea, lunch and afternoon tea as well as refreshments throughout the day.
The meeting will be immediately followed by the ARA (SA Branch) AGM at 5pm.
The day's formalities will draw to a close and attendees will be invited to join colleagues and their partners for dinner in the Adelaide Convention Centre Gilbert Suite for dinner from 6:30pm. A three course meal and drinks package will follow along with the usual fun and frivolities of the night.
COVID 19 restrictions remain in place in South Australia and further information will be sent to registrants regarding this. Interstate and other attendees who are unable to attend in person may wish to register for 'virtual attendance.'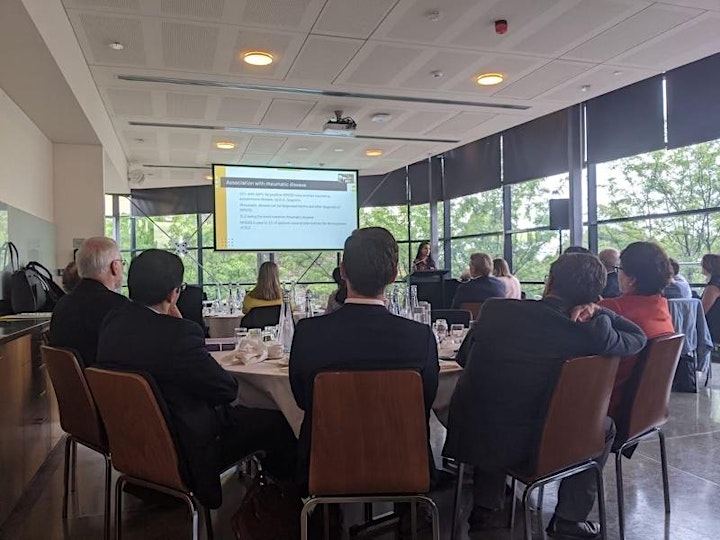 Organiser of Australian Rheumatology Association (SA/NT) Annual Scientific Meeting 2021