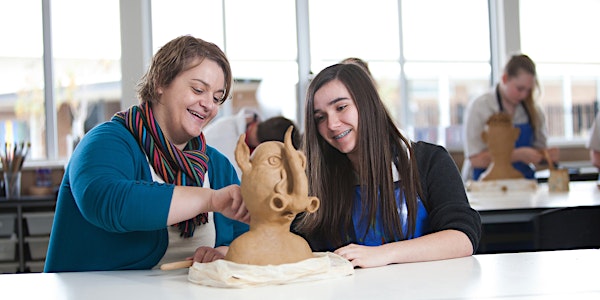 Australian PBL 101: A High Tech High Experience 'How to develop authentic p...
Event Information
Location
Wirreanda Secondary School
105 Richards Drive
Morphett Vale, SA 5162
Australia
Refund policy
Refunds up to 7 days before event
Description
Australian PBL 101: A High Tech High Experience
'How to develop authentic project based learning that supports quality teaching and learning within your classroom'
Participants will experience protocols and processes that help develop projects that incorporate critical and creative thinking, collaboration and communication.
Teachers will draw on their expertise in their own subject areas to create interdisciplinary approaches to their specialist areas, including Visual Art.
This workshop is suitable for years 5 to 10 teachers. Bring a colleague to develop ideas for collaborative projects in your setting.
Katrina Axford
9:30 registration with snacks and coffee for a 10 am start
10:00 am – Introduction: Katrina Axford.
What is Project Based Learning? What does it look like in an Australian Context?
10:30 - 11:15 am Movie 'In Order to Succeed' viewing part 1
11:15 – 11:45 am Morning tea
11:45 – 12:30 pm Movie 'In Order to Succeed' viewing part 2
12:30 - 1:30 pm Lunch - provided through 'let them eat' (please identify dietary requirements)
1:30 – 3:30 pm Developing the un-beautiful project: Workshop activities designed to build participants capacity to develop project based teaching projects that draw on their own areas of expertise.
In this afternoon workshop to explore how to develop authentic project based learning to suit your learning context. Katrina will talk about the stages of implementing PBL effectively, the tools that can support this, the challenges of implementation and possible solutions.
3:30 to 4 pm Q and A with Katrina
6 pm onwards (optional) - Want to continue the conversation? Join us for dinner at a local venue to be confirmed on the day. This is not a part of the workshop, but an opportunity to continue networking and discussing ideas.
About the Presenter:
Katrina Axford
My name is Katrina Axford and I am the Head of Middle School Transformation at Wirreanda Secondary School in Morphett Vale, Adelaide, South Australia. Prior to my career as a Teacher I studied Graphic Design and began my working life as a Screen Printers' Assistant at Culter Brands, an industrial printing company servicing a variety of manufacturing industries. I then worked as a Video Graphic Artist at Krell Studios animating music notation for 'how to play' instrument videos while studying a Certificate II in Printing and Graphic Arts. After 5 years of working in the Design and Printing Industry I studied Visual Arts at the University of South Australia majoring in Painting and minoring in Ceramics and Photography. I graduated in 2005 with a Bachelor of Visual Arts (Honours) and a Bachelor of Education (Middle and Secondary) in 2007.

I began my teaching career at Smithfield Plains High School in July 2007 and moved to Mark Oliphant College from its inception in 2010. Throughout my career I have taught subjects including Visual Arts, Design, Photography and Multimedia to students ranging from Years 5 to 12. In 2012 I trained with High Tech High completing the Leading Schools Program in San Diego. My focus since completing the Leading School Program with HTH has been to develop high quality teaching and learning in my classroom as well as the broader school community through innovative leadership and authentic collaboration. My teaching and leadership materials and resources are available for all to see and access on my website katrinaaxford.com. Students, parents, caregivers, teachers and members of the global community can access all my resources, examples and experiences because I truly believe teaching should not be a private practise.

When working at Mark Oliphant College in 2013 as the Senior Years Visual Arts teacher and leader of Project Based Learning, I led the launch of Project Based Learning with year 10 students and teachers to successfully implement projects that connect with the Australian Curriculum. In 2015 I was promoted to Project Based Learning Co-ordinator responsible for overseeing PBL throughout years 7 to 10. I continued in this role before taking the position of Head of School at IPACA for the 2016/17 academic year, moving to Portland, Dorset, England. IPACA was a challenging yet rewarding time in my career and I am thankful for the experience.

My passion is Project Based Learning with quality explicit teaching and positive psychology embedded throughout. I believe all who educate must change how they think about education constantly and adapt to create relevant and authentic learning experiences for today's (not yesterday's) students.


Date and time
Location
Wirreanda Secondary School
105 Richards Drive
Morphett Vale, SA 5162
Australia
Refund policy
Refunds up to 7 days before event