Sales Have Ended
Ticket sales have ended
Tickets to this event have now closed. If you have any inquiries please call 0448430370
Sales Have Ended
Ticket sales have ended
Tickets to this event have now closed. If you have any inquiries please call 0448430370
Description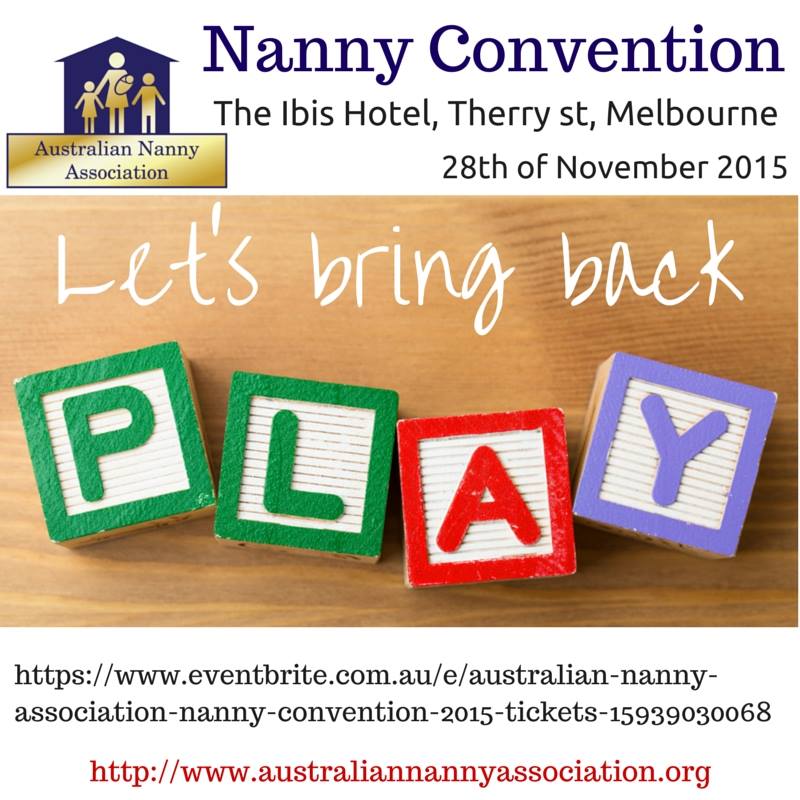 The Australian Nanny Association (ANA) is a non-profit professional association and the national peak body representing the Australian nanny community. ANA is holding Australia's first Nanny Convention and third Annual General Meeting.
The ANA believes it is important to work together and include the whole nanny community (nannies, agencies, families and related businesses). All of these groups are affected by current and future events involving the nanny sector. This encourages best practice and quality care amongst all groups.
Non members are welcome to attend.
The ANA Nanny Convention will include a welcome evening dinner on Friday 27th of November 2015 and a full day event filled with fantastic speakers, professional development, socialising and lots of fun.

This year we are returning to Melbourne: the fantastic city of trams, the Yarra River and three seasons of weather in one day. Not to mention the amazing restaurants, cafes and culture!
There will be exciting speakers, group participation, networking, morning tea, lunch, afternoon tea and some cutting edge and fun professional development.
For those that want to continue on into the evening, on the Saturday there is a V.I.P event after dark.
Focus of the Convention
THEME: Let's Bring Back Play
Showcase the attributes of the nanny sector through mini-keynotes & workshop presentations.
Understand and value the important role of the professional nanny role in the education and care of Australia's children.
Embrace, through a full day immersion experience, the new ideas and strategies that can be implemented into the nanny role and better support the children and families in our care.
Allow the opportunity for participants to network throughout the sessions, morning and afternoon tea, lunch and dinner.
Farewell our 2014-15 ANA committee and welcome in the new 2015-16 committee.
Speakers announced so far:
PROGRAM
Pre-Convention

When: Friday 27th November 2015
Pre-Convention Welcome Dinner

Location: Ibis Lounge

The Pre-Convention Welcome Dinner will be the first official opportunity for all guests to enjoy the social and networking opportunities of this national event.
The ANA Committee will welcome guests to the convention.
This is a great opportunity to network with your existing contacts and make new ones across the Australian nanny sector.
Cost for pre-convention event above 27/11/15: Attendees order and pay for their own food and drink.
----------------------------------------------------------------------------------------------------------------------------------------------------------------

ANA NANNY CONVENTION SCHEDULE

(Full topics and speakers will be announced in coming weeks.)

Registration
Date: Saturday 28th November 2015
Time: 8am-9am
Location: The Ibis Hotel, Therry St, Melbourne (Victoria Room)
(Guest speakers will be announced in the coming weeks)

Opening: (The Year of the Nanny)
Mini keynote speaker

Plenary

Mini keynote- high-profile guest speaker
Mini keynote- high-profile guest speaker

Morning tea- networking/displays

Workshops
Lunch
Breakout sessions/workshops
WORKSHOP - 20 tickets allocated only

Business breakout workshop

WORKSHOP
Nanny breakout workshops x 2

Afternoon tea- networking
WORKSHOP
Major high profile workshop

6pm - Conclusion
Cost for full day convention above from 8am-6pm inclusive 28/11/15 :
$33 for ANA members and $53 for non ANA members

-------------------------------------------------------------------------------------------------------------------------------------------------------------

ADDITIONAL INFORMAL - POST CONVENTION FUNCTIONS
6.15pm - iBar - networking (informal)
6.45pm - 8pm Conference Dinner and AGM

Location:The Ibis Hotel Therry St, Melbourne
The convention closing dinner will enable all guests who wish, to stay on and enjoy further networking opportunities to celebrate the end of a great day.
The ANA Annual General Meeting (members only) will be held prior to the dinner.
ANA members who have pre-nominated can now vote and accept their new positions on the ANA Committee for 2015-16.
Cost for post convention dinner above 28/11/15 from 6pm: Attendees order and pay for their own food and refreshments.

8pm - Informal V.I.P social event - Club 23 at Crown.

Cost for V.I.P event: Entry included in convention ticket. Attendees to order and pay for their own food and refreshments at the venue.

We are really looking forward to meeting you.
Have a question? Please visit our FREQUENTLY ASKED QUESTIONS page.
What is the refund policy?
Refunds, Exchanges and Replacement Tickets
Before purchasing tickets, carefully review the event details. An exchange or refund for a lost, stolen, damaged or destroyed ticket (including where a ticket does not arrive in the mail) is not available. A change in personal circumstances does not entitle a ticket holder to return or exchange a ticket.

Subject to any statutory rights of refund (including, without limitation the provisions of the Australian Consumer Law), if an event takes place then generally there is no right to a refund or exchange, including where a ticket holder cannot attend because of adverse weather conditions.
*Speakers or scheduling may change at any time prior to the event.
*Photography, video and media will be taken at the event. Purchase of a ticket is acceptance that video, photography and media may be taken at the events and utilised for promotional purposes during and after the events.
A big thank you to our sponsors:
Nannysure by Finsura
Suzan Johnston Training Organisation
Butler Creative - Australian Nanny Diary
Life's Little Treasures Foundation
Donna Leigh

Suzan Johnston Training

Guest Speaker

Nataly Tormey

WonderWoman Children

Guest speaker

Rachael Coopes

Actor/Playwright

Keynote

Sarah Marlowe

P.A.N.D.A

Mini workshop

Amanda Cox

Diary of a Mad Cow

Keynote

Megan Jaworski

Be The Change

Mini workshop

Nicole & Justine sponsored by Malarkey

Journey into Play

Workshop

Rebecca McIntosh

Daycare Decisions

Plenary - Create your brand

Dave and Nat Pate

Rock Solid PT

Mini workshop

Jo Ryan

Babybliss

Plenary

Robbie Singh

Autism Partnership

Plenary

Robbie Singh

Sendai Gracie Jiu Jitsu

Streetsafe Workshop

Peter Maguire sponsored by Business Victoria

Ridgeline HR

Workshop