Australian Ichthyosis Meet

Saturday, 9 May 2015 from 9:30 am to 5:00 pm (AEST)
Ticket Information
This event is invite-only
Event Details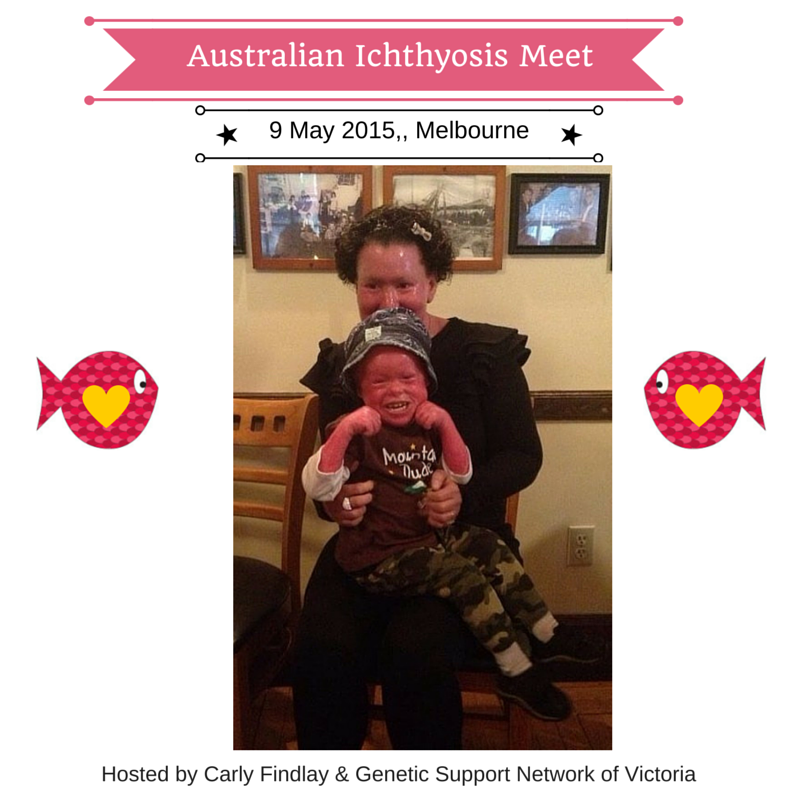 When I was a child, I hadn't met anyone else with Ichthyosis. I thought I was all alone. Since I have been blogging, I've come to meet many, many people with Ichthyosis - many overseas and a few in Australia. And it's been wonderful. We've been able to share advice, lean on each other in times of difficulties, and offer hope and happiness to individuals and families. We also share common interests outside of our Ichthyosis. I've had wonderful experiences meeting these patients and their families.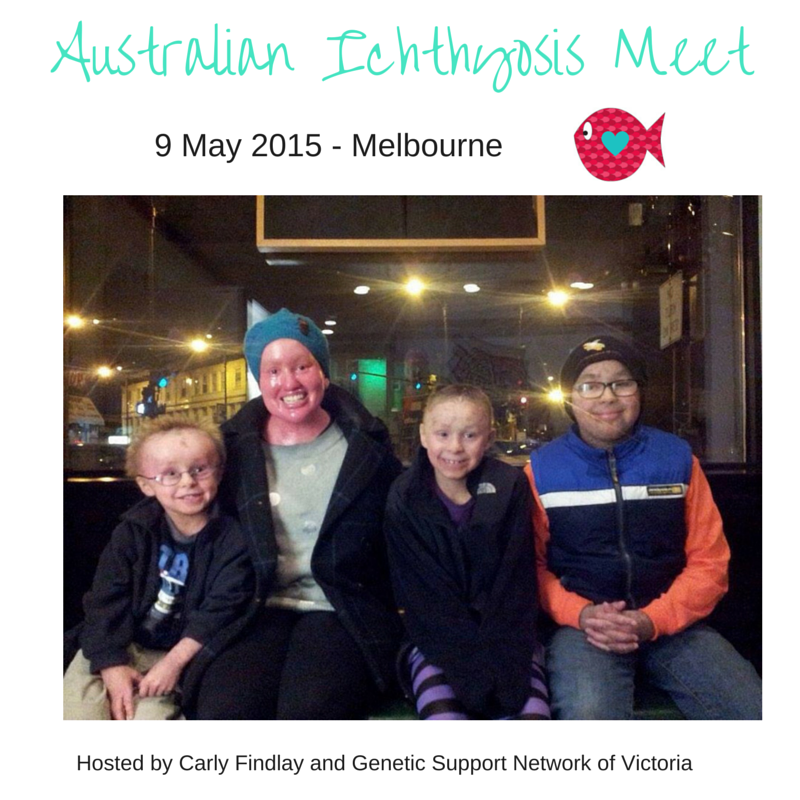 And I wanted to give this same opportunity to Australians (and anyone who wants to travel to Australia).
About the meet:
I've partnered with the Genetic Support Network of Victoria (GSNV) to host the first official Australian Ichthyosis Meet – scheduled in Melbourne for Saturday 9 May 2015, as a part of Ichthyosis Awareness Month. This event will give adults, children and families affected by Ichthyosis the chance to meet others with this rare condition. I hope some strong friendships will form, as well boosting the self confidence of all attendees. And the event will also be showcased on my blog for Ichthyosis Awareness Month.
The day will feature three sessions: an informal meet and greet, exploring the zoo, and a dinner for those who want to socialise further. Two dermatologists have been confirmed to attend the morning session – Professor Ingrid Winship and Dr David Orchard. A photographer will be present to capture happy memories of the day. Spaces are limited. 
When registering your details, please ensure you register any children you have. 
Details:
Session 1 – meet and greet including morning tea

Time: 9.30 am for a 10.00 am start, until approximately 12.00 pm

Venue: Melbourne Zoo, Elliott Avenue, Parkville.
Room details to be emailed privately.
Session 2 – explore the Melbourne Zoo!
Time: 12.30 pm start, transport to be determined.
Venue: Melbourne Zoo, Elliott Avenue, Parkville. 
Cost: Adults approx $16.00
Children (up to 15 years) free
Zoo members – free.
Please note - I am doing some fundraising to reduce the cost of zoo admission, see below.
Parking at the zoo is $2.
Session 3 – dinner – for those up to it!
Time: 7.00 pm.
Venue: to be confirmed.
Dinner will be somewhere central and child friendly – all welcome. 
Fundraising
I am doing some fundraising for the event, to cover the cost of the GSNV staff and photographer, catering and to reduce zoo admission costs for you. Any remaning funds will be donated to the Foundation for Ichthyosis and Related Skin Types (FIRST). FIRST supports patients and families affected by Ichthyosis worldwide, as well as funds research into the condition. 
If you would like to contribute to the fundraising for the event, or know someone who might, donate via gofundme.com/ausichthymeet.
Or donate directly:
Carly Findlay (For Ichthyosis Awareness Meet)
Commonwealth Bank
BSB: 063637
Account: 10139069
You will need to pay for your own transport and accommodation to and in Melbourne, plus the cost of meals and souvenirs at the zoo.   
Things you should know:
Contact the organiser with questions:
Email Carly Findlay at ausichthyosismeet@gmail.com. 
Melbourne's weather:
Melbourne weather can be unpredictable, especially in May – temperatures range from 11 – 20 degrees celsius. I recommend bringing a raincoat, umbrella and waterproof shoes. If you or your child gets cold, bring a coat. We will be inside for the first part of the day, but the zoo trip will be outdoors.
Getting from the airport to the city:
If you are flying to Melbourne, you can get a rental car from the airport. Alternately, you can get the Skybus from the airport to Southern Cross Railway Station and then get a train, or tram to your destination. The Skybus takes around 20 minutes from the airport and costs $18 one way. You can also get a connecting shuttlebus from Southern Cross Station to your hotel. 
Accommodation in Melbourne:
Check out Expedia for hotel and flight options, or Hotels.com, Webjet, Wotif or LastMinute.
Public transport options in Melbourne:
There are trains, trams and buses in Melbourne. There is a free City Circle tram that stops at the tourist attractions in and close to the Melbourne CBD. Public Transport Victoria has information about travelling in Melbourne – the public transport system is extensive and relatively easy for you to use. You will need to purchase a Myki pass before you travel though, you can do this at railway stations, some tram stops and most 7/11 stores.
If you need disability assistance, visit the Travellers Aid website for more information. 
Taxi cabs can be phoned on 131 008 (Silvertop) and 13 22 27 (13Cabs).
The Zoo is on the 55 tramline, or on the Upfield trainline - stopping at Royal Park.
What's on in Melbourne?
That's Melbourne lists events that are on in Melbourne – you might want to make a weekend of your trip! 
What is Ichthyosis?
"Ichthyosis is a rare genetic or acquired skin condition affecting an estimated 10-20 individuals per Million.
Ichthyosis is characterised by persistently dry, thickened, rough, fish scale skin.
There are at least 20 varieties of ichthyosis, including inherited and acquired forms.
People with ichthyosis have a normal lifespan. However those with very severe ichthyosis may need to spend several hours each day caring for their skin so they can lead as much of a normal life as possible." (Source)
Privacy:
The information you provide with your registration will not be shared with a third party without consent.
Organiser
Carly Findlay is an award winning writer, speaker and appearance advocate. She writes on disability and appearance diversity issues for publications including ABC, Daily Life and SBS. She was named as one of Australia's most influential women in the 2014 Australian Financial Review and Westpac 100 Women of Influence Awards. She has appeared on ABC's You Can't Ask That and Cyber Hate with Tara Moss, and has been a regular on various ABC radio programs. Carly is currently writing her first book – a memoir – to be published by Harper Collins in early 2019.  She loves anything to do with fashion, and thus wants to have disability inclusion for all brands and labels.