Description
MTPConnect invites the Australian medical technology sector to join the Australian delegation to The MedTech Conference - 23-25 September 2019 in Boston, MA. We want to showcase outstanding innovative medical technologies, Australia's unique capabilities, and build invaluable connections into international markets.
To join the MTPConnect-led Australian delegation, we are offering registration at AUD$1,000 (including GST). Please note that this does not include registration to the MedTech Conference, accommodation or air fares, which are the responsibility of the delegate to organise. However, a promo code will be provided upon successful registration to the Australian delegation. Use the code for a flat, discounted registration of USD$1,075 for the MedTech Conference, a 23% saving on the standard lowest member rate. This code will also come in handy for booking accommodation. Upon joining the delegation, you will be able to access the Australian Pavilion for meetings and receive prominent branding for your company including in the delegate booklet.
GET THE MOST FROM YOUR VISIT TO BOSTON
Registration with the MTPConnect Australian delegation includes these value-added activities (from the draft program) to help you maximise the impact of your visit to Boston.
Monday 16 September (10 am-12 pm AEST) – PRIOR TO DEPARTURE TO BOSTON. Exclusive to MTPConnect-registered delegates, webinar with Dreamit Ventures' Steve Barsh (Managing Director) on the 'art of pitching to investors', getting investor-ready, plus Q&A.

Saturday 21 September: welcome get-together for the MTPConnect Australian delegation (canapes and some drinks). Venue TBC, 6-8 pm.

Tuesday 24 September: Exclusive presentations to AU delegates (room TBC) 9 am – 12 pm
Presentation by Mayo Clinic around access/use of health data (TBC)
Presentation by CIMIT's medtech/healthtech group and Medical Alley Association
Presentation by M2D2 Accelerator UMass at Lowell
Austrade - TBC

Wednesday 25 September (3:00 pm-5:00 pm): Visit to Wyss Institute for Biologically Inspired Engineering at Harvard. Presentations from Spaulding Rehabilitation Hospital industry partners: wearables technologies and robotics - TBC
For the MTPConnect-led Australian delegation, we're asking that you arrive in Boston by 19 September at the latest and plan to depart on 27 September. This will allow you to participate fully in the MTPConnect-organised value-add program and the Advamed post-conference site tour for all international delegations on 26 September.
MTPConnect's booth is located at #517 (see floor plan below).
Please do not hesitate to get in touch if you have any questions and we look forward to your company as part of the upcoming delegation.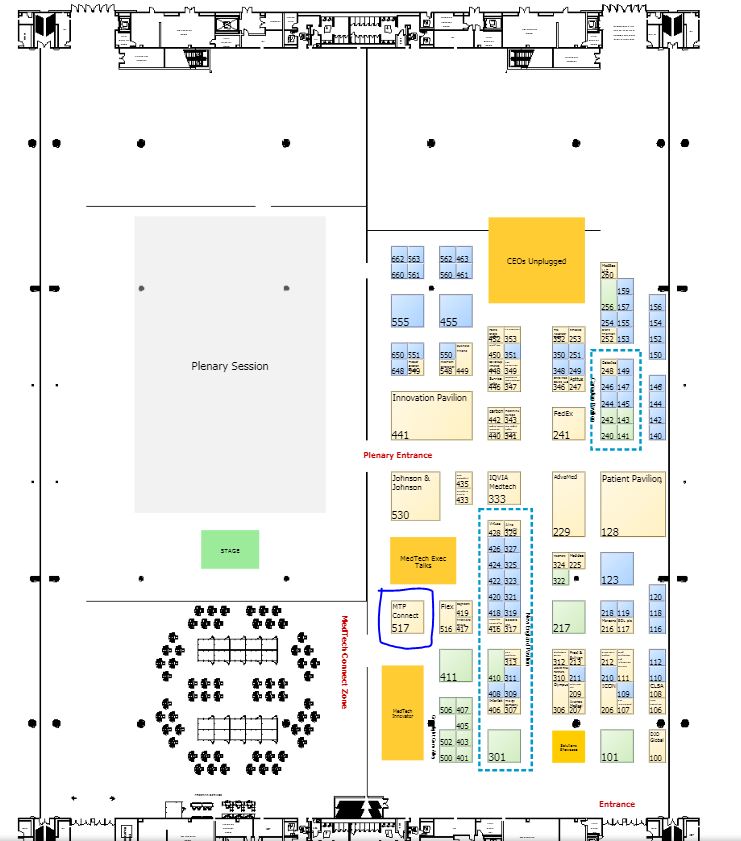 The MedTech Conference organisers have preferred rates at the following (and subject to availability) options:
The Westin Boston Waterfront - 160m walk Strongly suggested by MTPConnect for proximity to the convention centre & convenience for organising
415 Summer Street, Boston, MA 02210

Renaissance Boston Waterfront - 482m walk
606 Congress St, Boston, MA 02210


Element Boston Seaport - 643m walk
391-395 D St, Boston, MA 02210

Aloft Boston Seaport - 643m walk
401-403 D St, Boston, MA 02210