Description
MTPConnect invites the Australian medical technology sector to join the Australian delegation to
The MedTech Conference
—September 22 – 26, 2018 in Philadelphia, Pennsylvania—to showcase outstanding innovative medical technologies, Australia's unique capabilities, and build invaluable inroads into international markets.


The registration fee of AUD $850 incl GST includes:
Your Branding on the Australian booth (company's logo), Company presentations on a large TV screen at the Australian booth

Access to Australia Pavilion facilities including designated meeting tables and limited storage area

Provision for your company's marketing materials, prototypes

Promotion via Australian Mission booklet - Company logo, photograph, description & contact details

Program of activities and events for the delegation that do not clash with existing conference program

Promo code for discounted registration fee (USD $1,165 per delegate i.e., 10% discount on early-bird full-access registration fee) for the MedTech Conference (Promo Code will be provided upon successful registration to partake the delegation, via confirmation email)

On-site support from MTPConnect

Australian delegate Meet & Greet event prior to International Reception

Assistance with introduction to relevant local business contacts for optimised networking

Access to the breakfast networking events hosted by local companies exclusively for Australian delegation

Access to invitation-only sessions – AdvaMed Accel Leadership Seminar & Networking lunch on Sept 24th

Pre-show marketing promoting your company as an Australian exhibitor via MTPConnect twitter handle and LinkedIn

List of attendees prior/after the conference

Transportation to planned site-visits

Basic utilities and services such as security and cleaning of pavilion
Please note: Registration to Australian delegation does not include conference registration, accommodation (suggestions below) and air fare. Please do not hesitate to get in touch if you have any questions and we look forward to your company in the upcoming delegation.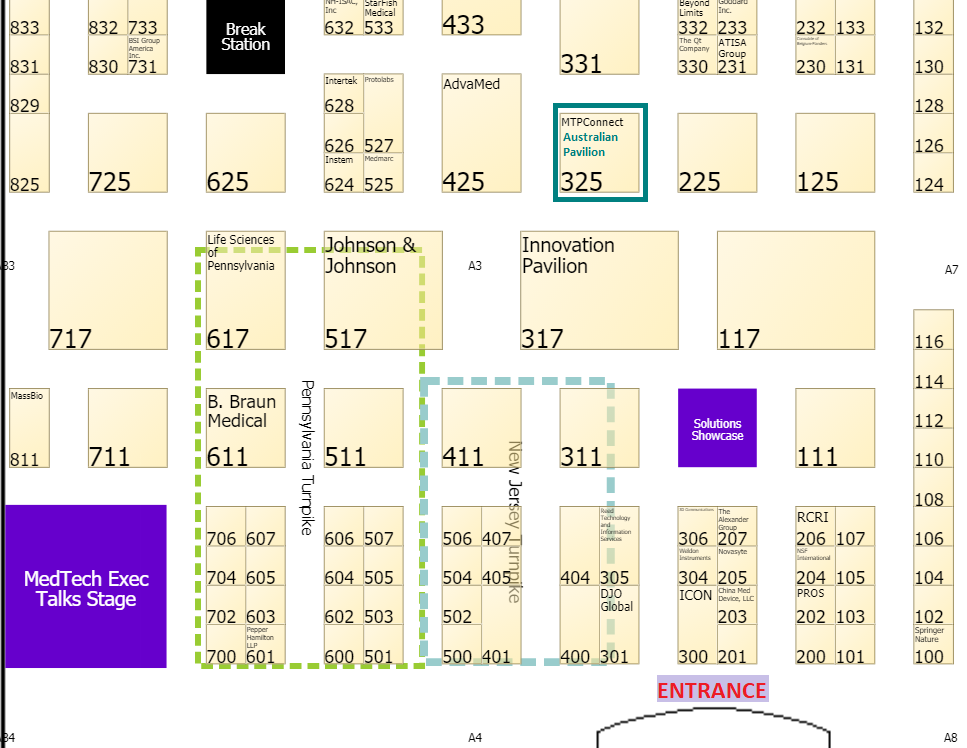 Suggestions for hotel accommodation and distance from the Convention Centre:
Hampton Inn Philadelphia Convention Center Hotel - 3* - 0.3 km – Strongly suggested by MTPConnect for proximity to the convention centre & convenience for organising
1301 Race Street
Philadelphia, PA 19107
DoubleTree by Hilton Philadelphia Hotel - 4* - 0.8 km
237 South Broad Street
Philadelphia, PA 19107
Wyndham Philadelphia Historic District Hotel - 4* - 0.95 km
400 Arch Street
Philadelphia, PA 19106
Holiday Inn Express Penns Landing Hotel - 3* - 1.6 km
100 North Christopher Columbus Boulevard
Philadelphia, PA 19106
Sheraton Philadelphia University City Hotel - 4* - 2.9 km
3549 Chestnut Street
Philadelphia, PA 19104