Australian Committee for IUCN: Healthy People in a Healthy Environment symp...
Description



SCIENCE INFORMING POLICY SYMPOSIUM SERIES
Healthy People in a Healthy Environment:
Valuing the Social and Cultural Benefits of Nature
Background
Established in 2011, ACIUCN's Science Informing Policy Symposium is a high-level, two-day event held in partnership with members and other organisations that engages leading experts on national conservation priorities to help inform key environmental policy.
The 2019 Symposium, Healthy People in a Healthy Environment, will focus on the critical link between human health and social well-being, and the environment. The event will provide an opportunity to help focus Australia's thinking on these important issues and on how to raise awareness and conserve the many benefits a healthy environment provides for people and nature.
The symposium is being held in partnership with the Queensland Department of Environment and Science, WWF-Australia, the NSW National Parks and Wildlife Service, the Australian Conservation Foundation and Bush Heritage Australia.
Keynote Speakers

Professor Kerry Arabena, Managing Director Karabena Consulting Trust and Weyarn Pty Ltd and Executive Director of First 1000 Days Australia
A descendant of Meriam people from the Torres Strait, Kerry's work has brought her to the forefront of Indigenous affairs in Australia. A former social worker with a Doctorate in Environmental Science, Kerry has held senior positions including, Chair of Indigenous Health at the University of Melbourne, Executive Director of First 1000 Days Australia, CEO of the Lowitja Institute, and Director of Indigenous Health Research at Monash University. With an extensive background in public health, administration, community development and research, Kerry has led a wide range of organisations and committees including the National Aboriginal and Torres Strait Islander Health Equality Council and the National Congress of Australia's First People. Currently a Director of Kinaway Chamber of Commerce and President of EcoHealth International, Kerry holds an honorary professorial position with the University of Melbourne and has a number of entrepreneurial programs in development.

Dr Bruce Bolam, Chief Preventive Health Officer, Department of Health and Human Services Victoria
Dr Bruce Bolam is the Chief Preventive Health Officer in the Department of Health and Human Services, Victoria. He has extensive experience in public health and behavioural science, gained through senior roles in research, healthcare, government and non-government organisations in Australia and the UK. Passionate about behaviour change as a means of tackling the burden of chronic diseases such as cancer and stroke, Bruce was an inaugural Co-Director of the World Health Organisation (WHO) Collaborating Centre for Leadership in Health Promotion hosted by the Victorian Health Promotion Foundation, VicHealth. Bruce is a Fellow of both the Public Health Association of Australia and the UK Faculty of Public Health of the Royal Colleges of Physicians and holds several degrees in public health sciences. 
Audience
Given the cross-sectoral nature and intention of the symposium, the event will engage a broad audience of up to 140 people across the government, NGO, health, corporate, agriculture, Indigenous Peoples, industry and academic sectors.
Purpose
To showcase, improve understanding and promote the multiple social and cultural benefits of a healthy environment.
To highlight best practice case studies and the latest science on the benefits of a healthy environment.
To distil the social and cultural benefits of nature into national policy.
To build the constituency of support for nature beyond the conservation sector.
To explore opportunities for new collaboration and cross-sectoral partnerships.
To provide a platform for collaboration and information exchange across governments, NGOs, academic institutions and others in the Australian community.
Output
A Key Directions Statement publication will be produced by ACIUCN after the symposium that documents the key policy ideas, cases studies and recommendations presented at and emerging out of the symposium. The final publication will be circulated to senior leaders nationally, regionally and internationally.
Venue
The Symposium is being held in the historic Queensland Museum's Lecture Theatre. Meals and workshop sessions will be hosted in the adjacent Terrace which boasts beautiful views over Brisbane city centre. The museum is easily accessible by public transport or is a short stroll away from the Brisbane CBD. All delegates will have full access to the museum, which houses a host of innovative exhibits including the newly opened Display Centre and Wild State displays.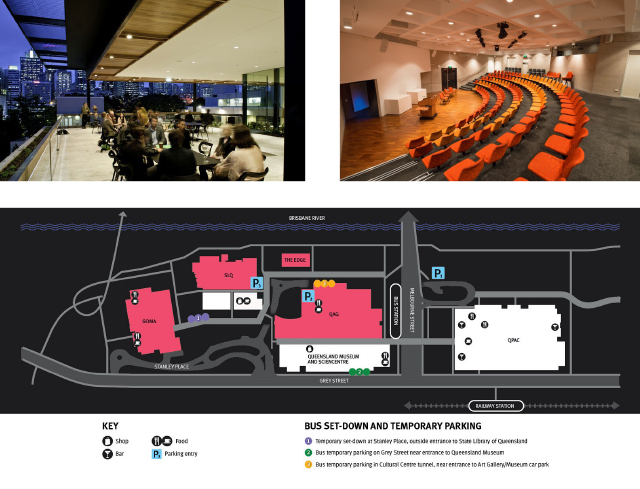 ACIUCN Membership
If you would like to learn more about the benefits of becoming an ACIUCN member, or how to join us, visit www.aciucn.org.au
The 2019 symposium is being held in partnership with: