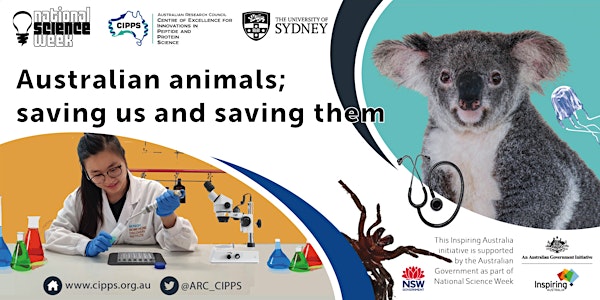 Australian Animals; Saving Us and Saving Them
Location
Powerhouse Museum
500 Harris Street
Ultimo, NSW 2007
Australia
Join us at the Powerhouse Museum to learn about how we could save Australian animals, and why they may be able to save us!
About this event
Australia is home to a variety of unique flora and fauna. From fluffy marsupials to deadly spiders, Australia has it all! So how do we protect our diverse creatures and ensure their survival? And could this wide array of species hold any clues for human health? Our researchers are investigating!
Join us at the Powerhouse Museum on Tuesday the 16th of August to learn about how we can save Australian animals, and why they may be able to save us!
Hosted by Dr Nisha Duggan, the night will include interactive activities and refreshments followed by two talks and a panel session from two of Sydney's leading researchers Dr Carolyn Hogg and Professor Richard Payne.
Schedule:
6pm-7.30pm: Registration + activities in the foyer with refreshments
7.30pm-7.40pm: Welcome
7.40pm-8.00pm: Dr Carolyn Hogg
8.05pm-8.30pm: Prof Richard Payne
8.30pm-8.50pm: Q& A with our speakers
8.50pm-9.00pm: Closing remarks and farewell
About our speakers
Dr Carolyn Hogg works with Prof Kathy Belov AO to protect Australian species including koalas through genomic research.
Professor Richard Payne and his team are working on developing new drugs to treat human disease, taking inspiration from insects and spiders. Want to hear how ticks may be able to help treat stroke and funnel-web spiders may help treat heart attack? Come along to the Powerhouse to find out more!
This event is supported by Inspiring Australia NSW as part of National Science Week.