Want to find out what the top 3 issues that unite and divide the country? Come and be in the Audience at Australia Talks Season 2!
About this event
SHOOT DATES:
14th June Debate 1 'Are Pets Better Than People?' : 7pm - 8:30pm
15th June Debate 2 'Do Younger Australians Have It Harder These Days? : 7pm - 8:30pm
16th June Debate 3 'Should Social Media Be Banned?': 7pm - 8:30pm
18th June Main Show filming, This is the main event, where it all comes together and we get to reveal the top 3 issues that unite and divide the country: 7pm - 9:30pm
About Australia Talks
For the second time, the ABC is running Australia Talks, an extraordinarily unique Australian project that seeks to capture a snapshot of the nation's thinking at this remarkable point in history.
In 2021, we've asked 60,000 Australians a range of 600 questions about many issues that matter to Australians, and even some that don't. Should the Covid vaccine be mandatory? Is racism prevalent in Australian sport? Are allegations of sexual assault almost always true? Should politicians resign if they lie to the public? Do you like your boss? And even how often should you change your bedsheets?
Australia Talks will culminate in a 90-minute special hosted by Annabel Crabb and Nazeem Hussain, along with some much-loved Australian contributors. The program will reveal the top 3 issues that unite and divide the country, as well as exactly who is, and isn't, living in the lucky country. Viewers will discover what their neighbours think, what other states reckon, and exactly what the whole country believes is the right way forward after a pandemic that has affected us all.
A Drink On Us
Make sure you get to the studio by the call time so you have time to enjoy a drink on us!
Parking
If you attend the show at the ABC we will be able to provide validated parking. The Parking station you will have to park in is Wilson Car Park at the Novotel Hotel on Thomas street behind the ABC Building in Ultimo for $22.00.
Covid Protocols
Please note that you will be required to wear a mask during the filming of the show. Upon entrance to the venue you will need to complete; NSW Government Covid check in, temperature check, ticket/name checked, security bag check and security wand screen.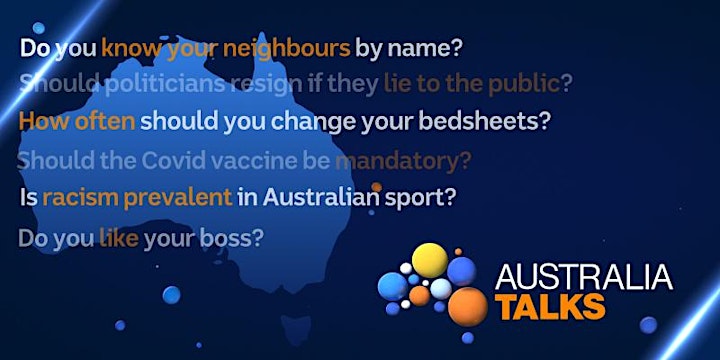 T&Cs
• I recognise that I am only registering my interest to this event and that I am not guaranteed a ticket to this event.
• I understand that should I become eligible to claim a ticket to the event that a different set of terms and conditions will apply.
• I confirm that I am 18 years of age or older.
• The information that you provide will be used by the Australian Broadcasting Corporation (ABC) to register your interest in attending this event and for no other purpose. Once the event is over, the ABC will ensure that any information you have provided is securely destroyed.
• You have a right to access the personal information the ABC may hold about you and you may ask the ABC to update or correct your personal information. For more information on how you can access your personal information or contact the ABC with any questions or privacy related complaints you can refer to the ABC Privacy Policy
• The ABC is using Eventbrite, whose servers may be located overseas, including in the USA, to collect your information on behalf of the ABC.