Australia Migration, Business, Education, Investment Fair And Seminar

Saturday, 21 October 2017 from 8:30 am to 5:30 pm (Malaysia Time Malaysia (Kuching) Time)
Event Details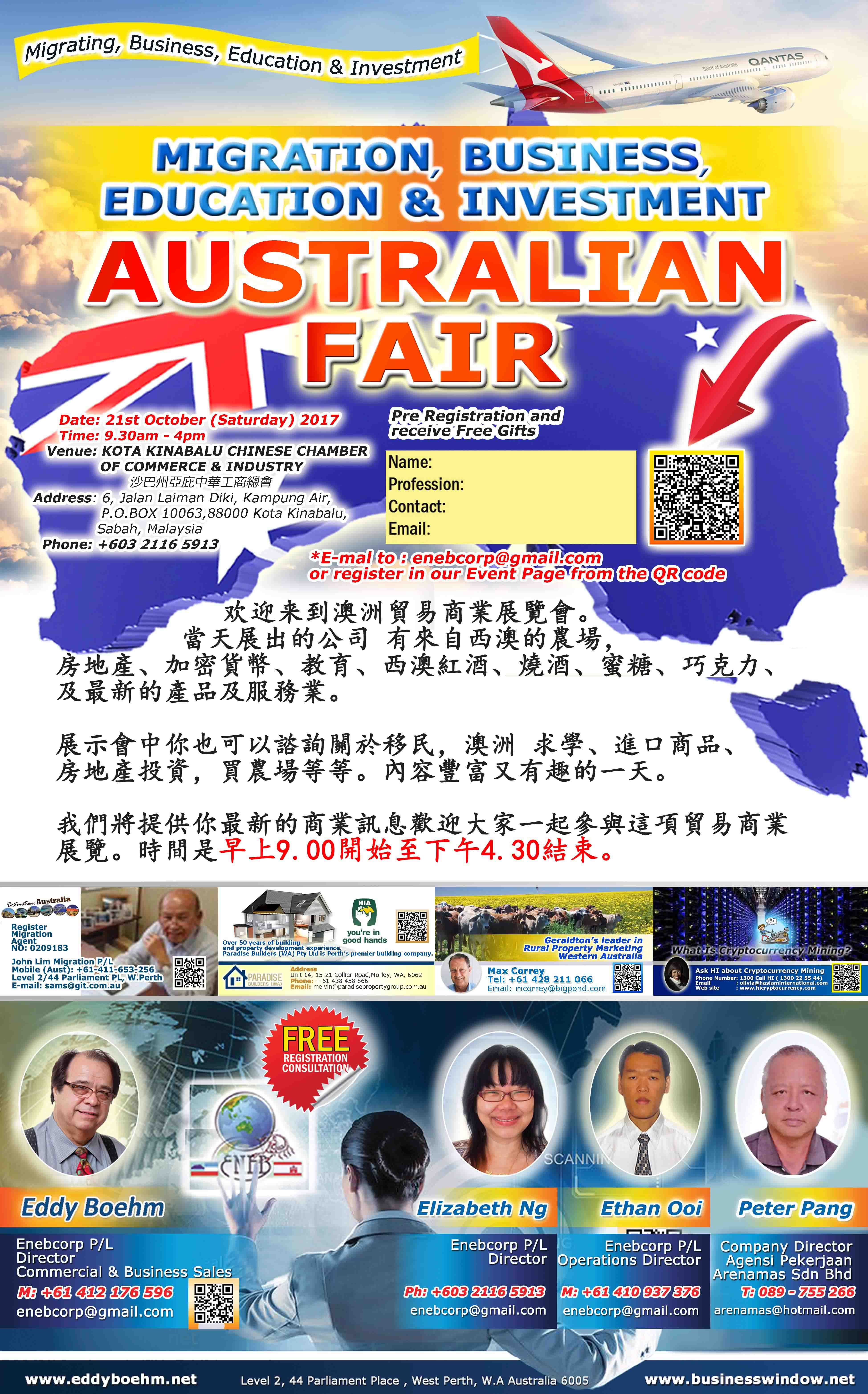 Business, Migration, Education &
Investment Fair
On behalf of Enebcorp Event Management, I am pleased to inform you that an exciting and relevant Business, Investment and Migration Fair is to be held on
October 21, 2017
at  
KOTA KINABALU
CHINESE CHAMBER OF COMMERCE & INDUSTRY,
JALAN LAIMAN DIKI,
KAMPUNG AIR,
KOTA KINABALU,
SABAH,
MALAYSIA.
This Fair covers Investing, Studying, Migrating and doing Business with Companies in Australia. It is set to bring insights on Business, Migration, Education and Investments in Australia.
It will cover how Malaysians can succeed in Australia.  
If you are looking for overseas business opportunities
(such as Import & Export, Property Development,
Business Development and Tertiary Education) here's
one of the BEST steps to expand your market!
A Great opportunity for Malaysians
pursuing opportunities in Australia
There will be many mind-provoking sessions and discussions at this 1-day Fair, with demonstrations and information booths to give you knowledge and benefits with regards to your needs and requirements in Australia.
Whether your needs are BIG or Small attending this Fair will be useful to you.
We believe this Fair will assist with all things Australian.
Please call us on 61 8 94429888
or
Email: enebcorp@gmail.com 
for additional information.
Thank you, we look forward to your  participation.
Respectfully,
Edward Boehm (Böhm)
Event Chairman
Enebcorp Seminars
Mobile: 0412 176 596
Or
Ethan Ooi
Operations Director
Enebcorp Seminars
Maha Sinnathamby has an amazing story. From very humble beginnings as a Malaysian born child through to the hardships of living in Australia, business deals that went sour and all the time kept his faith and beliefs to create and build the master planned community of Greater Springfield in Brisbane's southwest.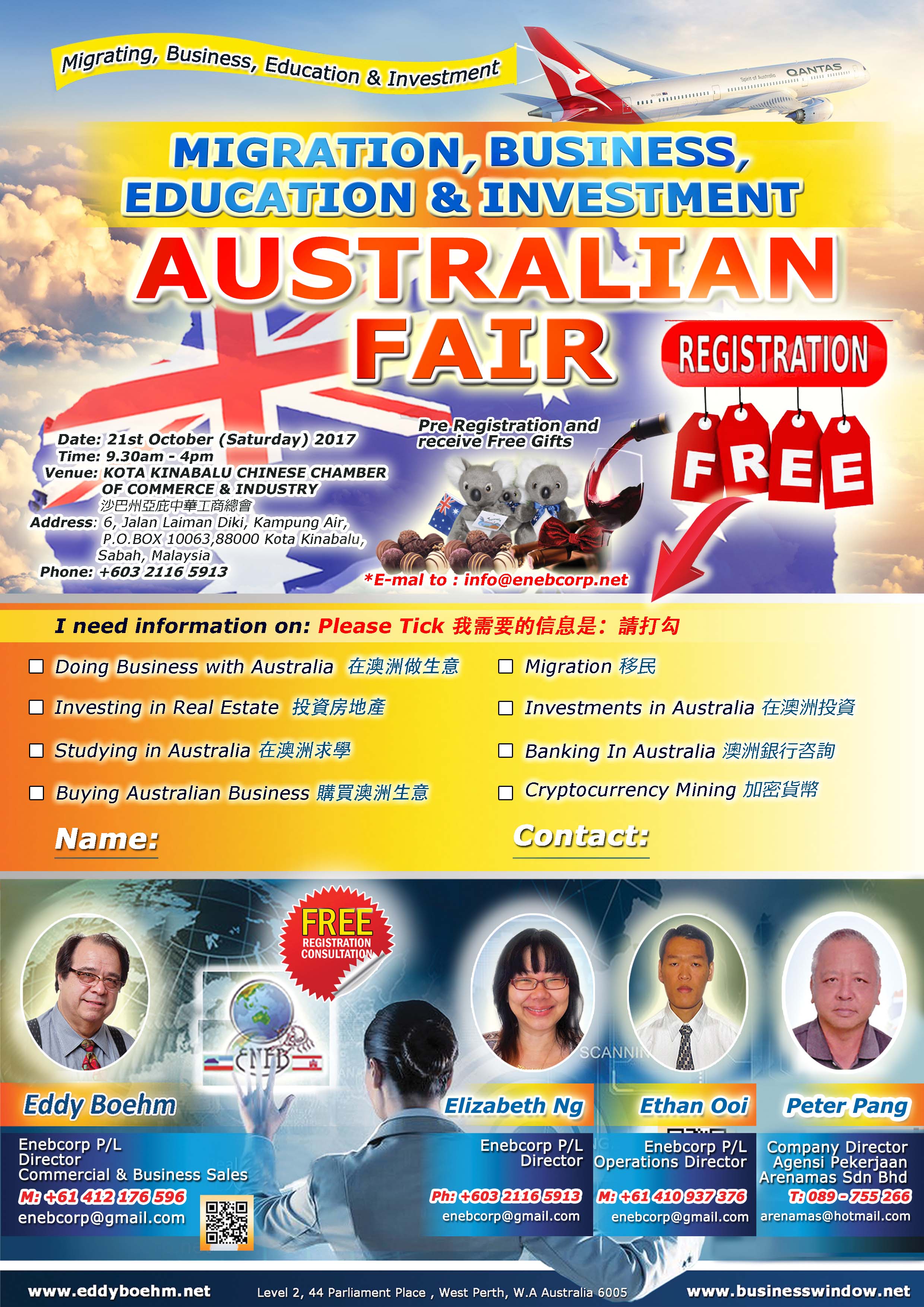 http://www.johnlimmigration.com/about/4574967636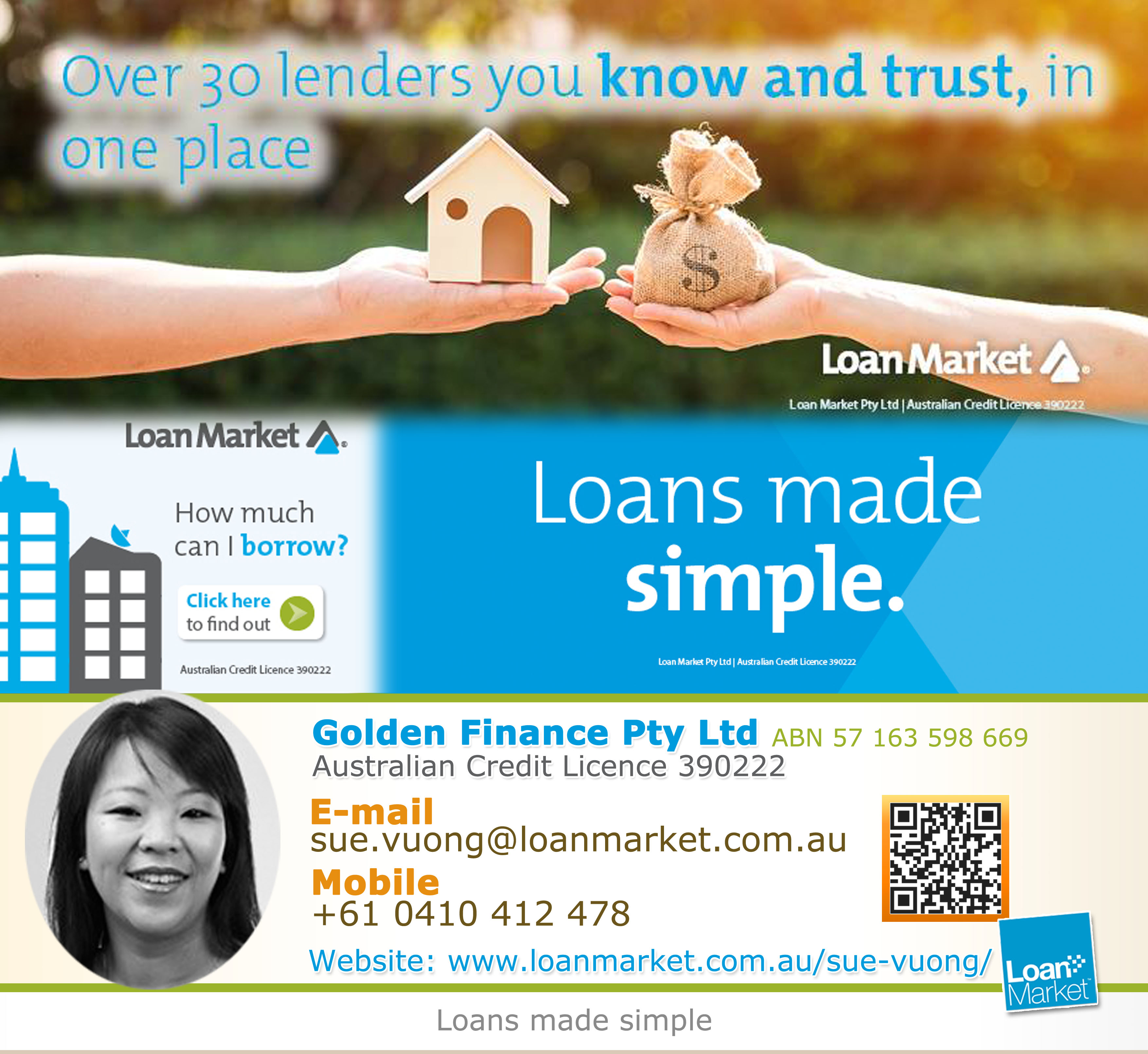 https://www.loanmarket.com.au/sue-vuong/our-team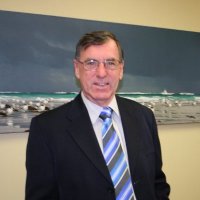 Barry Humfrey – Managing Director
From the Abrolhos, a rugged group of pristine and isolated islands off the coast of Western Australia comes the treasure that is the Chimere Pearl.
Within the crystal blue lagoons the mysteries of nature embrace the black-lipped pearl oyster, pinctada margaritifera, to gently create a magical gem of the sea. Barry the Founder of Chimere Pearl is in town to meet any investors interested in investing in his many projects.
Call or email to meet Barry Humfrey
61 0428 648 028
272 Foreshore Drive The Marina
PO Box 1917 Geraldton WA 6531
Tel: +61 8 9965 5145
Fax: +61 8 9921 4621
http://www.chimerepearls.com.au/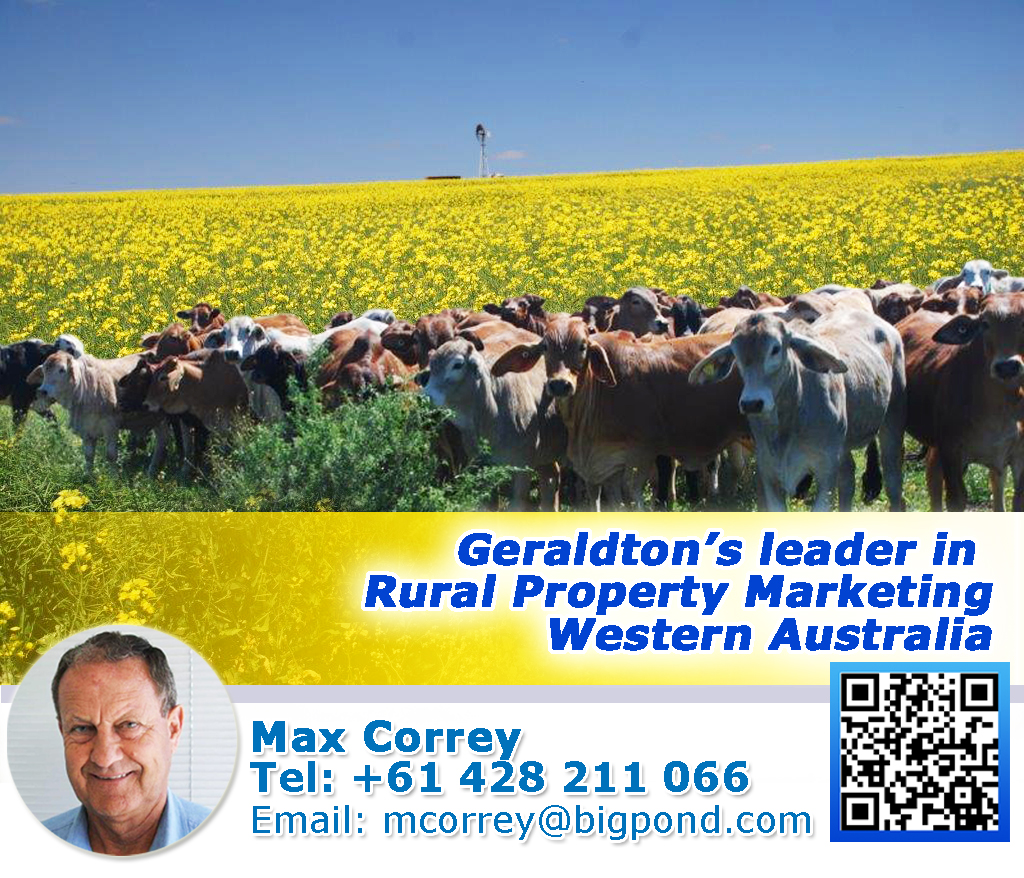 http://geraldtonfarmsales.com.au/ 
11 am Saturday Investment Talk By Max
Max will talk on – Farming Investment in Western Australia based either on cropping program of Canola, Wheat or Lupins or a combination of all three or a stock program of cattle or sheep which he has successfully done and is doing with Malaysians.
Investment can be either a lease 5-6% return or share farming.
More information, budgets and photos of the enterprises mentioned above will be at the Fair.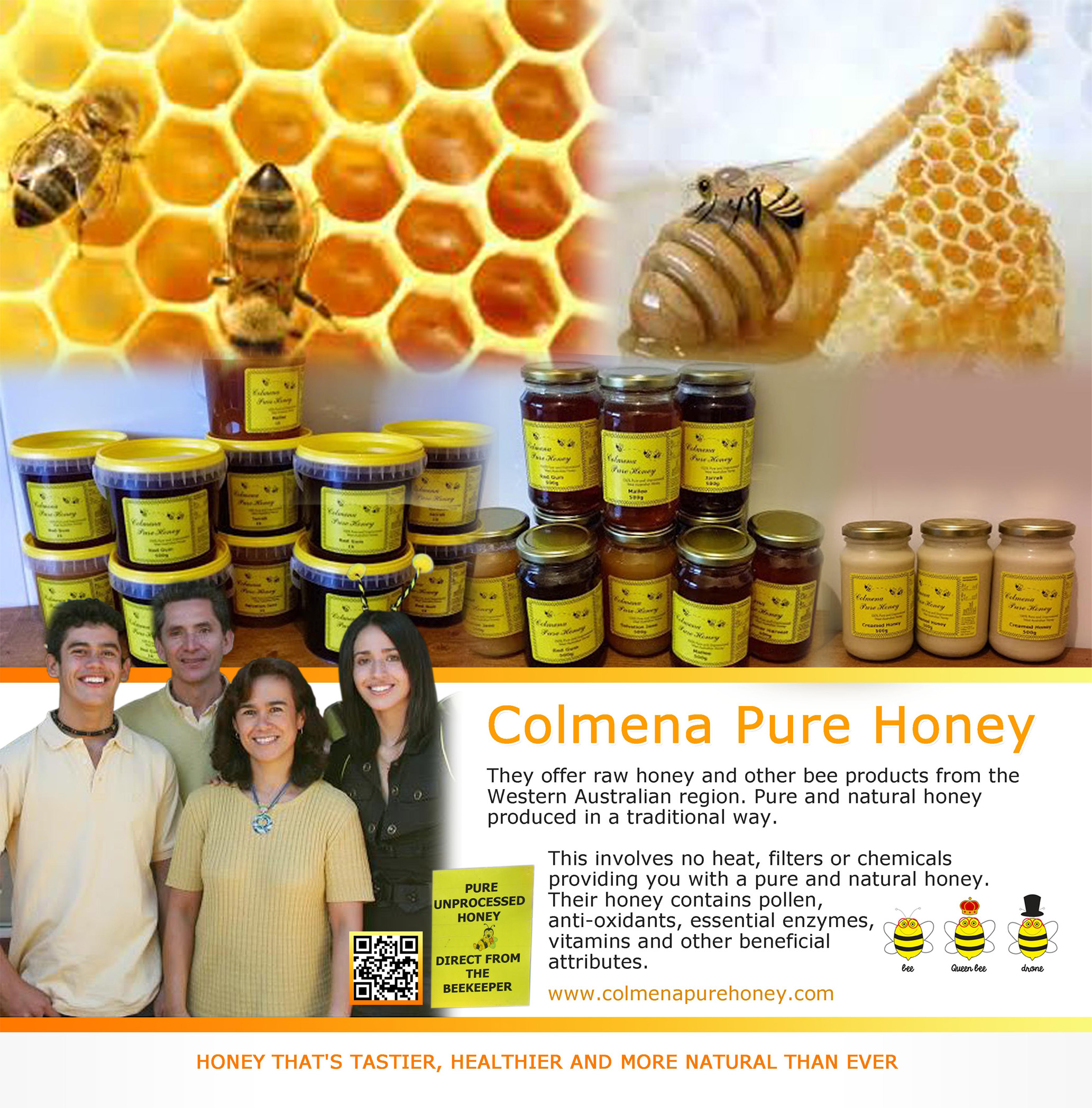 Colmena Pure Honey are seeking a Distributer for their Products in Sabah and beyond. Email for Details.
  http://www.colmenapurehoney.com/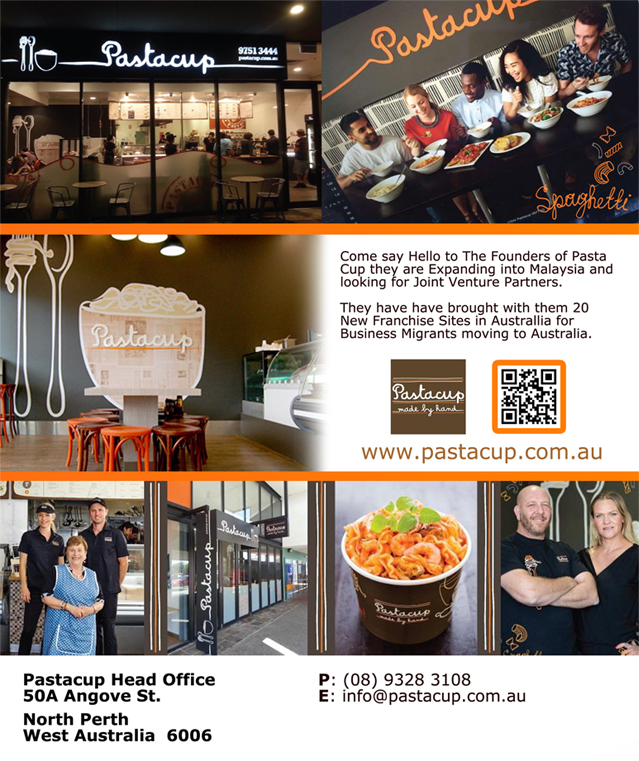 https://www.pastacup.com.au/
 Pastacup will be in Town seeking Joint Ventures into expanding their Franchise into Malaysia. They have Franchise Sites in Australia for Business Migrants as well. Call or write for a Confidential Appointment info@pastacup.com.au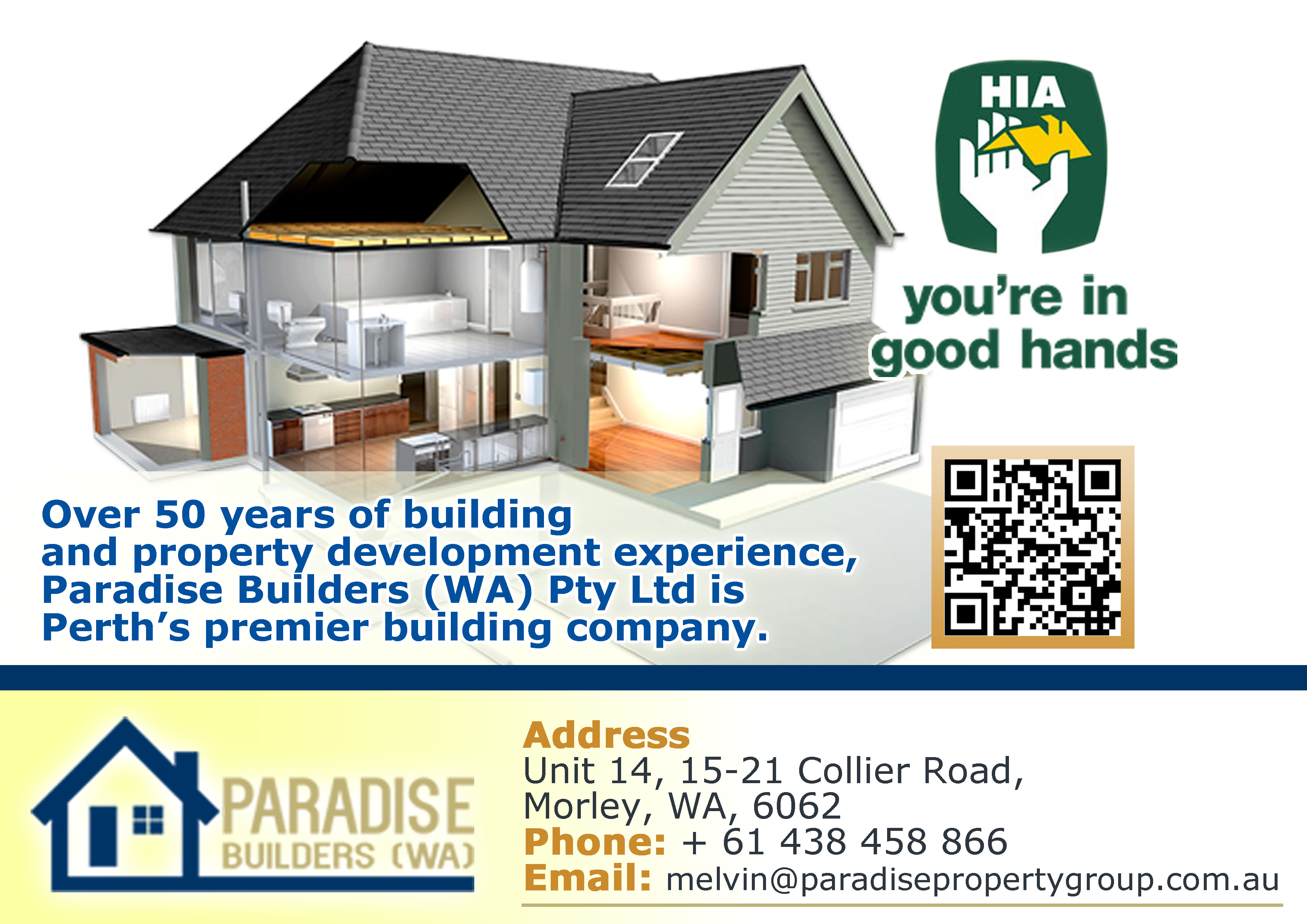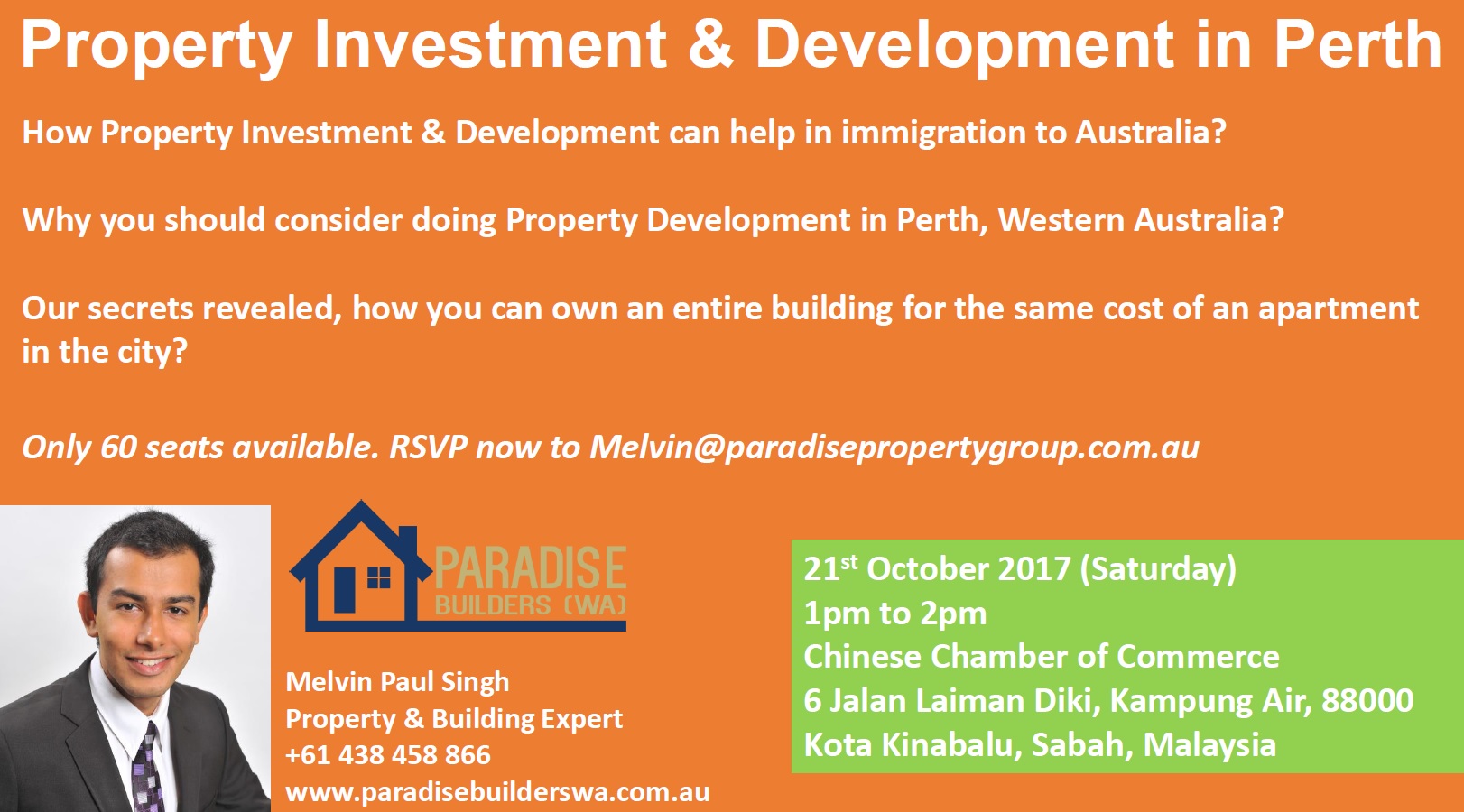 http://www.paradisebuilderswa.com.au/ 
http://mkspropertydevelopment.com.au/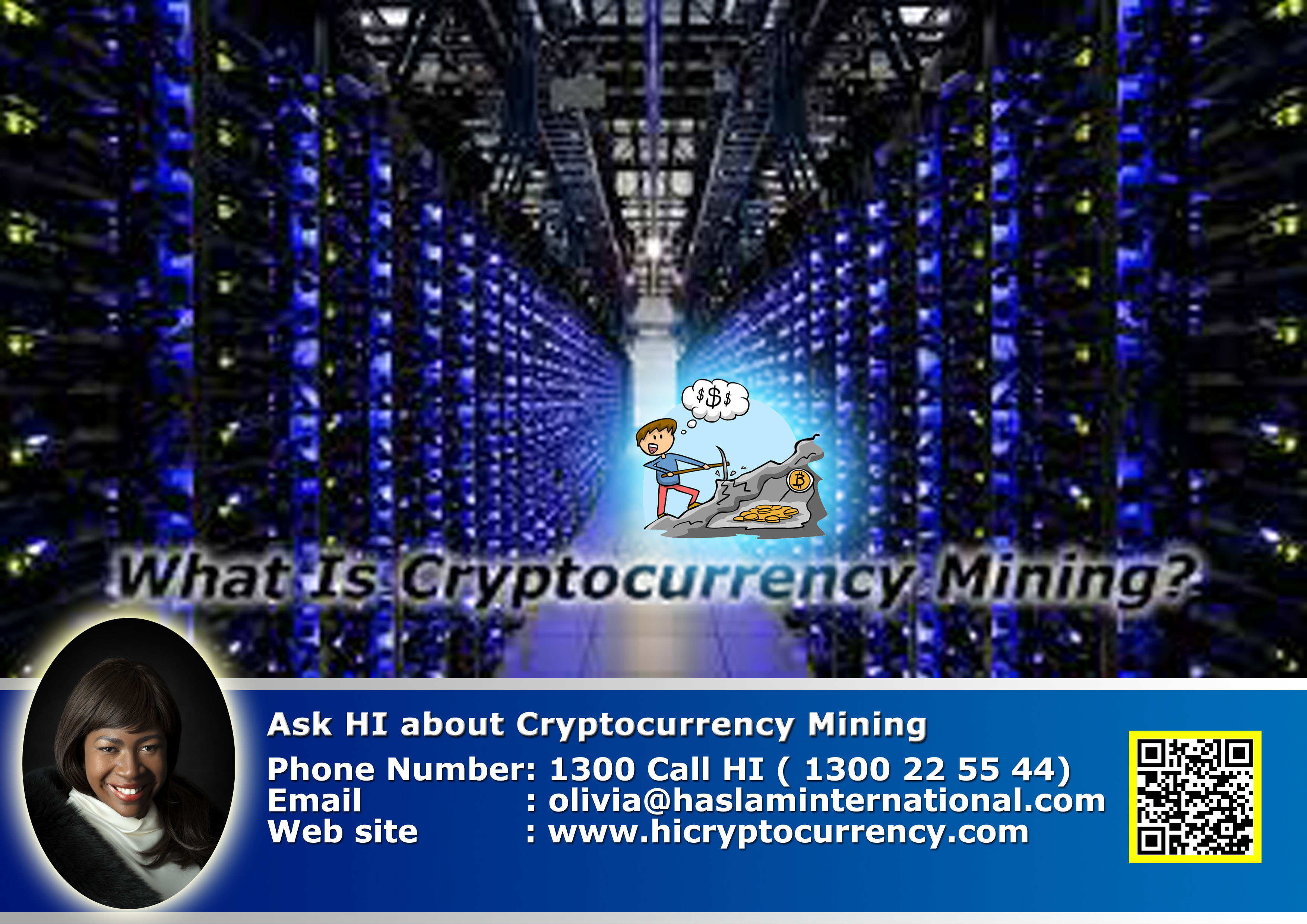 http://yuu.click/haslam-international
https://www.facebook.com/1509628522454397/posts/1520672971349952
https://www.facebook.com/1509628522454397/posts/1520673064683276
https://www.facebook.com/1509628522454397/posts/1520673154683267

HLD's head office is located in Geraldton and was incorporated in October 1988 to carry on the business of property development, project management and joint venture partnership for private and corporate clients as well as State and Local Government Authorities. Barry the Founder of HLD is here to offer Malaysian Business Investment Options in his Ventures. Call or Email for more information
Humfrey Land Developments
Phone: +61 8 99648028
Fax: +61 8 9921 4621
Email: mail@hld.com.au
272 Foreshore Drive Geraldton, WA 6530
Postal Address: PO Box 1917 Geraldton, WA 6531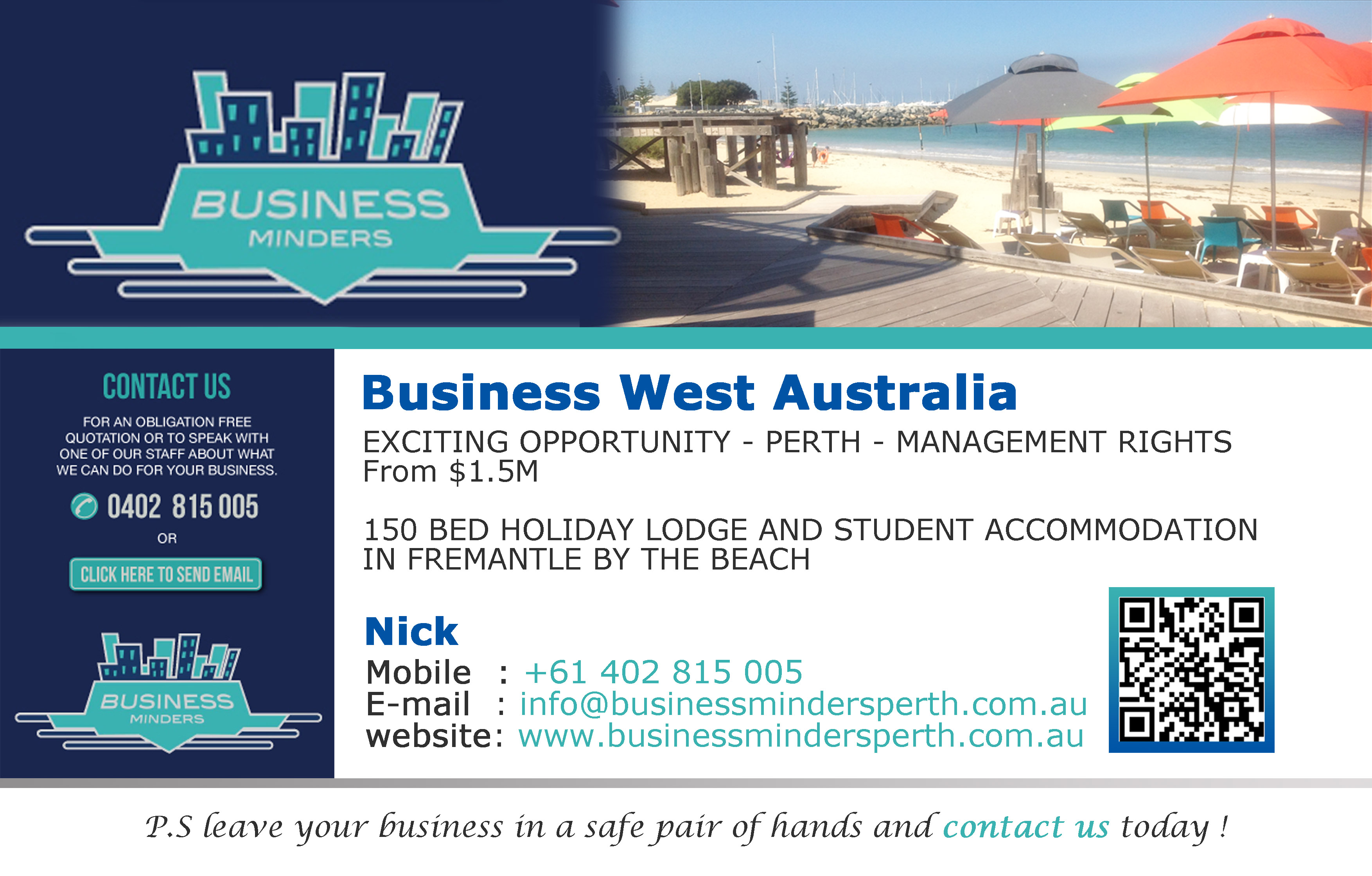 http://www.businessmindersperth.com.au/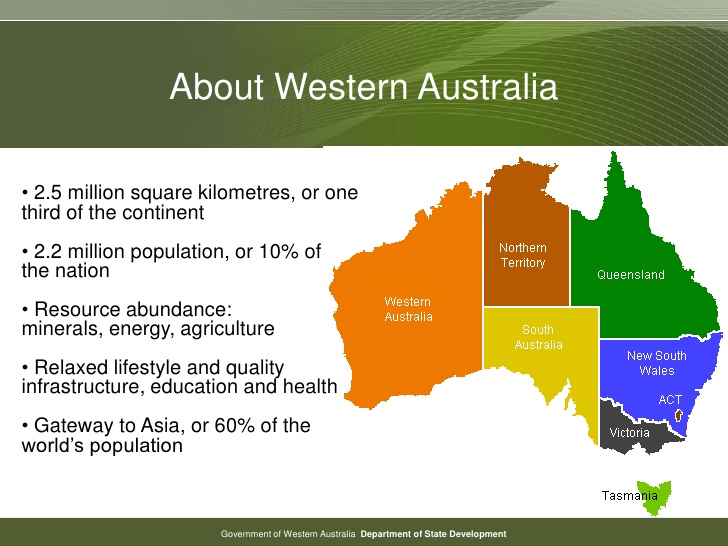 http://www.jtsi.wa.gov.au/docs/default-source/default-document-library/mets-opportunities.pdf?sfvrsn=19
http://www.jtsi.wa.gov.au/docs/default-source/default-document-library/mets-snapshot.pdf?sfvrsn=23
http://www.jtsi.wa.gov.au/docs/default-source/default-document-library/164186_oil-amp-gas-capabilities-in-western-australia-low-res.pdf?sfvrsn=4
http://www.jtsi.wa.gov.au/docs/default-source/default-document-library/invest_in_the_west-oil_-amp-_gas_opportunities_in_western_australia_4pg_brochure_0515.pdf?sfvrsn=27
http://www.jtsi.wa.gov.au/publications/prospect-magazine 
http://www.jtsi.wa.gov.au/docs/default-source/home-page-publications-display/wa-economic-profile-0717.pdf?sfvrsn=4
(a Mandarin version is also available) http://www.jtsi.wa.gov.au/docs/default-source/default-document-library/wa-economic-profile-chinese-language-version-0717.pdf?sfvrsn=4
 http://www.jtsi.wa.gov.au/publications
When & Where

CHINESE CHAMBER OF COMMERCE & INDUSTRY, JALAN LAIMAN DIKI, KAMPUNG AIR, KOTA KINABALU, SABAH,
KOTA KINABALU CHINESE CHAMBER OF COMMERCE & INDUSTRY, JALAN LAIMAN DIKI, KAMPUNG AIR, KOTA KINABALU, SABAH, MALAYSIA.
JALAN LAIMAN DIKI, KAMPUNG AIR, KOTA KINABALU, SABAH, MALAYSIA.
Kota Kinabalu, Sabah
Malaysia

Saturday, 21 October 2017 from 8:30 am to 5:30 pm (Malaysia Time Malaysia (Kuching) Time)
Add to my calendar